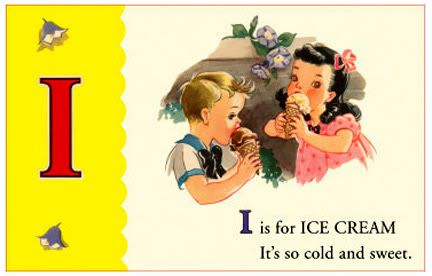 During the summer when I was a little girl I always enjoyed ice cream at my great-grandmother, Louise's, house. Every night before they went to bed, Louise and Daddydear always had a bowl of vanilla ice cream with chocolate syrup. Louise rarely bought ice cream, but made her own. The churn was a wooden bucket that held the ice and ice cream salt, with a metal container and dasher that had to be hand cranked. She always put the ice cream in an enamelled pan with a sliding lid to store it in the freezer. When we would visit we thought it was a wonderful treat to have a bowl of ice cream at night.
Another way I enjoyed ice cream as a child was when my grandmother would let us walk up the street to the general store in their little town and get an ice cream treat. She would either give me a nickle or let me charge it to her account. Typically I would get an Eskimo Pie. (And btw, does anyone know why this ice cream on a stick is called a pie?) For those of you who might be unfamiliar with an Eskimo Pie, it is a small block of vanilla ice cream dipped in chocolate so that it has a chocolate shell and is on a popsicle stick. My grandfather always grew lots of strawberries, so
Homemade Strawberry Ice Cream
was also a summertime treat at their house.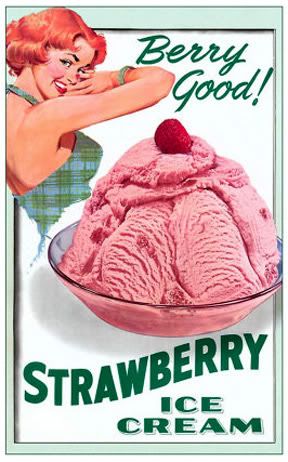 When I was a teenager I decided I liked ice cream sandwiches - chocolate cookie with vanilla ice cream. And my early teen years were when my best friend and I ran the Peach Stand on the highway for her grandfather's peach farm. We always had tons of peaches in the summer and peach ice cream was a treat we really enjoyed. Later, when I was married and moved to Texas, I discovered Bluebell Fresh Peach Ice Cream. That was a great facsimile of what we had made at home in earlier years. Luckily, my grandmother had given me a Waring Ice Cream Parlour machine one year for my birthday. It was electric and used table salt, but it was still messy. However, it was much easier than hand-cranking or having to find ice cream salt.
Sometime after that I sort of lost my taste for ice cream. It's not something I buy or keep around the house. But a few years ago we had an excess of fresh figs on our tree and of course I had a recipe for Fig Ice Cream. I got a Cuisinart Ice Cream Maker and gave it a try. Oh my! That ice cream was so good and the Cuisinart made it so easy to make ice cream, that I have been making fresh fruit ice creams every summer. And a few times in the winter I have made
Nigella's Pomegranate Ice Cream
.
Which brings us to today. First, Suzy from Kitchen Bouquet is hosting another Ice Cream Social this year. Click on the logo to join in or just to see all the wonderful frozen treats being brought to the party.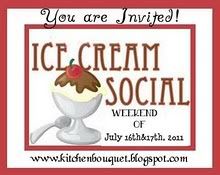 Second, this weekend we celebrate not only National Ice Cream Day, but National Peach Ice Cream Day. I want to take part in the Ice Cream Social and we have lots of peaches on our trees.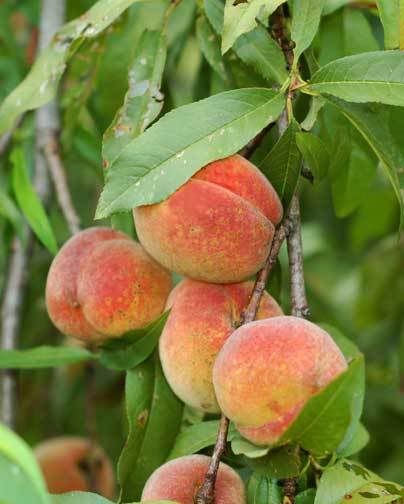 What could be more perfect?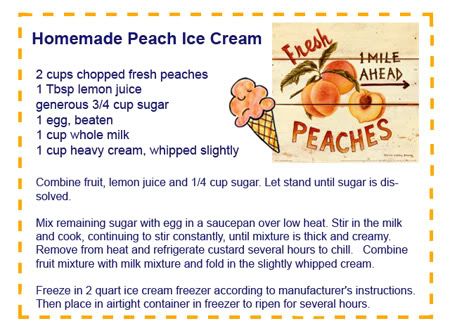 Before we get busy in the kitchen, I will say that this is my basic fruit ice cream recipe. While today peach is on the menu, you can use figs, strawberries, other berries, stone fruit, etc.
Let's start the custard by getting the egg (free-range from my CSA) and sugar in the pot.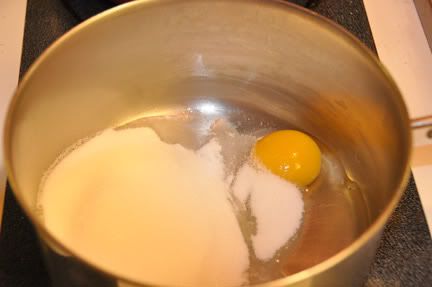 Custard cooked until it coated the spoon:
Peaches sliced with sugar and lemon juice added:
Ingredients in Cuisinart: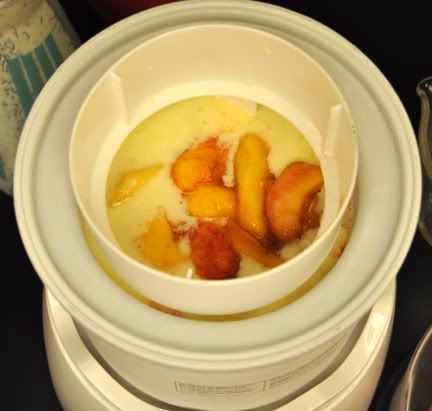 Dipped out and ready for the social:
Homemade Peach Ice Cream

2 cups chopped fresh peaches
1 Tbsp lemon juice
generous 3/4 cup sugar
1 egg, beaten
1 cup whole milk
1 cup heavy cream, whipped slightly

Combine fruit, lemon juice and 1/4 cup sugar. Let stand until sugar is dissolved.

Mix remaining sugar with egg in a saucepan over low heat. Stir in the milk and cook, continuing to stir constantly, until mixture is thick and creamy. Remove from heat and refrigerate custard several hours to chill. Combine fruit mixture with milk mixture and fold in the slightly whipped cream.

Freeze in 2 quart ice cream freezer according to manufacturer's instructions. Then place in airtight container in freezer to ripen for several hours.
With this recipe I'm also joining:
Michael Lee's
Foodie Friday
@
Designs By Gollum
Friday's Favourites
by Sandi & Bill @
Whistlestop Cafe Cooking
Thanks so much for stopping by today!
namasté,