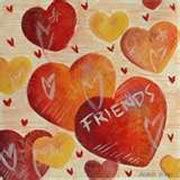 I want to give a big "Thank You" to Mary at
One Perfect Bite
. She has gifted me with a blog friendship award. Mary and I have known each other online for some years now. I believe we first met on the old Food Network message boards and both share a love of good food. Mary has some of the best stories to go with her recipes. I always enjoy reading them.
This friendship award comes with the following message:
"These blogs are exceedingly charming. These kind bloggers aim to find and be friends. They are not interested in self-aggrandizement. Our hope is that when the ribbons of these prizes are cut, even more friendships are propagated."
The sentiment expressed is so lovely and I am so glad to be thought of this way. Mary, I do thank you very much. And I will be passing along this award to some others in the next few days.