To all who are celebrating, I wish you a colourful and blessed Easter.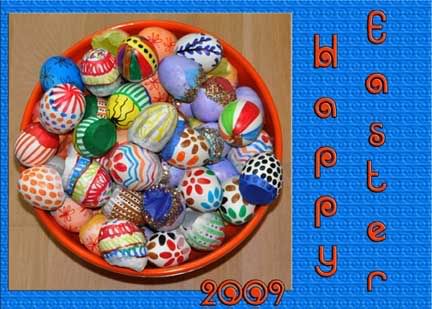 When I was growing up, Easter colours tended toward soft pastels. These brightly decorated eggs are Cascarónes, or Mexican Confetti Eggs. I like to display them in a vintage red Fiesta footed salad bowl.
Cascarónes have an interesting history. It's believed that Marco Polo brought them home from from Asia and they became quite popular in Italy during the Renaissance. At that time they were given as gifts and filled with perfumed powder. From Italy the custom moved to Spain and thanks to Empress Carlotta (the the wife of Emperor Maximilian) they migrated to Mexico in the mid-1800s. It was in Mexico that the powder was replaced with confetti.
In Mexico, cascarónes are broken over the heads of friends and family. Just as the person is showered with confetti, they are also showered with good luck. And many people make a wish when the egg is broken. The tradition has also moved to the southwestern United States and cascarónes are widely available from Texas to California. If you don't live in that area, I've seen the eggs for sale on various websites, including eBay. But just as you dye your own Easter eggs, you can make your own cascarónes. Have fun!
Cascarónes

Uncooked chicken eggs
Easter egg dye, optional
paints, markers, glitter, etc.
confetti*
white glue (I like Tacky Glue and prefer the Quick Dry.)
tissue paper

If you like you can dye the eggs, or you can leave them their natural colour. We get beautifully coloured eggs from our CSA, so those need no dye. And white ones are great for decorating as well.

Either blow the eggs or cut a hole at one end to remove the raw egg. Save those to use in cooking. You will need a hole large enough to fill the egg with confetti. Wash the shells out at this point and let them dry.

Decorate the eggshells. For the paint, tempera colours, watercolours or acrylic all work well. If the eggs are dyed, you don't have to add other decorations if you like a more simple look. They can be done in pastels or as wild and brightly coloured as you like. Just use your imagination.

Cut pieces of tissue paper large enough to cover the holes in the eggs.

When decorations are dry, fill the eggs with confetti. Using white glue, attach tissue paper pieces over the openings in the eggs. You can also cover the edges of the tissue paper with glitter, if you like.

Let the eggs dry and they are ready to bring good luck at Easter.

*I have read that in some places now (usually in elementary school settings) the eggs are being filled with birdseed, so that when they are cracked open outdoors they are more environmentally friendly.