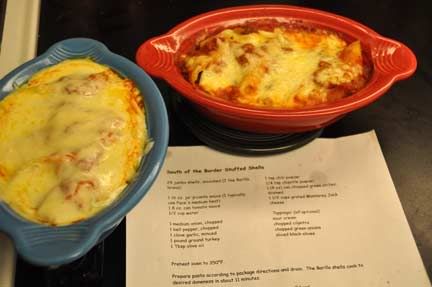 Last night's dinner. I have been making this recipe for a number of years now - ever since my friend Alison from
Someone's In the Kitchen
first posted the original version on one of the foodie boards. It's great to use for company, as well as for family dinners. And it is always a hit amongst teens and college students, as well.
This is such a versatile dish. The way I make it is somewhat changed from the original. People have added black beans, crumbled cotija cheese, etc. to the filling to make it their own. Others substitute tvp, soy crumbles, etc. to make this a vegetarian dish. Sometimes people use packaged taco seasoning in place of the listed seasonings. At least one person likes to substitute green salsa and tomatilla sauce for the red salsa and tomato sauce. And the toppings were not originally included. I always love to come across recipes that can easily be adapted to individual tastes or to use ingredients on hand. This is one of those.
I also like to make a bunch of the shells ahead of time and freeze them. This makes it very easy to put together dinner, even for just one or two people. Just put the filled shells on a cookie sheet and place in the freezer. Once frozen I put them in Ziploc bags and remove as needed, then complete the recipe adjusting the amount of sauce to the number of shells used.
So last night I doubled amount of the filling & sauce and cooked three dozen shells. This yielded 36 stuffed shells and four stuffed bell peppers. I put three shells each in Fiesta individual oval bakers, nine shells each in Fiesta square bakers, froze a dozen shells, and baked the remaining filling in four bell peppers in Fiesta ramekins.
Barilla shells are my pasta of choice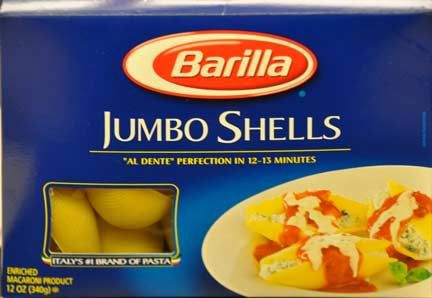 Cook till al dente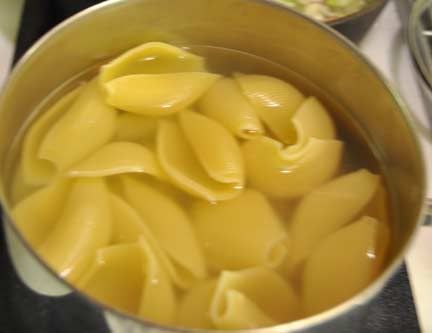 Turkey and veggies ready for the seasonings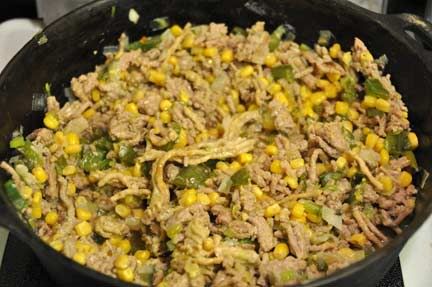 Layer of sauce in bottom of baking dish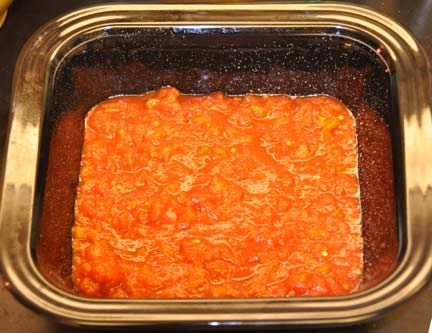 Stuffed shells in baking dish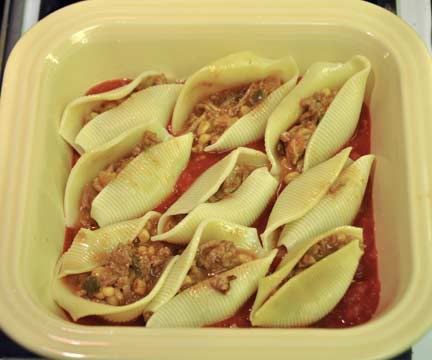 Topped with sauce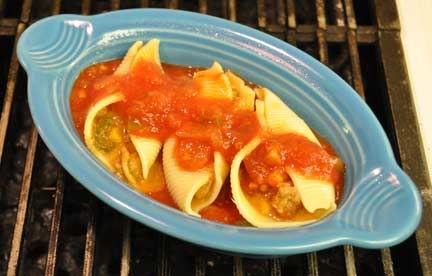 Extra stuffed shells ready to go in the freezer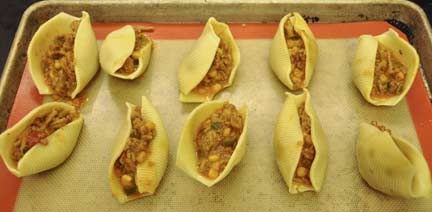 Going back in the oven for the cheese to melt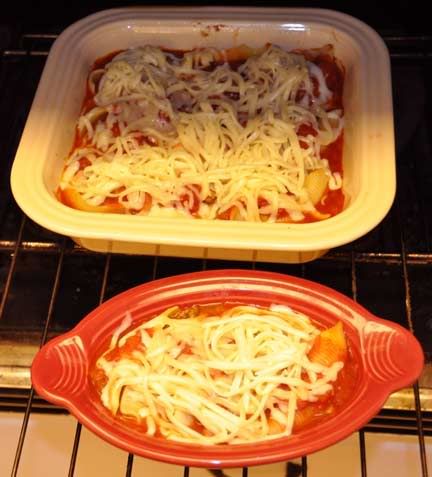 One of the stuffed peppers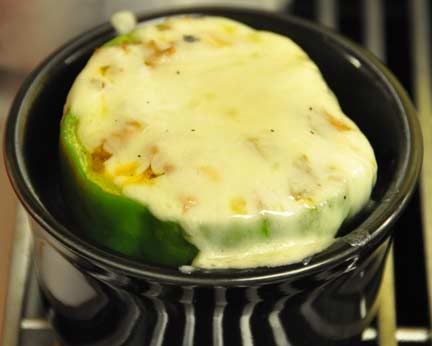 Shells plated and topped with sour cream on a new Fiesta square plate. (A colour other than scarlet would have been better to show off the shells, but they tasted great anyway.)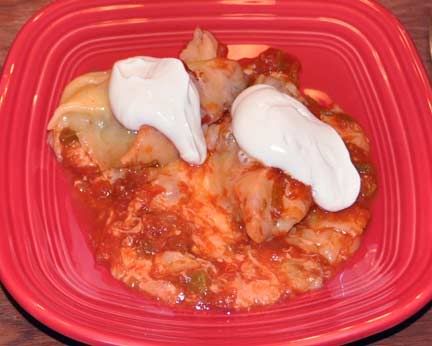 South of the Border Stuffed Shells

24 jumbo shells, uncooked (I like Barilla brand)

1 (16 - 24 oz) jar picante sauce (I typically use Pace's medium heat)
1 cup diced tomatoes with juice

1 medium onion, chopped
1 bell pepper, chopped
1 clove garlic, minced
1 pound ground turkey
2 Tbsp olive oil
3/4 cup whole kernel corn
1 tsp chili powder
1/2 tsp minced chipotle in adobo sauce
1 (4 oz) can chopped green chilies, drained
1 1/2 cups grated Monterey Jack cheese, or more if you like things very cheesy

Toppings: (all optional)
sour cream
chopped cilantro
chopped green onions
sliced black olives


Preheat oven to 350°F.

Prepare pasta according to package directions and drain. The Barilla shells cook to desired doneness in about 11 minutes.

Mix picante sauce and tomatoes in a small bowl.

Cook onion, bell pepper, garlic and ground turkey in oil over medium heat until meat is browned and onion is translucent. Add corn, stir, and remove from heat. Stir in chili powder, chipotle, chopped green chilies, 1/2 cup shredded cheese and 1/2 cup picante sauce mixture to the turkey. Stir to combine.

Pour half of remaining picante sauce mixture in bottom of 13"x9"x2" baking dish. Fill each cooked shell with a couple of tablespoons of the turkey mixture and place shells in baking dish. Pour remaining picante mixture over top of shells.

Cover with aluminum foil and bake for 20 to 30 minutes. Uncover, top with remaining cheese and bake, uncovered, an additional 5 minutes until cheese melts. Serve immediately with any desired toppings.



Notes:


1. This recipe can be assembled and frozen. To bake, thaw at room temperature for 8 hours and bake as directed above.
2. Leftovers are great the next day.
3. When using the toppings, I pass them separately and let everyone add them as they like.