Justin Wilson - Cajun cook and raconteur
1914-2001
"How y'all are?" Those were the words Justin Wilson used to open his cooking show on Public Television for some 30 years. He did many things in his life, but he was most famous for being a darn good cook. Over the years I wrote down many of his recipes while watching him make them and always enjoyed seeing him sit down at the end of his show with his dinner and his glass of wine. He wrote eight cookbooks, but I have to say, I do not own any of them. Just my handwritten copies of over 30 years ago.
The last veggie box had cabbage, fresh onions, and bell peppers. My aunt used to make Justin's recipe for cole slaw, but I haven't made it in a while. These veggies were just the impetus I needed. The dressing is different from the standard cole slaw dressings and I really like to serve this with bbq's in the summer. Try some of Justin's recipes sometime. If you like Cajun food, you will enjoy them. "I gar-on-tee!"
Here is the cole slaw served on a new peacock square Fiesta salad plate.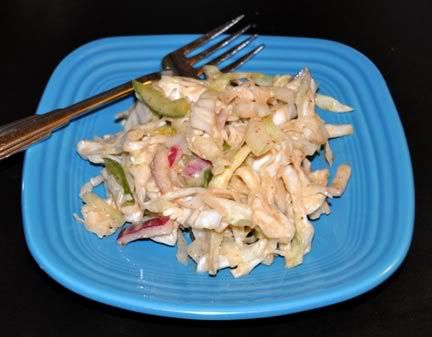 Justin Wilson's Cole Slaw

5 heaping Tbsp good mayonnaise
2 heaping Tbsp mustard (I normally use a whole grain or Dijon style)
2 tsp olive oil
1 Tbsp wine vinegar
1 Tbsp Worcestershire sauce
1 tsp Tabasco sauce
2 Tbsp ketchup
½ tsp garlic powder
1 lemon, juiced
2 to 3 tsp salt
¼ cup sugar

1 head cabbage, shredded
1 white onion, sliced thin
1 red onion, sliced thin
1 bell pepper, cut in short thin strips

With electric mixer whip mayonnaise and mustard. Leaving mixer running add olive oil and beat until thick. Add vinegar, Worcestershire, Tabasco, ketchup, garlic, lemon juice, salt and sugar, beating all the while.

Mix vegetables together in large bowl and toss with dressing. Chill. Taste and adjust seasonings before serving.



Note:

I like to make the slaw a day ahead of time to give the flavours plenty of time to meld.