I have missed several holidays this year due to medical stuff, so this morning I decided to do a little catching up. This cinnamon roll lamb is wonderful to serve for breakfast during Easter weekend. When the girls were small I made these several times, but I haven't done one in a number of years. And I don't know why. They are not really any more trouble than any other cinnamon rolls. This year I shaped it a little differently than I used to, partially based on
this one
pictured on Slashfood that came from Bryanna at
Notes from a Vegan Kitchen
. But as I do for any rolls, I used my grandmother's Ice Box Roll recipe for the dough and followed my usual procedure for baking.
Years ago I modified my grandmother's dough recipe to be made in a breadmaker. It always turns out great.
Here is the divided dough. It has such a lovely feel.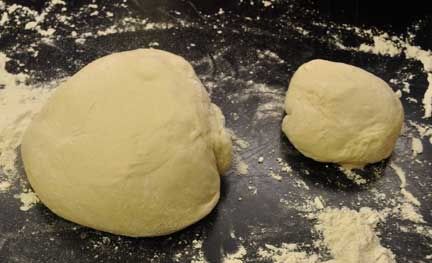 Larger piece of dough rolled into rectangle and sprinkled with the cinnamon sugar:
Rolled as for jelly roll:

Lamb ready to set aside to rise: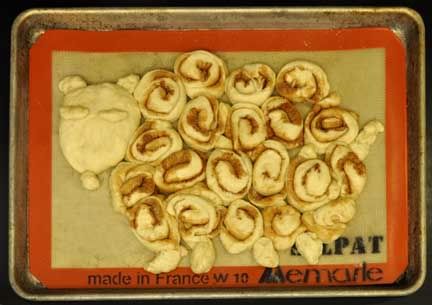 Now baked:
And ready to transfer to serving dish:
Cinnamon Roll Lamb



Dough:


1 cup milk
1/4 cup sugar
3/4 tsp kosher salt
1/4 cup oil
3 cups flour
1 tsp baking powder
1/4 tsp baking soda
2 1/4 tsp instant yeast



Filling:


1/4 cup sugar
1 Tbsp cinnamon (I like to use Vietnamese cinnamon as it has a more intense flavour.)
2 Tbsp soft butter



Icing:


2 1/2 cups powdered sugar
pinch of salt
2 Tbsp half and half
1 Tbsp light corn syrup
1/2 teaspoon vanilla




Dough:


Place milk, sugar and salt in breadmaker, then pour in oil. Add the flour, baking powder, baking soda and yeast. Choose Dough setting on breadmaker and start. While dough is making, mix together the sugar and cinnamon for filling.

When dough is ready, remove from breadmaker. Pinch off about a quarter of the dough and set it aside. Roll the remaining dough into a 10"x15" rectangle. Spread this with 2 Tbsp soft butter and sprinkle with cinnamon/sugar mixture. Starting on one long side, roll up as for a jelly roll. Seal the long edge and with a sharp knife, cut into 20 slices.

Cover a sheet pan with parchment or a Silpat. Start placing the rolls on the pan to form the lamb's body. You will need four rows of the rolls: 4 rolls in the top row, 5 rolls in the second row, 6 rolls in the third row, and 5 rolls in the bottom row. Take remaining dough and use to form the head, eyes, ears, legs and tail. The head is made of a rounded triangle. Use the remainder of the dough to make the eyes, nose, tail and legs. Two small rolls make the eyes. Legs are four balls that have been elongated. Three graduated smaller balls make the tail. Ears and nose are shaped from three small balls.

Cover and let rise until doubled. Bake at 325°F for 30 minutes or so, or until golden.

While lamb is baking, make the icing: Combine all ingredients and mix, adding additional water or half and half, if necessary to reach desired glazing consistency.

Drizzle icing over lamb's body and tail in spirals over each roll, reserving a small amount of icing. When the lamb is iced, thin remaining icing and brush on head and legs to glaze.

Happy Baking and Happy Easter!