Pink Saturday
is hosted by Beverly at
How Sweet the Sound
. She loves
pink
and graciously invited the rest of us to play along. Check out her blog to see who all else is enjoying this week's
pink
party.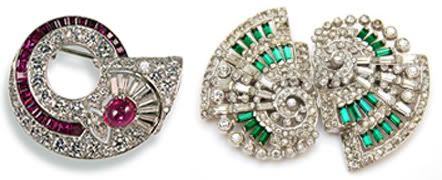 I love pins! They come in and out of style, but I have kept all of mine and inherited some from my family and the Guy's family. Pins tell such a story about a person.
Madeleine Albright certainly felt that way. In 1997, she was named the first female Secretary of State and became the highest ranking woman in the history of the U.S. government. While serving she became known for wearing brooches that purposefully conveyed her views about the current situation. "I found that jewelry had become part of my personal diplomatic arsenal," Secretary Albright has said. "While President George H.W. Bush had been known for saying 'Read my lips,' I began urging colleagues and reporters to 'Read my pins.'"
Later Secretary Albright wrote a book,
Read My Pins: Stories from a Diplomat's Jewel Box
. It's a fascinating book that accompanied a museum exhibit of her pins. I have not seen the exhibit, but am planning to go when it is in Atlanta this fall.

Pins have not always been part of a lady's wardrobe. In 1540, Henry VIII married Catherine Howard. She introduced decorative pins into England from France. Pins were very expensive at first, and a separate sum for this luxury was granted to ladies by their husbands and fathers. These funds became known as
pin money
. It also became common for women to be left
pin money
in wills, even though most property at that time had to be under the control of men. This term doesn't seem to be a terribly popular expression at the moment, but I remember my grandmothers and great-grandmother using it regularly.
The earliest written usage was in the 16th century in
The Testamenta Eboracensia - A Selection of Wills from the Registry at York
, 1542:
"I give my said doughter Margarett my lease of the parsonadge of Kirkdall Churche.. to by her pynnes withal."
The first explicit mention of the term
pin money
is by John Dryden in 1690 in the comedy
Amphitryon
:
"There's Pin-money, and Ali-money, and Seperate maintenance."
One of the most interesting sources of pin money is the Henry G. Freeman Jr. Pin Money Fund. Henry G. Freeman was a Philadelphia businessman. In 1912 his will established this fund. Even more interesting is the recipient of the Pin Money Fund: the First Lady of the United States. Freeman believed that our president was paid a "miserable pittance" ($75,000 at that time), and that this would be a way of increasing presidential income while avoiding the appearance of the controversy of political gifts.
The will instituted an annuity to be paid "to the lady termed the first lady in the land; that is, the President of the United States [sic] wife, or anyone representing the president as such, should he not be married or should she die during his administration." It also specified that the money be for the first lady's "own and absolute use" and the payments "shall continue in force as long as this glorious government exists."
The trust set up by the will would provide the yearly sum of $12,000, but the distribution of the money would not begin until Mr. Freeman's last heir had passed away. The Pin Money Fund became active in 1989. Barbara Bush was the first First Lady to benefit from it. She gave most of the money to charity, but used some of it to do something nice for her grandchildren. Hilary Clinton and Laura Bush have donated the money to charity. As the money is taxable, that gave them some kind of write-off on their tax bill.
Over the years
pin money
has come to refer to money for incidental expenses. If a person works merely to buy the "little extras", it is said they are working for
pin money
. One day every week my great-grandmother baked bread and sold it to the local grocer and to some of the ladies in town. Everyone thought Ms Louise made the very best bread (SHE DID!!!) and always felt lucky to be able to buy some from her. She kept the money she made from the bread in a special little purse and referred to that money as her
pin money
.
Back in the 1950s and 1960s a number of potteries that made novelty items made Pin Money Banks. Most of these are in the shape of a purse, labelled, and are decorated with such things as flowers, rhinestones, and gold or silver paint. And with another play on words, some of the banks are shaped like bowling ball bags or bowling pins. A couple of years ago I started a little collection of Pin Money Banks. My personal preference is for the more dainty ones, rather than the ones associated with bowling. I don't have a lot of them, but I think they are cute. Here is a picture of my collection. And this is where I am getting my
pink
for
Pink Saturday!
.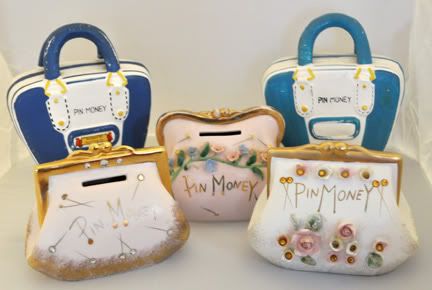 And maybe I should start using them so that I'll have some pin money for some of those lovely art deco pins!
Happy Pink Saturday!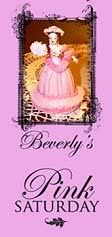 namasté,