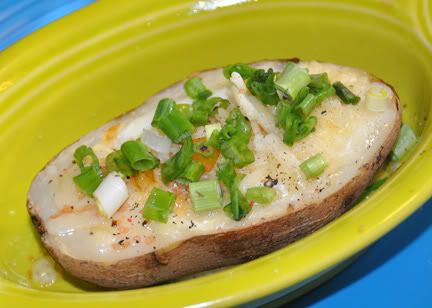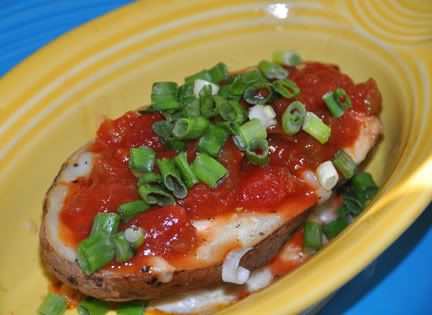 Earlier this month I saw a recipe for Baked Potatoes filled with Egg, Cheese and Ham posted by my friend Ann @
Thibeault's Table
. Then my friend Cathy @
Wives with Knives
made it, where it was seen by Pam @
For the Love of Cooking
, who adapted it as Baked Potato with Egg, Extra Sharp Cheddar, and Canadian Bacon. As these are all ladies that I highly respect and treasure their recipes, I decided I needed to make this myself. There was one large leftover baked potato in the fridge, so this morning I adapted the recipe in a vegetarian version for the Guy and I to have for breakfast.
Let's get the ingredients in place: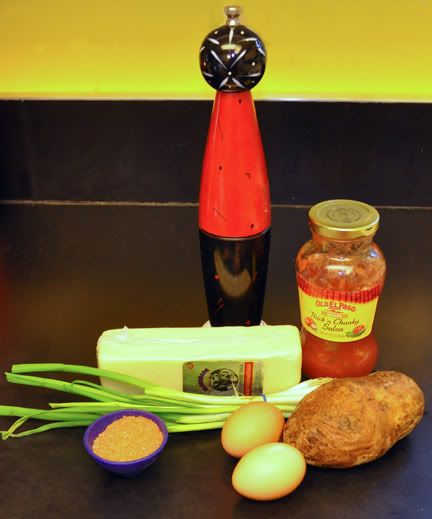 When we were up in Knoxville on Tuesday, I saw little signs (looked kind of like realtor signs) saying
Cheese Sale
. We followed them through the Agricultural College at UT until we found the Food Sciences Building. The Food Sciences Club sells cheese as a fundraiser. Up until 15 years or so ago they actually made the cheese at the University of Tennessee, but their creamery is now closed. The club gets their cheese from a creamery in Kentucky that works with them to have some really good cheeses to sell.
It's a fundraiser for students. It's cheese.

How could we not get some? LOL. We came home with a pound of sharp cheddar, half a pound of pepper Jack and half a pound of medium cheddar. My potatoes are made with the sharp cheddar.
Hollowed out potato shells: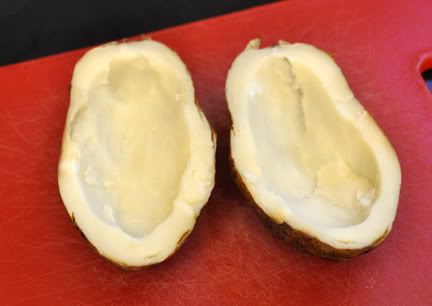 Potato boats ready to go in the oven: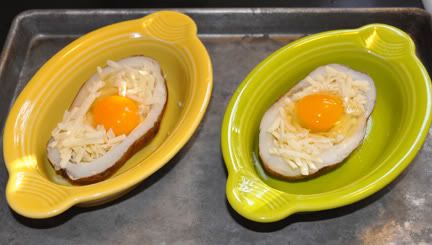 I used sunflower and lemongrass Fiesta individual bakers. They were just the right size to hold the potato halves. And check out the yolks on the eggs. That beautiful deep orange colour is because they are free-range eggs from my CSA.
Baked: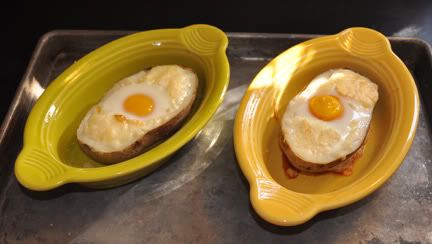 Dressed for serving: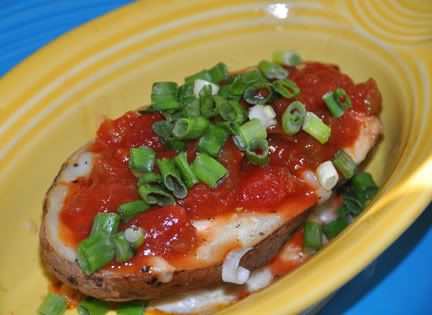 The Guy wanted a huevos rancheros version, so he got salsa added to his.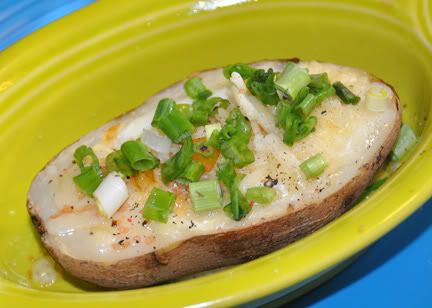 I wanted to try mine sans salsa.
These are so good! I can't imagine why I never tried baking eggs in potatoes before. And today they were super easy and quick because I already had a potato baked. DD#2 tried some with salsa and sour cream. Her verdict was two thumbs up. We all really liked the cheese from UT in this, too. Cathy suggested adding some spinach and I may try that next time. I've got a good bit of spinach that I put in the freezer last spring that came in the veggie box and this would be a great flavour to add.
Potato Boats with Egg and Cheddar
Serves 2

1 large baked potato
Hawaiian red salt
Freshly ground pepper
Sharp cheddar cheese, grated
2 eggs
Salsa, optional
Green onions, sliced

Preheat oven to 400°F.

Slice potato in half lengthwise. Scoop out some of the centres, leaving a 1/2" shell.

Season the potato shells with salt and pepper and add cheese to each. Crack eggs and gently slide one into each half. Put on a pan in the oven and bake until egg is set. This should take about 15 minutes, or so and the yolk will be soft. For a firmer yolk, cook longer.

Remove from oven, top with a little more cheese, salsa and green onions. Serve immediately.



Note:


1. I put the leftover potato from the boats into my soup container in the freezer.
2. Here we always have Hawaiian red salt on hand, but if you don't just use kosher, sea or whatever salt you prefer.
I'm linking this recipe to Kim's
Saturday Swap
over at
Quit Eating Out
. Click on the logo to check it out and join in the fun.
namasté,