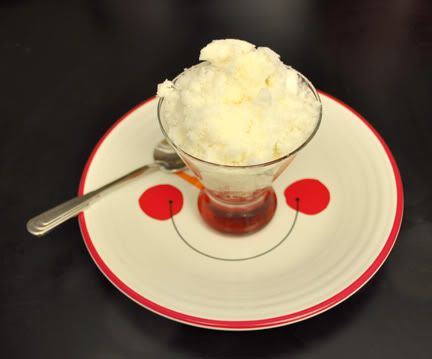 I just adore hearing Rosemary Clooney and Bing Crosby sing. (Danny Kaye is not bad either. But did you know Vera Ellen did not do the singing for her character? Trudy Stevens actually sang her part - except for the arrival scene in Vermont at the train station.) This song is from my #2 all time favourite movie:
White Christmas
. While "Sisters" is my favourite song from the movie, "Snow" is the more appropriate song for today. We woke up to somewhere between 9" and 10" of snow!!!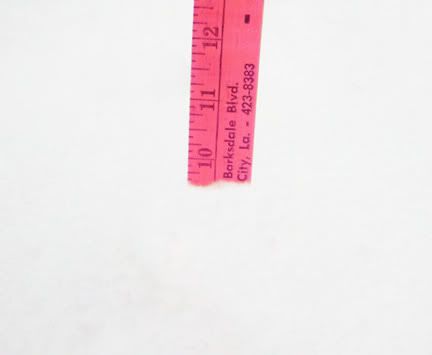 In a post back before Christmas I said that living in the Deep South I had never seen a White Christmas in my life. Had I been home instead of at DisneyWorld, that would have changed. Our part of the world did have a White Christmas in 2010. I only recall snow several inches deep a few times in my life in the places where I have lived. Until this season, I think we have only had significant snowfalls three or four times in the last 30 years. Having two big snows less than a month apart is just unheard of here.
When I started hearing the forecast for this winter storm I felt quite depressed. I was finally supposed to start the Vidaza treatments after a two week delay because of having the flu. Snow and ice meant that everything here would be closed and no way to start treatments today.
But I got to thinking. One of the things I think I have been supposed to learn from the challenge of having this disease is patience. In my life previously, I must honestly admit that patience has not been one of my shining virtues. So today is another opportunity for me to learn. Given that there is nothing I can do about the snow, I have decided to have fun with it. And it does have a wonderful silver lining.

DD#2 has a snow day off from school. I am treasuring all the time we get to spend together, because I know I will be missing her dreadfully when she goes off to college in the fall.
Whenever it would snow when we were growing up, we ALWAYS got to have Snow Ice Cream. (That is what we called it in Louisiana. When we moved more east, I discovered it is referred to by most people here merely as Snow Cream. That still sounds odd to me.) If a snow was predicted my Mom would set out some dishpans or large bowls on our picnic table to collect the snow. Then she would bring it in, stir in some sweetened condensed milk and voilà: Snow Ice Cream. The Guy and I had gone over to see her yesterday and she had her bowls out, ready for my sister to go sit out on her patio table. When we got home, I got out several of my large Tupperware bowls. Then last night as the sleet was changing to snow, I put them out on the table on our balcony. Not only are the bowls full, there is snow piled up a good 4" or more over the top edges of the bowls.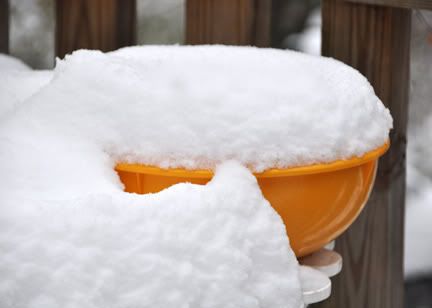 But before I get to snow ice cream, we had to have some breakfast. I participated in several Secret Santa Exchanges this past year. One of my secret Santas sent me homemade cherry preserves! Such a treat. Cherry just might be my favourite preserves ever. And homemade on top of that! Big WOW!

The Guy made us some coffee and toast. My toast got topped with the lovely cherry preserves.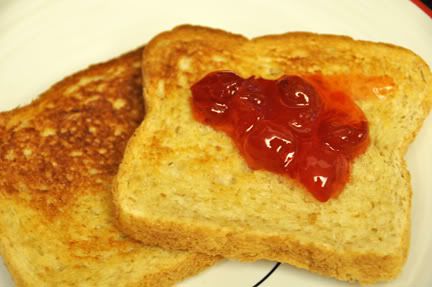 And in keeping with the weather, we ate off of our Fiesta snow face plates. This design is actually the Snowman made for Tamarak, but I like to call it a snow face as there are other Fiesta snowman plates.
To make snow ice cream, we have to work quickly. Don't want the snow to be like Frosty and melt! Only two ingredients: sweetened condensed milk and a big bowlful (or more) of snow.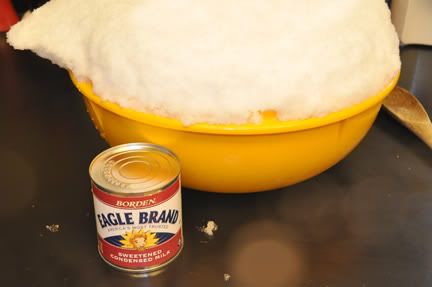 Milk poured over snow: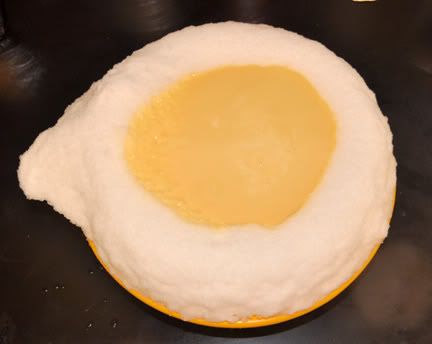 A special treat for us to enjoy, once again using the Fiesta Tamarak Snowman as an underplate: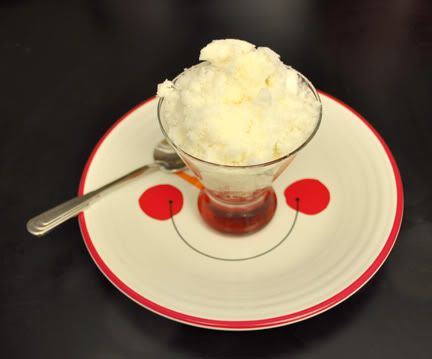 We were so decadent! Snow ice cream was our lunch today!!! Enjoy and keep warm.
Snow Ice Cream
1 can sweetened condensed milk
1 or more large bowls full of snow

Drizzle the sweetened condensed milk over the snow and mix well to distribute the condensed milk evenly throughout the snow. Dish up and serve immediately. Leftover snow ice cream can be stored in the freezer, or outside if the temps stay below freezing.

namasté,