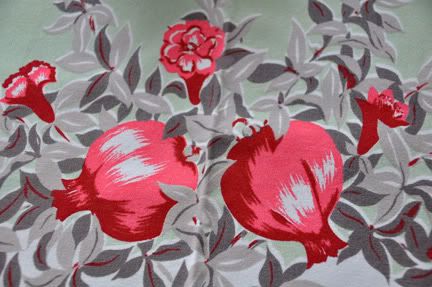 MaryT/TheTeach over at
Work of the Poet
started a photo meme for people who have photographed something red. For some months now I haven't been able to participate in Ruby Tuesday, but am very happy to be getting back on board this week. I am also, for the first time, joining Marty at
A Stroll Through Life
for her blog party, TableTop Tuesday. Check out both of these wonderful blogs to see who else is playing along.
Today I am featuring red on our breakfast room table.
Vintage tablecloths make dishes sparkle. And you all know how much I love my dishes! I have picked up vintage tablecloths off and on for some 30 years, but only in the last ten or so have begun to actively collect them. Collect, as in buy the books, learn the makers, know the designs, etc., etc., etc. One of the best vintage tablecloth manufacturers is California Hand Prints. They made lovely cloths on high quality fabric. Several of their patterns rank among my favourites. And Pomegranates has to be near the top, if not the apex.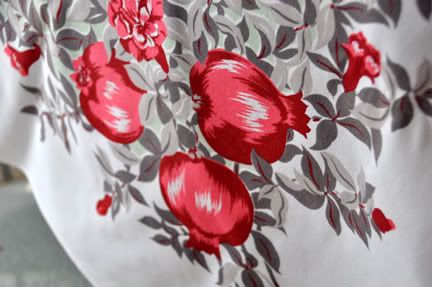 For several years now I have been looking for the Pomegranates tablecloth. I've known about two colourways, but just learned that it is also known to come in at least one more: the one I'm featuring here today, a darker version where the leaves are black, and one that is yellow and green. The yellow/green version can be seen on my friend Candy's blog:
Pomegranates on The Little Round Table
. And she is lucky enough to have real pomegranates growing in her garden! Just before Christmas I found this Pomegranates tablecloth for sale on eBay and was lucky enough to win it.
I set the table using celadon, pearl grey and scarlet Fiesta dinnerware, along with some pieces from my collection of art deco chrome. The chrome pieces I chose for this table are all accented with red bakelite or red enamel. The flatware is the original Fiesta stainless steel that was authorized by Homer Laughlin China sometime in the early 1990s. Napkin rings are some silver ones I have had for many years and the napkins were a Christmas gift from my Tablecloth Secret Santa. Most of the chrome pieces are American, but the tall vase was made in England. It came to me by way of a Canadian friend and can be seen in the book,
Art Deco Scapes
. (Actually, several of the pieces in that book are from my collection so check it out if you get a chance.)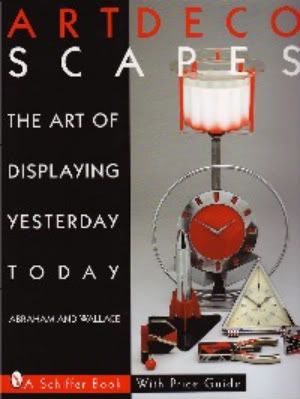 But back to my pomegranate table: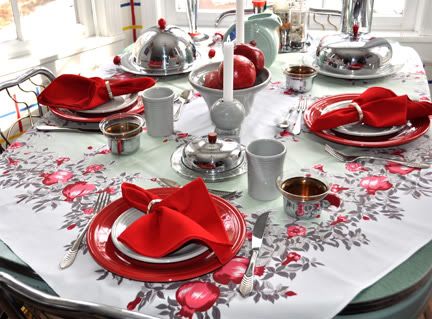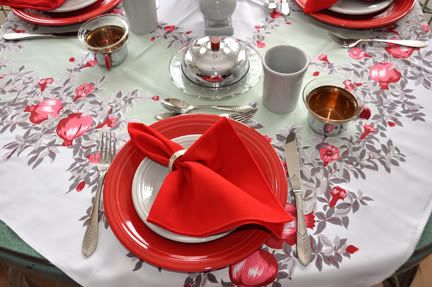 Official Fiesta stainless flatware: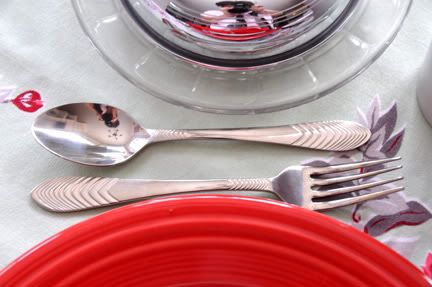 Deco chrome and red bakelite handled dome on a pearl grey Fiesta plate: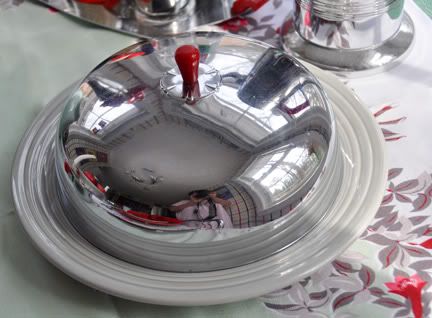 Art deco chrome cup with bakelite handle and glass liner: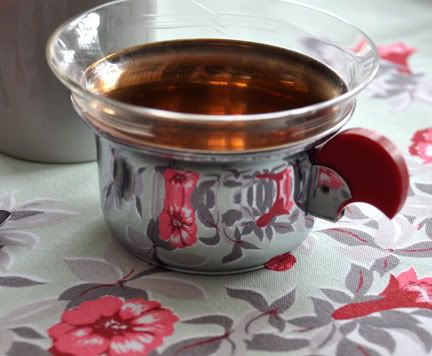 Scarlet and Pearl Grey Fiesta, silver napkin ring and contemporary napkin: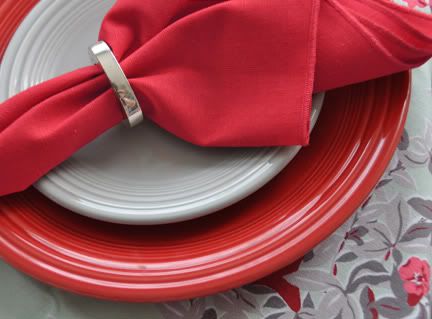 Deco chrome cocktail shaker/pourer: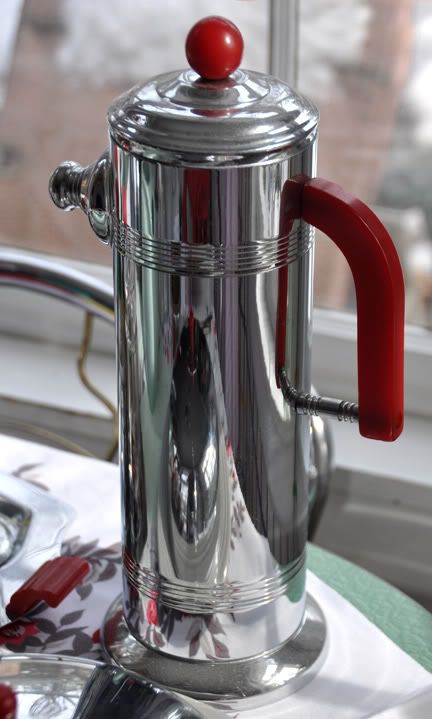 (We must be having mimosas on this pomegranate morning.

)
Art deco domed server with red bakelite handles: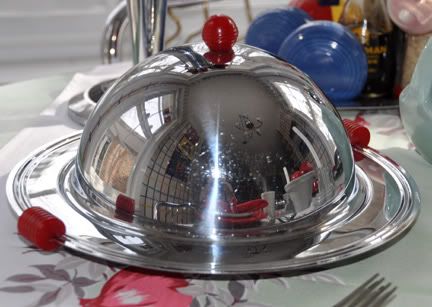 Vintage Fiesta celadon juice pitcher: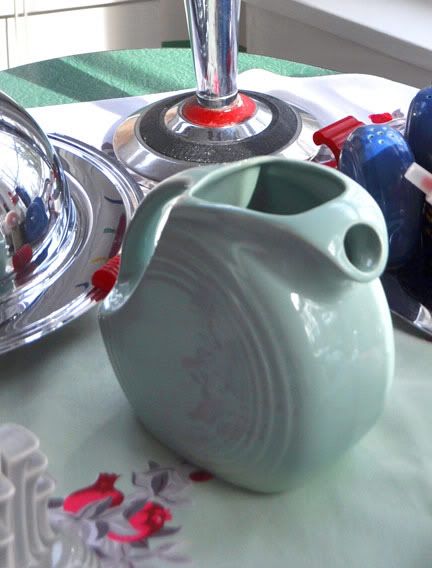 British deco chrome vase with some enamelled metal mushrooms that go with the Ruby Tuesday theme:

Other pieces came in this base design. I also have a candy dish with the same foot and some picture frames trimmed in just the red. That coloured finish is not smooth. It almost has an orange peel effect. And the vase is rather large. It measures 15" high.
Depression glass butter dish with deco chrome lid and red bakelite handle, Fiesta pyramid candleholder, set off by the inside border of the tablecloth: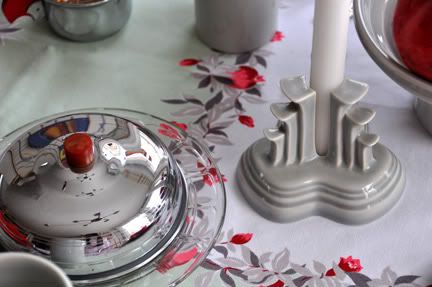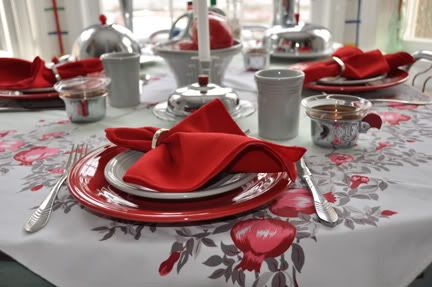 Real pomegranates - the jewels of winter: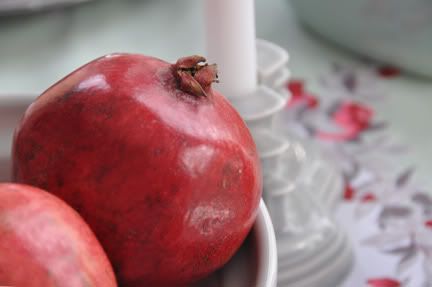 Fiesta pyramid candleholder, hostess bowl and pomegranates: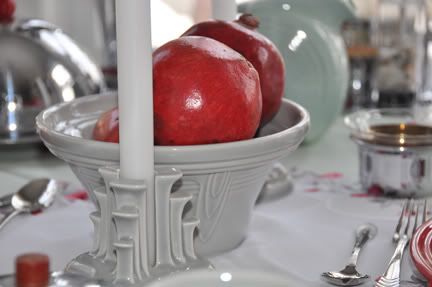 The candleholder is my favourite vintage Fiesta shape and the hostess bowl is one of my two favourite Post-86 shapes. Both of them epitomize art deco design.
Art deco toast rack and tray: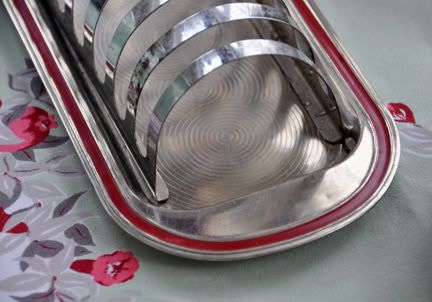 I love the way the rings in the toast tray echo the iconic Fiesta rings: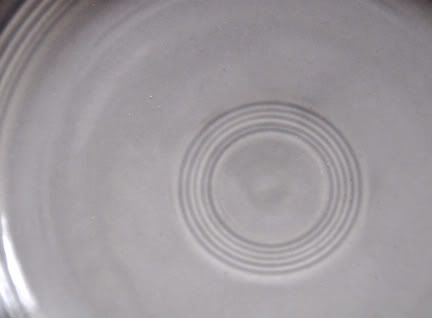 And I love the way the chrome brings some sparkle and shine to the table: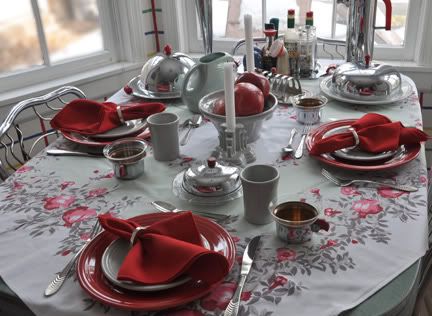 You may notice I have different candleholders between the first photo and the last. I originally thought the bulb candleholders would echo the round of the pomegranates, but after trying both on the table I felt like the pyramids looked better in this setting.
If all of this has made you hungry for something with pomegranates (it has me!!!), I highly recommend Nigella Lawson's No Churn Pomegranate Ice Cream. I have made it a number of times and also blogged about it before.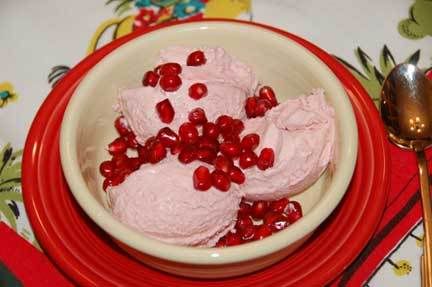 Click here for recipe.
namasté,