Swim if you're able
And they swam and they swam all over my table.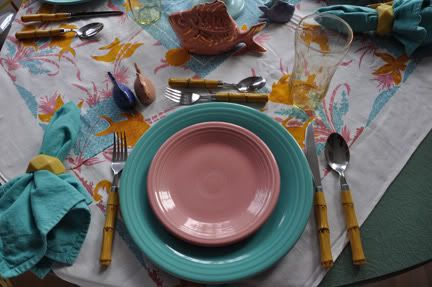 This week I am joining Susan at
Between Naps on the Porch
for
Tablescape Thursday
and Beverly at
How Sweet the Sound
for
Pink Saturday
.
My tablescape was inspired by my friends Candy, Daphne, Elaine and Rebecca, who did
Coast-to-Coast: Two Fish, Four Fish, New Fish, More Fish
last week for Tablescape Thursday. They chose to use the same fish tablecloth in four different colourways and posted them on
Tabletop Time: East Coast
and
The Little Round Table: West Coast
. If you did not see their beautiful settings last week please check them out before continuing.
When I saw their tables I remembered that I had that same tablecloth in at least one colourway. Since Abbey had helped me organize all my tablecloths a few weeks ago, I had a pretty good idea of where to look for it. Sure enough, I have the same fishy tablecloth that Elaine used - the colourway with the gold fish, turquoise coral, and pink seaweed.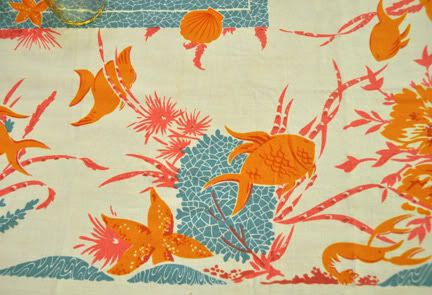 And I remembered thinking when we put it away that this cloth would look fabulous with marigold Fiesta.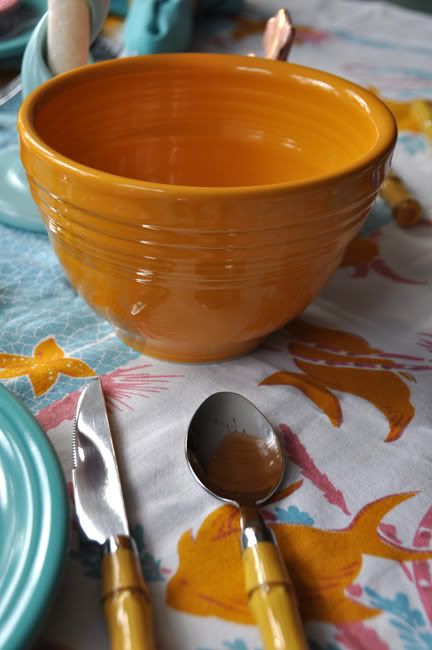 Marigold is the colour celebrating Fiesta's 75th Anniversary. While a few special shapes in this glaze have been released the last few years, the remainder of the line will come out this year for the anniversary. I am anxious to be able to get place settings to use with this tablecloth, but in the meanwhile, I decided to see what I could do using some of the shapes that are already out. And of course, I would need some other colours to go with it in order to set the table.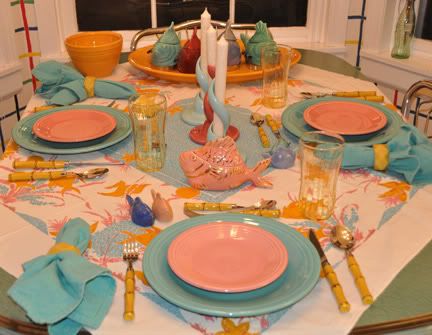 Today's table is set with the gold fish tablecloth, post-86 Fiesta in marigold, rose and turquoise, vintage Metlox spiral candleholders in rose and turquoise, vintage Chicken of the Sea tuna bakers and shakers in the standard colours as well as some unusual colours, pale gold glassware that belonged to my great-grandmother (tea came in these from the grocery store in the early 1900s), bamboo flatware from Cambridge, post-86 Fiesta go-along turquoise napkins and yellow napkin rings that I got several years ago from Sur la Table. My breakfast room faces east so when the morning sun comes in I get lots of lovely natural light. Sometimes that makes tablesetting pieces be backlit, so I also made some photos of the table after dark with the room lights.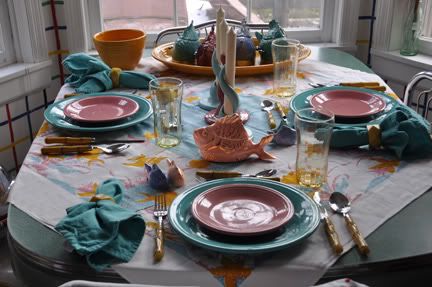 One of my great-grandmother's glasses:
The glass is so thin and delicate in these. They fit perfectly in your hand and I treasure them.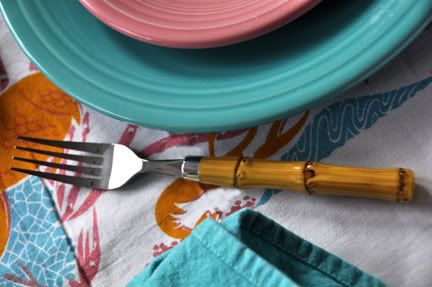 Besides Homer Laughlin dishes, I have also collected promotional pottery from a number of different potteries. The Chicken of the Sea tuna pieces and associated ephemera (1940-41) are some of my favourites. And I've been lucky enough to find pieces in some odd colours to go along with the standard ones that were sold in the promotion. Standard glazes were yellow, maroon (called dusky rose in ads), green and turquoise and all were glossy. I also have matte coral, glossy coral, cobalt, delph blue and matte turquoise in my collection.
Marigold large Fiesta platter holding bakers in turquoise blue, dusky rose, delph blue and sea green: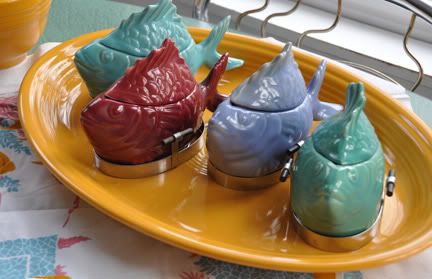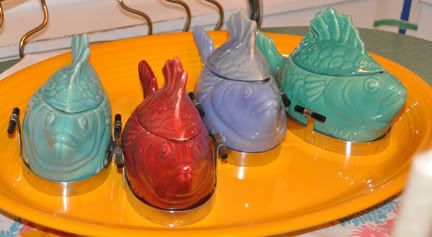 The other standard colour for the bakers was canary yellow.
Now this is an odd baker.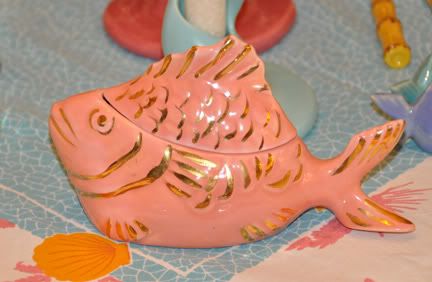 What makes it odd is that it's considerably smaller than all the other bakers, it's coral, it's trimmed in gold, and there is no mark on the bottom. It almost appears to be an amateur piece, but I have never seen any others in this size or decorated with the gold.
Officially the bakers are called Tuna Bakers and Salad Servers. The chrome stands are to protect your table from the hot dish. I have the recipe pamphlet that came with them, but I have never been brave enough to put them in the oven. I have used them to serve tuna salad though.
Check out Candy's blog for pics of some of the ephemera for the premium pieces. Lots of times people sell the Chicken of the Sea pottery as Bauer, but the glaze colours are not the same and there is no proof that Bauer ever made them. A lot of us have been researching and we believe that several different potteries made the fish. The bakers come in at least two different shapes with different markings and the lids are not interchangeable.
Many of the shakers have been found in original mailing boxes and all of those were postmarked Hollydale, CA. Hollydale Pottery was located there, so it is likely they were one of the producers. Also there are anecdotal stories from the families of Hollydale workers who say they made the fish. Here is a shot of two of the mailing boxes that shipped with pairs of the shakers.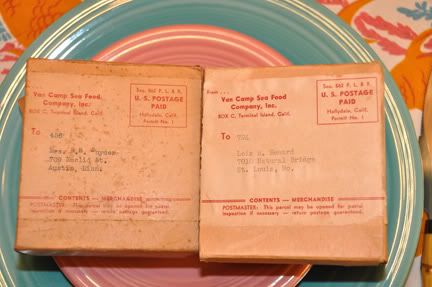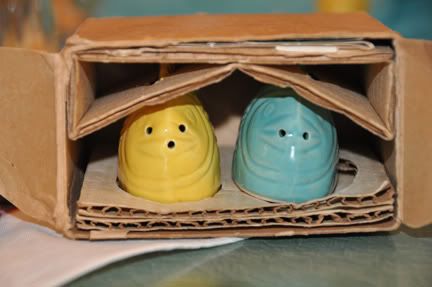 In the boxes were notes saying that corks did not come with the shakers and to use tape to cover the openings in the bottom. I have always wondered why they did that.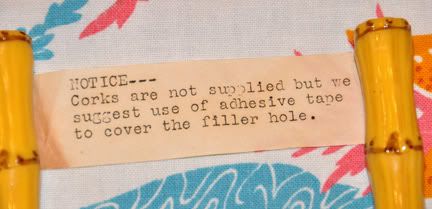 Normal colours for the shakers are turquoise blue for salt (the one with two holes) and canary yellow for pepper (three holes). I've also found them in coral, cobalt and delph blue.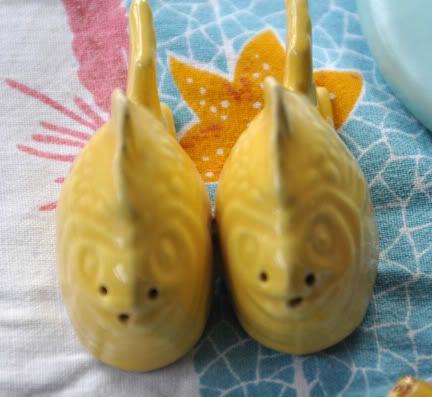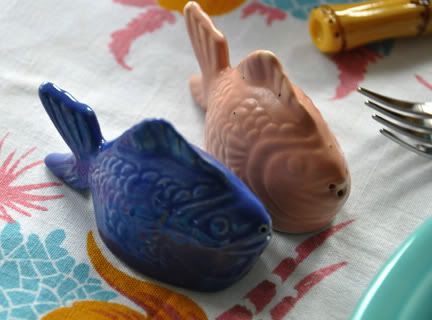 This is one of the most interesting pairs of shakers in my collection: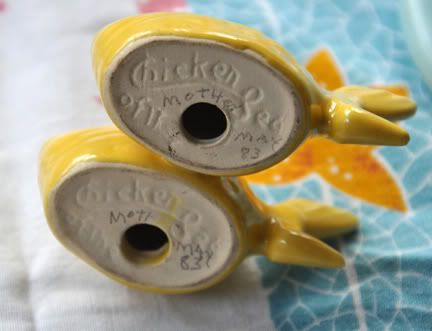 Notice how they are stuck together? When they were put in the kiln to fire, they were placed too close together and the glaze on the two pieces fused. This can happen when making pottery, but normally when the pieces are removed from the kiln they come apart and the glaze will be damaged where they touched This pair is forever joined together with a kiln kiss.
The Metlox candleholders: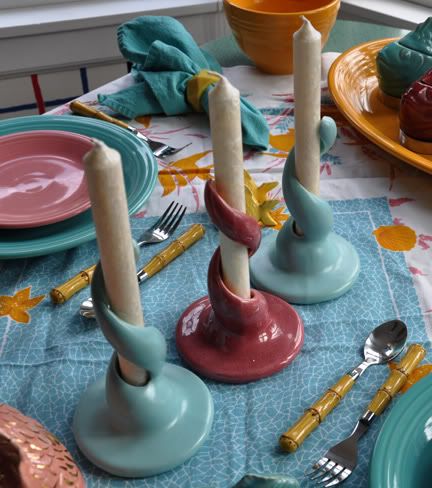 Every time I use these I am amazed at how they were manufactured and how well they have survived. The spiral candleholders also came in the radioactive red glaze, ivory, coral, green and yellow.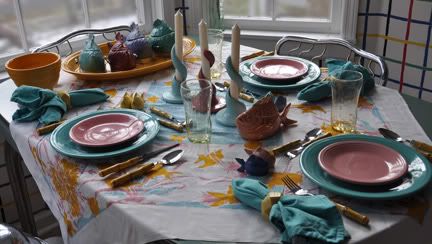 There is another fish tablecloth that goes wonderfully vintage Harlequin in its original four colours. Several years ago I did a tablesetting using those, the Chicken of the Sea pieces, and a Trenton pottery vase that is also in my favourite blue glaze. As a little bit of lagniappe, here are a few shots from that table: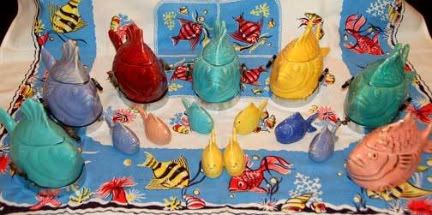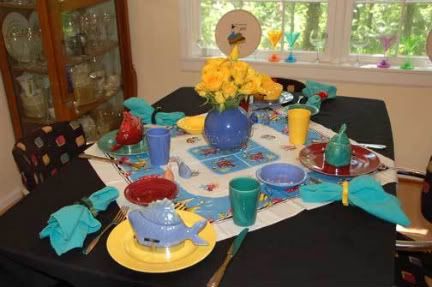 Happy Fishing!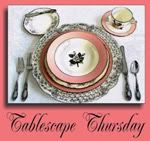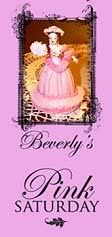 namasté,