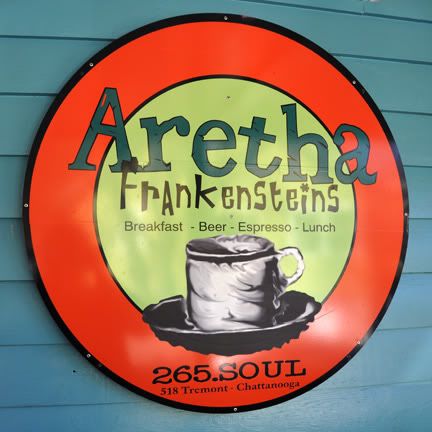 There is an eatery in Chattanooga, Tennessee by the unlikely name of
Aretha Frankensteins
. This is only a couple of hours from where we live and we have been to Chattanooga more times than I can count - to stay at the
Chattanooga Choo Choo
, for shopping, for visiting the
Tennessee Aquarium
and museums, on a couple of college trips, antiquing, and sometimes just to stop and eat at the
Big River Grille and Brewing Works
. The Big River Grille is a micro brewery and for years has made The Guy's very favourite beer: the house IPA. (An aside: another great microbrewery in Chattanooga is right next to the Choo Choo:
Terminal Brewhouse
. The Guy reports their house crafted stout is some of the best he has ever tasted.) But in all the times we've been there, we'd never gone north of the river to eat at Aretha's.
Aretha Frankensteins has been on my radar for a very long time. I'd heard about it from friends. I've seen lots of stuff online about it. And Rachel Ray went there on her Chattanooga episode of
$40 a Day
back in 2004. The restaurant has been described as a coffee shop, diner and numerous other things. It's in a residential neighborhood in an old house that is painted turquoise. (Just being painted a bright happy colour would be enough to get me to try it out.) It is said to serve THE BEST BREAKFAST in Chattanooga.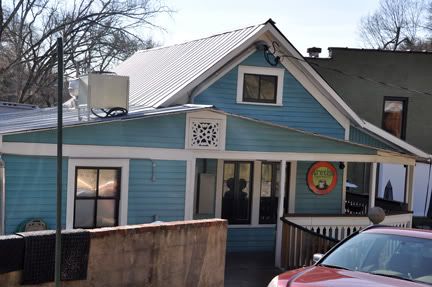 In 2006 a fire gutted the place, but the owner quickly rebuilt. While it's open from 7:00am till midnight every day, Aretha's is most famous for their breakfast. Biscuits as big as your hand, the thickest pancakes you've ever seen, French toast, waffles and grits all get the most wonderful reviews. They even sell their pancake mix and I had ordered several boxes for Christmas gifts this past year. (Got a box for myself, too, but I haven't tried it yet.)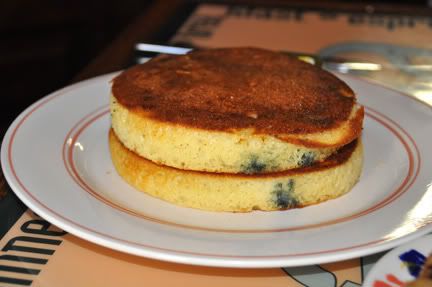 DD#2 was invited to be interviewed for the high honours program at the University of Tennessee - Chattanooga. It's a two day process and the kids spend the night in a dorm on campus with other honours students. Hmmmm. This sounded like it could be made into a mini vacation for us. We went up the day before and stayed at the Choo Choo. Whilst DD was off at the university, the Guy and I took the opportunity to go to Aretha Frankensteins.

While they serve both breakfast and lunch food all day, our visit on Monday was all about the breakfast. The restaurant is not large - particularly in the winter when the porch and patio can't be used.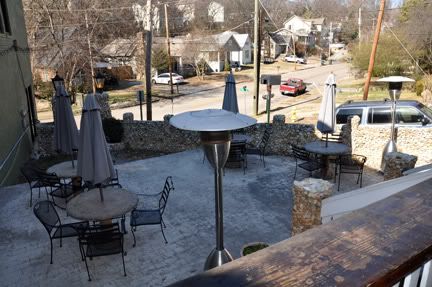 I called on Sunday evening to ask what would be the be the best time to come in for a late breakfast/brunch. The lady on the phone said around 12:00 or 12:30pm. Well, that timing worked out perfectly for us. We checked out of the Choo Choo and got to Aretha's shortly after noon. Parking is right in front of the restaurant on the side street and is on a hill. Did I mention that just up the street is a house that has a fence made of vintage bicycles?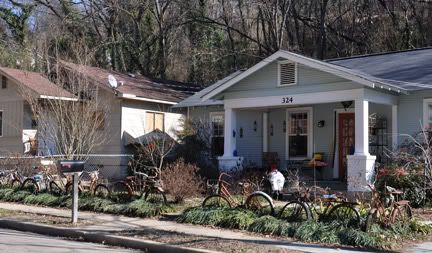 There were a couple of parking spots available and we got one right by the entrance. Inside there are four 4 tops and a vintage Ms Pac Man video game table for two.

There is also a nice bar that seats five in some interestingly designed bar stools.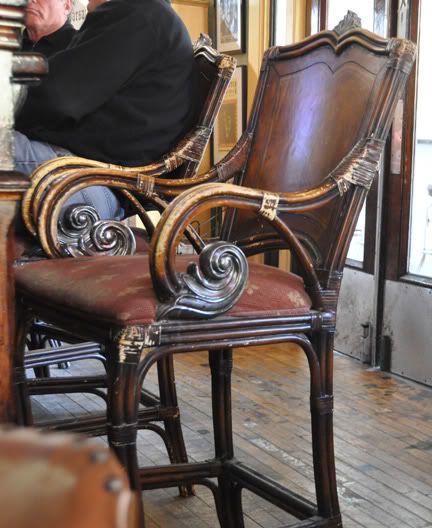 As soon as we walked in the girl behind the bar told us to have a seat anywhere. Since there were only four other patrons, we picked a four top. Adriene (sp?) came over to greet us right away and soon we had piping hot freshly brewed coffee. She was very helpful and friendly. I told her we hadn't been before and she gave us the ins and outs of some of their foods.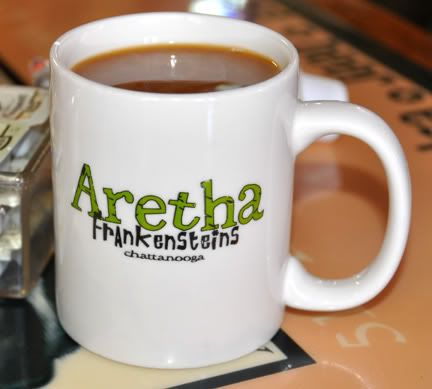 The Guy and I decided to order a selection of various breakfast items to share: slim stack of pancakes, French toast, a biscuit, breakfast potatoes, sausage and bacon. Pancakes can be made with blueberries, apple butter, pecans, or plain. The Guy chose blueberry.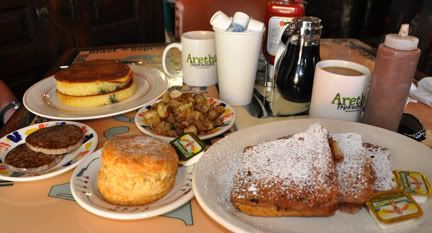 The apple butter is homemade and extremely close to the way my
homemade apple butter
tastes. Obviously I think this is some of the best apple butter I have ever had when eating out! We got that to go with the biscuit. Biscuits are at least twice the size of what you would normally expect and came to the table right out of the oven. The pancakes are also monster sized - about 7" diameter and at least an inch thick. They are cooked in a ring to keep them in shape. Previously I had read in other reviews that the pancakes are so good that even the plain ones can be eaten without syrup. This is true! The potatoes are fried with onion and jalapeño - very tasty and not too hot with pepper. The French Toast is four large slices of bread that is seasoned with cinnamon, allspice, nutmeg, etc. For my personal taste I would have used a little less of the spices, but it was still delicious. Of course, this was a ton of food. When we eventually left I had to take the biscuit with me. Adriene also brought me a couple of containers of apple butter so that I could take some of that with me, too.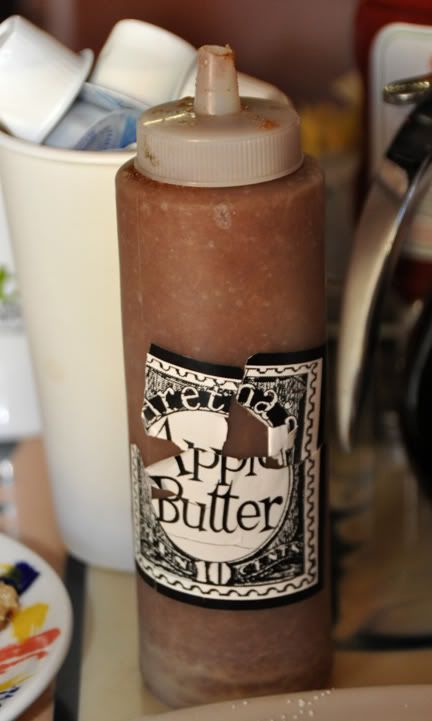 During our visit numerous locals came in, got coffee and left. Some had called in ahead and got biscuits or sandwiches to take with them. Several more came to eat-in. This is the kind of place I would love to have in my neighborhood.
If you look online you will see many reviews complaining about slowness and poor service. My opinion is that most of those people should not go to eat at places like Aretha Frankensteins. It is a neighborhood place to go sit a spell, visit with your friends and neighbors and have a leisurely meal. It is not a place like Waffle House or somesuch where you would expect to go in, eat and be out in half an hour. When we arrived the cook/chef was taking a break and it was about 15 minutes before he came inside. This was not a problem for us. We took the time to visit, look around at the exceedingly interesting decor, talk with Adriene, consider playing a game of Ms Pac and enjoy the bottomless cups of coffee.
Face masks above the door to the kitchen remind me of some of the decor in the Haunted Mansion at DisneyWorld.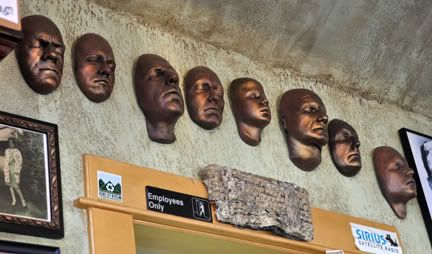 And check out the interesting ceiling fan: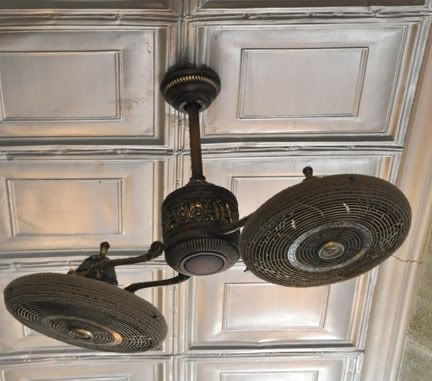 All the food was delightful and after we had finished eating we were sincerely invited to stay as long as we liked and continue having coffee. By this time Adriene knew that DD#2 was over at the university and we didn't need to be there to pick her up until 2:00p.
One of my criteria for judging a breakfast place is the coffee. Growing up in Louisiana I have been accustomed to delicious coffee all my life. Aretha's did not disappoint. And when we left we were given coffee to go. Gotta love that.
Would we go here again? Absolutely! I'm anxious to come back and try the pecan pancakes. Or maybe one pecan and one blueberry. They really are good enough to eat without syrup! Oh, pancakes come as a thin stack or a fat stack. You can also order them singly. Unless you are really hungry, it might be difficult to finish the fat stack. But oh, what fun it might be trying. And I also want to go back and check out the lunch menu. I didn't even look at that side of the page as this was a breakfast trip. The staff couldn't have been nicer. Thumbs up from both the Guy and I.
And if you are interested, this is their recipe for their Belgian waffle. Personally, I am anxious to go home and try out their pancake mix.
Waffle of Insane Greatness
serves 4

3/4 cup all-purpose flour
1/4 cup cornstarch
1/2 tsp baking powder
1/4 tsp baking soda
1/2 tsp salt
1 cup buttermilk
1/3 cup vegetable oil
1 egg, lightly beaten
1 1/2 tsp sugar
3/4 tsp vanilla
Butter, syrup and apple butter for serving

Stir together the dry ingredients (flour, cornstarch, baking powder, baking soda, and salt). Add the milk, oil, egg, sugar and vanilla and mix thoroughly. Set aside and let the batter rest for half an hour.

Preheat waffle iron and bake waffles according to the directions. Serve immediately with butter and syrup or apple butter..
namasté,