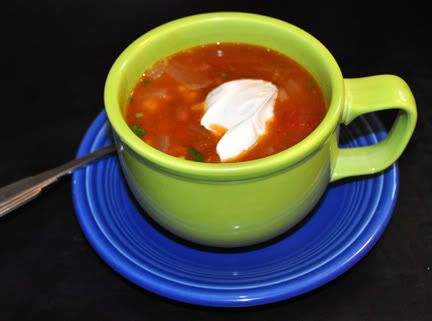 Sometimes there is just not much energy for cooking. Sometimes you need something easy. This tasty and filling soup, made from mostly pantry items, is just the ticket. The only thing in the soup that I might have to get from the market is cilantro, as we keep most of the other things on hand. And if you don't have or like cilantro, you can leave it out. The soup has plenty of flavour with the other ingredients. The cilantro just adds another layer.
You can use any kind of beans you like. I've made it with red beans (not the same as red kidney beans, but you could use those, too), black beans, pinto beans, adzuki beans (those take longer as I never have them canned and have to soak & cook the dry ones), cranberry beans and garbanzo beans. You can also mix the beans, if that's what you have on hand. If you don't have or like hominy, substitute plain corn kernels or another can of beans. Chicken broth can be substituted for the vegetable broth. This is one of those recipes that is easy to customise with various ingredients, without endangering the flavour of the soup.
My pot of choice most of the time for soup making is my Staub La Coquette. It's basil in colour and has the snail finial on the lid. As a matter of fact, I use this pot so often, in the winter it typically stays sitting out on the cooktop.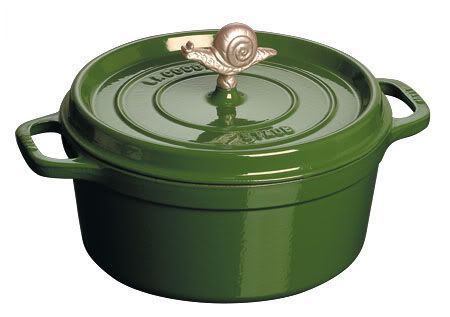 I

all my Staub pots. So let's make soup.
Start by gathering ingredients. Today I am using red beans.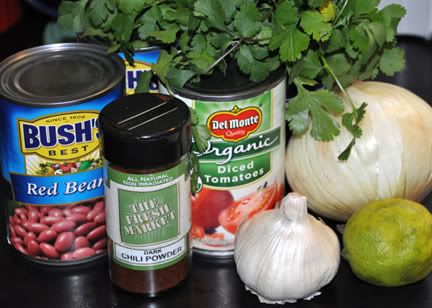 Adding the main ingredients after sautéing the onion and garlic.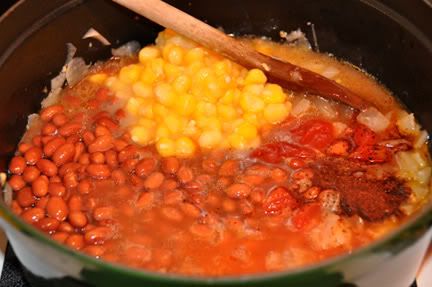 Ready to ladle out of the pot.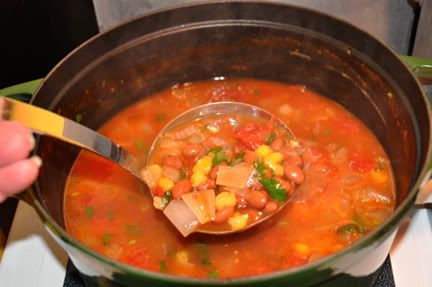 Served in a chartreuse Fiesta jumbo mug on a sapphire salad plate.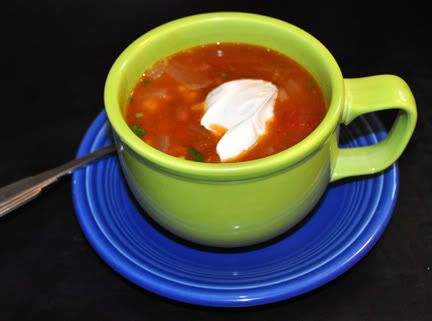 Bean and Hominy Soup

2 or 3 Tbsp olive oil
1 large onion, chopped
3 garlic cloves, minced
2 (15 1/2-ounce) cans beans (whatever kind you like)
1 (15 1/2-ounce) can hominy (I like to use yellow in this soup, but any colour will do.)
1 1/2 cups canned chopped tomatoes
1 Tbsp ketchup
1 tsp Worcestershire sauce
1/2 Tbsp dark chili powder
1/4 tsp smoked paprika
2 cups vegetable broth (or use chicken broth, if you prefer)
Kosher salt and freshly ground black pepper
1/4 cup chopped cilantro
Juice of 1 lime
Sour cream, for garnish
Thinly sliced green onions, for garnish

Put olive oil into a large heavy pot and place over medium heat. Add the onions and cook, stirring, until they start to turn translucent. Stir in the garlic and cook until you begin to smell it, about another minute. Add the beans, hominy, tomatoes, ketchup, Worcestershire, chili powder, smoked paprika and broth. Turn the heat to high and bring to a boil.

Adjust temp so the soup is simmering gently and cook about 20-30 minutes. Season with salt and pepper. Stir cilantro into the soup and cook about 5 minutes more. Stir in the lime juice. Serve with the garnishes.

Notes:
1. To make this vegetarian, be sure you have vegetarian beans and leave out the Worcestershire sauce.
2. If you want a meatier flavour, dice and fry some bacon (5-6 slices) at the beginning, then add in the onion. You won't need the olive oil if you do this.
3. I like to serve this with cornbread, freshly baked in a cast iron skillet.
4. You can serve the soup over rice, if desired. If you do that, I recommend brown rice.
namasté,