You know the one. If you live in the US and were born by 1950ish, odds are that you grew up having a green bean casserole on the table at your Thanksgiving feast or Christmas dinner. While it was often served at other times, too, the holiday tables were never missed. It's three main ingredients are green beans, Campbell's Cream of Mushroom Soup and Durkee's French Fried Onions. Did you ever wonder how this dish wound up on your holiday table? Where did it come from? And why? Who invented it?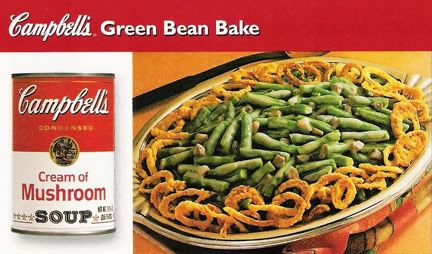 When I was in college I was a Home Economics Major. Home Ec majors had to take many food classes. As a freshman, one of mine was Vegetables 101. During that class we cooked vegetables, vegetables and more vegetables. One of the assignments was Fresh, Frozen or Canned Vegetables in 1. Homemade Cream Sauce, 2. Homemade Starch Thickened Milk Sauce, and 3. Canned Cream Soup. You know what recipe I chose for Option number three in that assignment.

Our classmates had to eat what we produced. With every vegetable that we cooked, we had to present the recipe. And the recipes had to be sourced. In the 1970s we did not have computers with word processing programs. We did not have Correcting Selectric II typewriters. As students we did not have electric typewriters even. Some of us were lucky enough to have a manual typewriter. I was one of those as I had gotten one as a high school graduation gift.
Let me tell you, I typed hundreds of recipes that quarter. When I typed the recipe for Green Bean Casserole, I sourced it as "ubiquitous", because a) it was in the wee hours of the morning, b) I didn't know where it came from, c) we didn't have Google, d) everybody made it, and e) recipes were due at 9:00am. My professor was not impressed with "ubiquitous" as a source and had me conference with her. It was from her I learned that this casserole which everyone served actually came from the Campbell's Soup Company. She had the soup can with the recipe in her office to show me. (BTW, I still have that binder full of vegetable recipes and refer back to it for some special dishes - but not Green Bean Casserole! Hmmm. It's been a long time since I made Pittsburgh Potatoes. But that's a recipe for another day.)
Notice the last word in the title of this post: casserole. Casseroles began to show up on American tables during the Depression. Cookbooks, women's magazines, newspapers and other sources featured numerous one dish meals as a way to save energy and use inexpensive ingredients. People had to eat what was available. These type dishes caught on and by the late 1940s major newspapers coast-to-coast, from the
New York Times
to the
Los Angeles Times
, were touting green bean casseroles (among others) in their food sections.
The Campbell Soup Company loves to print recipes on it's can labels that feature its products. Green Bean Bake is without question the most famous of those can label recipes. According to the Campbell's Kitchens, it was first tested due to a request. At that time Cecily Brownstone wanted to recreate a green bean casserole she'd eaten at a barbeque supper. Now Ms. Brownstone was Food Editor at the Associated Press from 1947 through 1986. Every week she wrote two food features and five recipe columns for the AP. In addition she also authored several cookbooks and was the most widely published food writer in the country. The Campbell's Test Kitchens were happy to help her.
The dinner where Ms. Brownstone had green bean casserole was in Florida at the home of John and May Snively. The Snivelys were wealthy, yet unpretentious, citrus ranchers and entertained royally. Seriously. At the barbeque May served a replica of the menu she had recently served to the Shah of Iran and his wife (Shah Mohammed Reza Pahlevi and Queen Soraya). According to Mrs Snively, Queen Soraya had loved the casserole so much she "dug in".
How could Cecily let that story pass? Thus she requested help from the Campbell's Test Kitchens. She had her article and a recipe. The recipe in the article was called
Beans and Stuff
. Having been questioned by the queen about ingredients in numerous dishes, the Snively's "butler" was rather plain-spoken when asked about the beans.

In 1955 Campbell's called the casserole
Green Bean Bake
and that remains the official name to this day. As time has passed they have altered the recipe just a bit, but it is basically unchanged for over 50 years now. And that, my friends, is the origin of the ubiquitous green bean casserole. Who knew it would have such longevity?
These days I do not care much for 'cream of...' soups. Nor am I fond of canned French fried onions. When I make green bean casserole, I sauté some chopped mushrooms, steam some haricots verts, make a béchamel sauce and fry some
Creole Thin Onion Rings
. Then I mix the mushrooms, béchamel and green beans. A layer of the green bean mixture goes in the casserole dish, then a layer of the onion rings, then repeat both layers and bake till heated through. I got Vidalia onions and a nice bag of baby portabellas in the veggie box, so may give green bean casserole a go one day this week.
Here is a clipping of the recipe as it appeared in newspapers in April 1955.

If you'd like to read the article, click on the image below for a larger version. And notice, there is no mention of Campbell's involvement.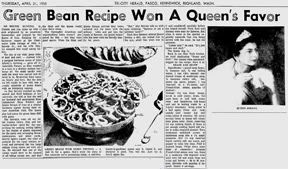 namasté,