Many years ago Mike and I went out to dinner on Valentine's Day. Crowds were horrible everywhere, and they've only gotten worse as the years pass. That is not my idea of a romantic dinner. Then and there we decided that we would eat at home on Valentine's and go out for a special meal on another night near the occasion. This year, we are lucky to have another holiday to celebrate this 14 February: Chinese New Year.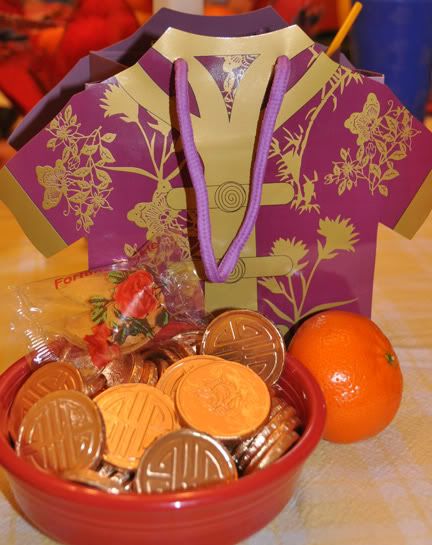 2010 on the Gregorian calender is the year 4706, 4707, 4708 or 4646 on the Chinese calendar (depending on exactly which version of the calendar is used). Like Easter, the actual date differs every year and is calculated based on several solar and lunar movements. We here in the west call the day Chinese New Year, but because it happens as winter is turning into spring, in China it is most often referred to as Spring Festival. Other Asian cultures also celebrate the new year at this time. Unless it is a specifically Chinese celebration, it's perfectly correct to call this day Lunar New Year. Each year is named for one of the 12 animals in the Chinese Zodiac. This year is the Year of the Tiger.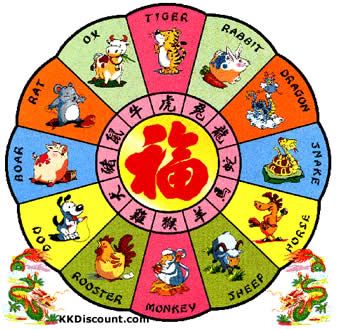 This is not a holiday I celebrated as a child. It wasn't until the girls were in school and started doing something on Chinese New Year each year, that I incorporated it into our celebrations at home. I had planned to prepare a simple Chinese meal for today:
Spring Rolls
Stir-Fried Asparagus with Sichuan Sauce
Vegetable Chow Mein with Bean Curd
Pan Fried Scallion and Chive Bread
Mango Pudding garnished with tangerine slices
That did not happen, so we pre-ordered from our favourite local Chinese place. This allowed us a more varied menu and everyone got to choose something particular. Abbey & Donnie picked up the food at the appointed time and brought it over. Then they and DD#2 got everything set up for serving. Our menu:
Hot & Sour Soup and Egg Drop Soup
Spring Rolls
Honey Chicken and Sesame Chicken
Ma Po Tofu and Bean Curd Family Style
Vegetable Fried Rice
Vegetable Lo Mein
Steamed Rice
Sweet Donuts
Tangerines
While the food was not the same as homemade, sometimes it is more important to enjoy spending time together. And with the terrible events of this last week (two school shootings in town in one week), that is even truer.
China is a huge country and customs are not the same all over, but everything associated with New Year's Day should represent good fortune. The celebrations emphasize family (both living and dead), friends, and starting the year out right. How one begins the year predicts the way the rest of the year will be. People decorate their houses with various symbols. Some of those include:
Colours:
Bright red (happiness); gold/orange (wealth & happiness).
Fruits:
Oranges and tangerines (good health & long life); tangerines with leaves intact (long lasting relationships; fruitful and multiply as in having children); persimmons (happiness and wealth).
Circular candy tray
(candy for sweet and circular for togetherness).
Flowers:
If flowers bloom on New Year's Day, it will be a prosperous year.
We had chocolate gold coin candy in a circular dish and a bowlful of tangerines decorated with honeycomb paper dragons. I also made up favour bags (one shown in the first photo in this post - looks like a paper kimono), that reminded the kids of Christmas stockings. Favours included gold chocolate coins, Chinese yo-yos, stickers, temporary tatoos, several dragon items, and tangerines. All of us made a point to wear red.
Just as those of us in the USA have special good luck foods for new year, so do the Chinese. A few of those are:
Spring Rolls - symbolise gold bars for prosperity
Tangerines - good luck, good health, long life
Oranges - wealth
Long Noodles - symbolise everyone at the table will have a long life
We managed to incorporate all of those into our dinner tonight.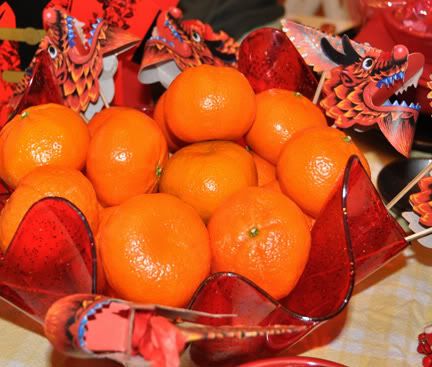 I am personally fond of the tradition that precludes any cleaning or sweeping for the first few days of the new year. You run the risk of sweeping away all your good luck and frankly, I'd like to have as much of that as possible.
Gung Hey Fat Choy! (Wishing You Prosperity and Wealth!)
namasté,