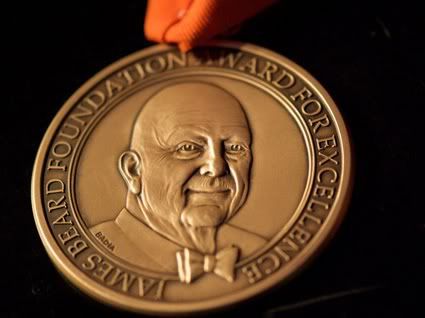 Deemed "the Oscars of the food world," by Time magazine, The James Beard Foundation Awards are the country's most coveted honour for chefs; food and beverage professionals; broadcast media, journalists, and authors working on food; and restaurant architects and designers.

The awards were established by the James Beard Foundation in 1990 through the merging of the two most prominent culinary awards in North America at the time: The R.T. French Tastemaker Cookbook Awards and Cook's Magazine and Restaurant Business's Who's Who of Food and Beverage in America. For the first iteration, the James Beard Foundation in 1991 expanded the program to include Restaurant and Chef Awards; in 1992 the James Beard Foundation established the Journalism Awards; in 1993 the Electronic Media (now Broadcast Media) Awards were introduced; and in 1995 the first Restaurant Design (now Design and Graphic) Awards were presented.
Semi-finalists for this year have been announced. Here are the two in my area:
OUTSTANDING CHEF
Scott Peacock, Watershed, Decatur, GA
Frank Stitt, Highlands Bar & Grill, Birmingham, AL
I'm quite happy to see these two on this list. The nominees will be announced on 22 March in New Orleans. The winners will be announced 3 May at the Lincoln Center in New York City. Best of luck to Chefs Peacock and Stitt!
James Beard Foundation
namasté,