To all my friends, I wish you a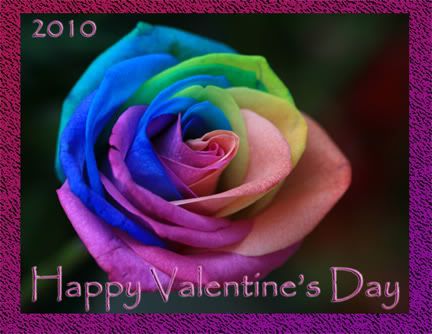 Isn't that an interesting rose? While I did use Photoshop to make the card, I did not alter the colour of the rose. This is what is known as a Rainbow Rose.
Rainbow Roses are real roses, but they can't be purchased as a rose bush. They are only available as cut or freeze-dried flowers. The rose was designed by Peter Van de Werken, a man who owns a flower operation near Den Bosch in the southern part of the Netherlands. Dye is inserted into the stems of growing roses and the petals absorb the colours. This is not as easy a process as it might sound and is labour intensive. If you want to send a bunch of these to your Valentine, be prepared. A dozen fresh cut are running around $175 this year and not a lot of florists are selling them.
namasté,