This past week the nation celebrated National Margarita Day: 22 February 2010

"She's from Mexico, senores, and her name is the Margarita Cocktail - and she is lovely to look at, exciting and provocative," declared the December 1953 issue of
Esquire
magazine. And actually the Margarita was
Esquire
's Drink of the Month in December 1953.
So some people think there was a big question: frozen or on the rocks? I say, let's bring the Margarita back to its original form. Note that there's no sugar and no blender involved. The primary ingredient is Tequila, which should be front and centre. Never listen to anyone who says use any old tequila in a Margarita because you won't be able to tell the difference in the taste. That is so wrong! And btw, the U.S.A. is the number one tequila market in the world. The Margarita is best enjoyed on the rocks. And a Margarita is always served in a salted glass with a wedge of lime.
So where did this drink come from? There are several versions of the Margarita genesis.
1. One is set in 1938, in which Ensenada bartender Danny Herrera created the Margarita through trial and error at his Tijuana-based restaurant in order to impress American actress Marjorie King, who hated the taste of straight tequila.
2. Some say that the world-famous tequila drink was named after Hollywood actress Rita Hayworth, who was originally known as Margarita Cansino the dancer.
3. A third story goes that the original Margarita was invented in 1948 by socialite Margarita Sames. According to that legend it was during a party at her cliffside hacienda in Acapulco that Margarita began experimenting with "the drink". Looking for something to cut the dust of a hot afternoon, she mixed Tequila Herradura, Cointreau and fresh lime juice. Her cocktail kept the party going for two weeks and today the Margarita is the #1 most popular cocktail in the U.S.
According to a Brown-Forman study in 2008, 185,000 margaritas are consumed every hour in the United States, which means that 3% of the American population have at least one margarita every day. The cities with the most margarita loving populations are Atlanta, Miami, St. Louis and Nashville. But the best margaritas are found in Santa Fe.
While it's unclear who or what helped to create the most popular cocktail in the nation, it doesn't stop anyone from celebrating with a glass in hand. Just like Hayworth herself, these concoctions never go out of style.
The Margarita

* 2 parts good tequila
* 1 part Cointreau
* 1 part lime juice (from a real lime, not a bottle)

Run a lime wedge around the outer rim of the glass and add salt, tapping off the excess. Add ice to the glass. Pour in tequila, Cointreau and lime juice. Stir and serve.
As with all things, people experiment. The first frozen margarita machine was invented in 1971 and it was based off a soft-serve ice cream machine. Margaritas are now served on the rocks, frozen, blended and in numerous flavours. Some people use Grand Marnier or Triple Sec for the orange liqueur. I have even tried some of those flavoured ones and they are not bad drinks. But they're not exactly a Margarita! Whether you prefer yours salty or fruity, blended or on the rocks, everyone can have a signature Margarita to call their own.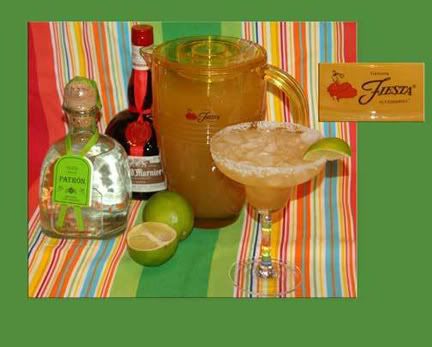 namasté,