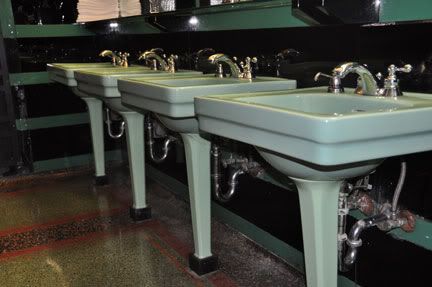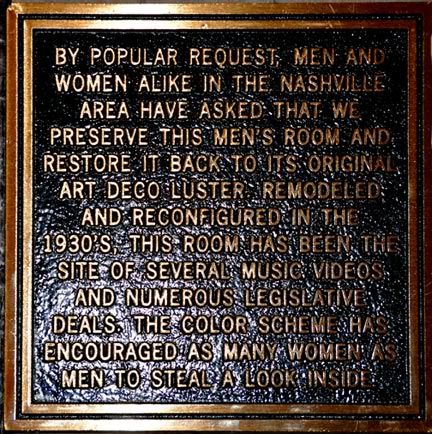 The Men's Room>
By popular request, men and women alike in the Nashville area have asked that we preserve this Men's Room and restore it back to its original Art Deco lustre. Remodelled and reconfigured in the 1930s, this room has been the site of several music videos and numerous legislative deals. The colour scheme has encouraged as many women as men to look inside.
See, it was OK for me to go in!!! On Sunday Kiki and Mark came up to bring my Reiki Voodoo doll and have lunch with Sally and me. Well, I don't know if they originally intended to eat lunch with us, but that's how it worked out. And it was really nice. I'll post about the meal with the other food posts I have planned. Kiki and Mark like to stay at The Hermitage when they come to Nashville. It is a old luxury hotel that still knows the meaning of service. (Kiki is particularly fond of the bath concierge.)
Knowing how much I love Art Deco, after we ate, they said I needed to go to see The Hermitage so I could see the Men's Room. OMG, what a fabulous space! The ambiance envelops you the minute you walk in. It has black and green glass walls, complete with all washroom accoutrements, including shoe shine stands.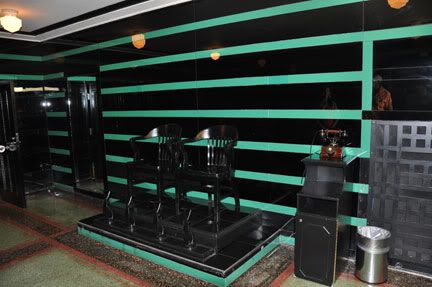 There is a row of green pedestal lavatories on the right when you walk in: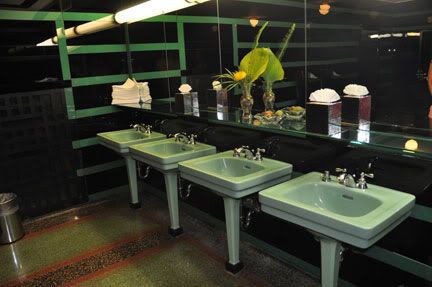 The shoeshine stands are in front of you to the left. To the far left are the toilet stalls, complete with green and black toilets.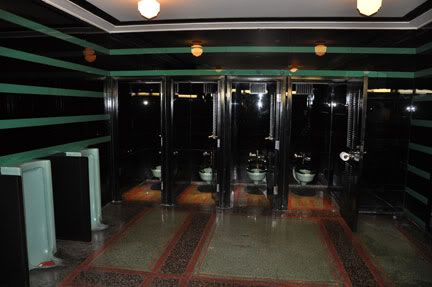 And a close-up of one stall: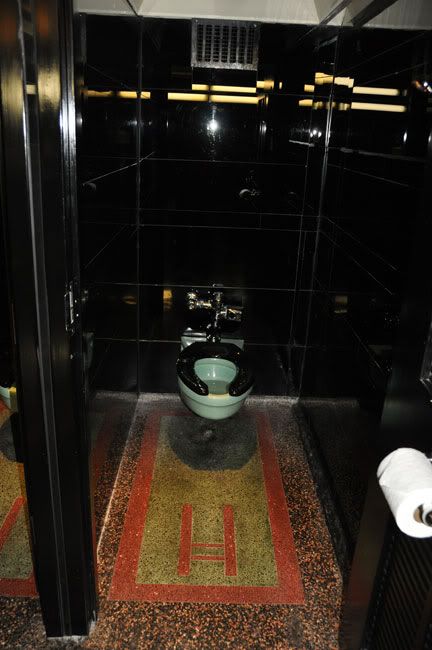 Urinals are opposite the shoe shine stands - also green: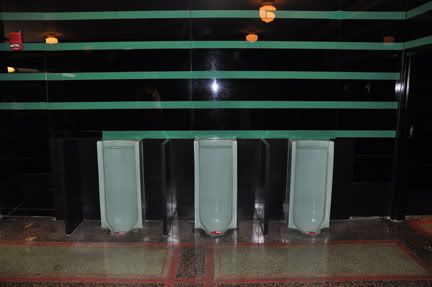 I have never seen urinals like that before, but I must admit I have never spent as much time in a men's room before either! This is such a beautiful room and it's still a working bathroom, though fit to be a museum exhibit. And it is kept spotless. Women go in as long as it is not in use. I love those walls and am trying to think of some way to incorporate coloured glass walls into the powder room of the new house. Will use my own handpainted art deco style pedestal sink, but I think this type wall would be a real showstopper!