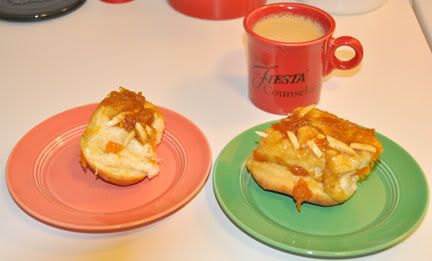 The Best Breakfast Rolls
Originally this recipe came from my dear friend and neighbour, Barb. She called them Sticky Buns and used frozen bread dough. Both of our spouses went to work early and we were home with the babies. Often times one of us would make some variation and then call the other to come over for coffee and breakfast. I most often use my grandmother's recipe for Ice Box Rolls to make the Breakfast Rolls, but decided to try a different dough today.
As I couldn't sleep last night I went to the kitchen so as not to disturb Sally. Abbey had brought me my breadmaker and a question on one of the foodie boards had reminded me of a recipe I first learned as Moomie's Buns. Ellen Dill (now Ellen Dorsey) posted the roll recipe years ago on the King Arthur Flour Baking Circle. She has changed the recipe to call it
Ellen's Famous Burger Buns
. With this dough you can make all kinds of wonderful buns and rolls. I typically use it for hamburger style buns, but decided to try the dough this morning for sticky buns. And I chose to make Peach Sticky Buns because my Mom had made some homemade Peach Jam with peaches that Steve, my BIL, brought back from Louisiana last week.
Dough turned out of breadmaker onto counter:
Rolled and spread with my Mom's homemade peach jam.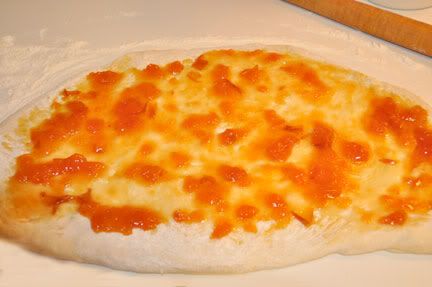 Rolled up as for jelly roll.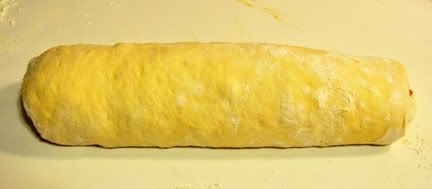 Baked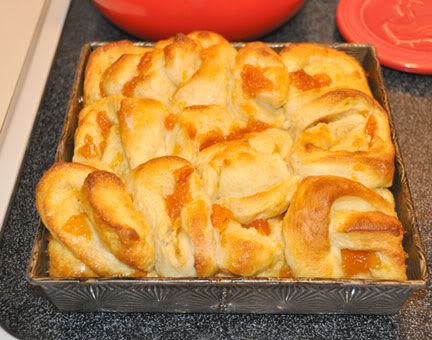 Turned out on pizza tray because I didn't think to bring a serving dish.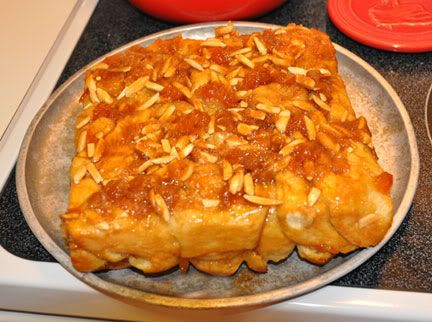 And served on Harlequin reissue plates, with coffee in Fiesta mugs.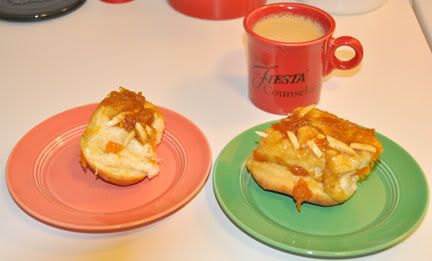 To make the Peach Sticky Buns, use variation #2.
Sticky Buns, aka The Best Breakfast Rolls

1 recipe Ellen's Famous Buns dough
¼ cup butter
½ cup packed light brown sugar
2 Tbsp light corn syrup
¾ cup chopped pecans
3 Tbsp butter
¼ cup sugar
2 tsp cinnamon

Make dough ahead of time in breadmaker. Preheat oven to 375ºF. In a 9" cake pan combine butter, brown sugar, and corn syrup. Place in oven to melt. Meanwhile, roll dough out to 12x18 rectangle and brush with 2 Tbsp. butter. Combine sugar and cinnamon. Sprinkle over dough. Roll tightly like a jelly roll, beginning at 12" edge. Cut into 12 slices.

Turn off oven and stir mixture in cake pan. Sprinkle on the nuts. Lay rolls, cut side down in pan and brush tops with remaining butter. Cover and let rise till doubled. Bake at 375ºF for 25 minutes or until browned. Invert onto large platter and cool. Don't let the rolls stay in the pan to cool or the brown sugar mixture will glue them to the pan.

Variation:
1. Change brown sugar to white. Substitute grated coconut for pecans and replace cinnamon sugar mixture with orange marmalade.
2. For peach buns, spread the rolled rectangle of dough with an 8oz jar of peach jam or preserves. Replace pecans with slivered almonds.

Ellen's Famous Buns
1 cup water
2 Tbsp butter or oil
1 egg
1/4 cup sugar
1 tsp salt
3 1/4 cups flour
1 Tbsp instant yeast

Place all ingredients in the bucket of your bread machine in the order given. Select dough cycle. Press start. Allow machine to complete it's cycle. In my bread machine this takes 1 hour 40 minutes.

Turn dough onto a lightly floured surface.
To make hamburger or hot dog buns: Divide into 8 pieces. Take each piece, and slap it, hard! Flatten into hamburger or hot dog bun shapes. The dough can also be divided into 16 pieces to make sliders. Place on greased cookie sheets. Cover, let rise 40 to 45 minutes.

Preheat oven to 375º. Bake buns for 12 to 15 minutes til golden. Remove to wire racks to cool. They are fabulous for any favorite sandwich filling!

Alternatively, use the dough to make sticky buns and prepare as directed.
Also see
Sticky Cinnamon Buns
and
Cinnamon Roll Lamb
.