St. Patrick's Day. Another wonderful holiday to celebrate. At least for us of Irish Catholic extraction. I love holidays. I love dishes. For many of the holidays I have special dishes just for the occasion. St. Patrick's Day is no different.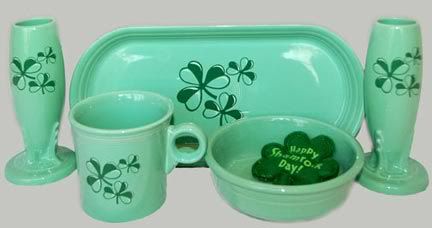 The holiday dishes are always packed away until it is time to use them. Because we have not been home at St. Patrick's Day for so many years, I have never gotten to use my shamrock decalled Fiesta before this year. I was excited! Not only was I getting to use my dishes for the first time, the weather has been gorgeous for the last couple of days. We decided to dine al fresco on our deck.
We only had one small glitch. We had our holiday dinner a day late due to medical treatments on Tuesday. No matter. Dinner on Wednesday worked out great.
To start we had some assorted Irish cheeses, thin sliced Irish soda bread and green beer.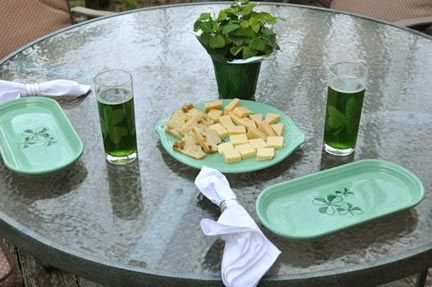 I sometimes like to use the smaller Fiesta bread trays when serving cheeses, fruit, etc.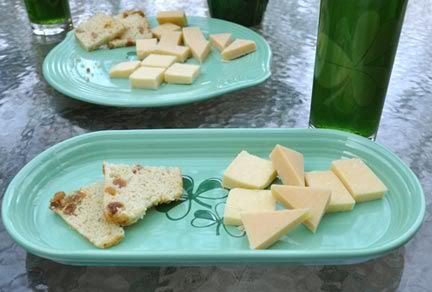 Every year for Christmas my Mom gives Mike and me iGourmet's Cheese-of-the-Month Club. This is a great gift for us as we adore cheese. And in March we always get a selection of Irish cheeses. This year the choices are: Dubliner, Ivernia and Aged Cheddar with Irish Whiskey.
Dubliner
is described as a mixture between Cheddar and Parmigiano Reggiano. This description is quite accurate. Dubliner is a robust, aged cow's milk cheese with a bit of a hard texture similar to a Cheddar. In one bite you can taste the diversity of flavours - from nutty to sharp to sweet. What might seem ambiguous is actually a well-balanced mix of cheese cultures and naturally occurring amino acids. This diversity pays off in its ability to be served alongside a full-bodied Cabernet, a freshly pulled pint of Guinness, or simply melted between a few slices of crusty brown bread.
Ivernia
is the ancient, lyrical name for Ireland which underlines the cheese's origins. Kerrygold Ivernia is a ripe, hard cheese. Aged for three years, it is rich in elegant and complex flavors. Cut, grate, slice or shred Ivernia. It can be used similarly to any Italian hard cheese - in a salad of baby greens, topping a bowl of fragrant pasta, sprinkled over soup or on homemade pizza. It is also delicious simply served with crusty fresh bread.
Infused with the robust flavor of whiskey, Kerrygold's rich and creamy
Aged Cheddar
now has unique undertones of the smooth, woody and nutty taste of pure Irish Whiskey. Entrenched in the history and traditions of Ireland, Cheddar and Whiskey, are now together in one spirited cheese. This tasty combination is the perfect complement to your cheese platter.
In this photo the Ivernia is the triangular cut, the Dubliner is the rectangular cut and the aged Cheddar with Irish Whiskey is the square cut.
Grandma Collins' Irish Soda Bread
, sliced thinly, was a perfect accompaniment.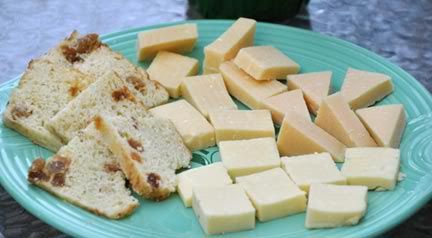 The main course was
Citrus Glazed Irish Boiling Bacon
. Sides included cabbage and
Irish Fried Potato Farls
. We also had more soda bread and green beer.
Dinner is served: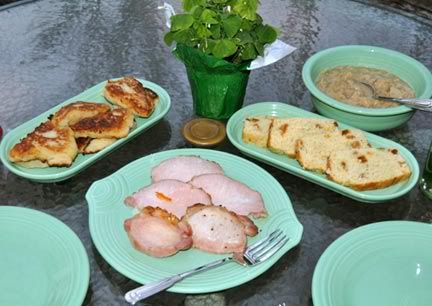 And plated: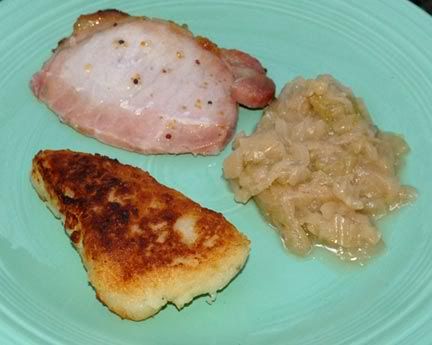 We were so full we delayed dessert for a couple of hours. It was well worth the wait!
Baileys Irish Cream Ice Cream with Strawberry Fans
, shortbread cookies, and coffee with Baileys was a wonderful way to end our St. Patrick's Day celebration. Even if we did have it a day late.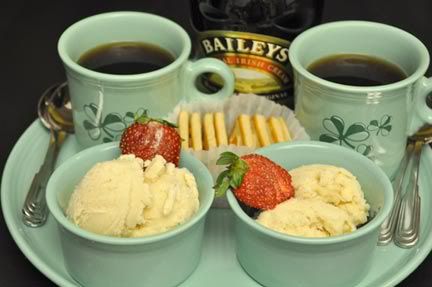 Tis Irish I am and tis proud I am of it.
Though far I wander Killarney's my home.
I love her green meadows, her lakes, and her colleens,
And wear her shamrock where ever I roam.

Then sing we mightily, "Erin Go Bragh!"
Patricks and Bridgets, Irish they're all.
Though rocky the road as it leads up to town,
It never can keep a good Irishman down!