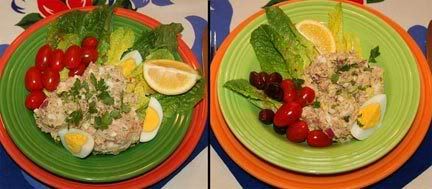 This was originally a James Beard recipe published in
Sunset Magazine
some years ago. It's a lovely salad for lunch. I like to serve it on colourful Fiesta dishes.
Garden Tuna Salad
Serves 4

2 (6oz) cans tuna, drained well
4 hard-cooked eggs
1 cup finely chopped inner celery stalks and leaves
1/4 cup chopped, drained capers
1/4 cup chopped red onion
3/4 cup good mayonnaise, plus more as desired
salt & pepper

12 - 16 leaves from hearts of romaine
2 Tbsp minced fresh parsley
paprika
1 cup grape tomatoes, or assorted small heirloom tomatoes (cherry, pear, etc.)
1/2 cup Niçoise olives
1 lemon, cut in 8 wedges

Place tuna in a large bowl. Coarsely chop eggs and add, along with celery, capers and onions. Mix well with fork, breaking up tuna. Add 3/4 cup mayonnaise and 1/2 tsp pepper. Mix and taste. Adjust mayonnaise and add some salt, if desired. The saltiness of capers can vary.

Divide romaine leaves among four deep plates. Mound tuna on lettuce. Dust with paprika and sprinkle with parsley. Garnish with tomatoes, olives and lemon wedges.

Notes:
1. Can substitute buttercrunch lettuce for romaine.
2. Alternate serving:
Chop 1 cup of the inner celery stalks and reserve tender leaves. Mix celery in as directed. Only chop two eggs to mix into tuna. Cut the other two in half lengthwise. When assembling the salad, place celery leaves in bowl with lettuce leaves and add the egg wedges with the other garnishes.