Now you might be wondering, "What in the world is a farl?" The word farl originates from the Gaelic word fardel, meaning four parts. These potato griddle breads are an essential component of an Ulster Fry. (Ulster Fry is an Irish breakfast consisting of bacon, eggs, sausages, farls, tomatoes and sometimes mushrooms.) Farls originated in the 19th century as a way of using up leftover mashed potatoes. We like to have these Irish Fried Potato Farls as a side for St. Patrick's Day dinner and the leftovers are great for breakfast the next day.
Start with some nice Irish potatoes: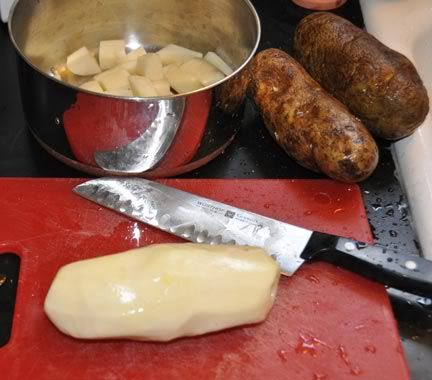 Diced, cooked and ready to mash in a shamrock Fiesta mixing bowl: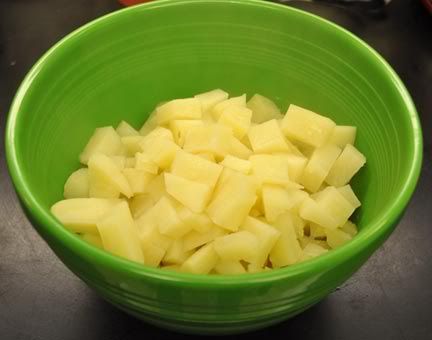 Potatoes mashed and being kneaded with the flour: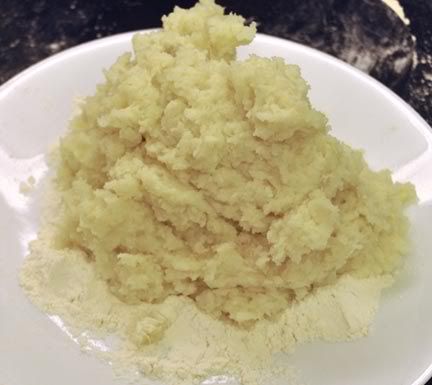 Cut into farls: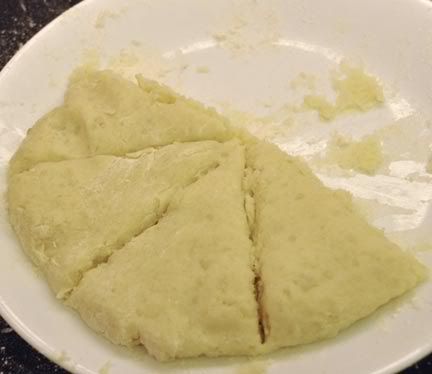 Into the cast iron skillet they go: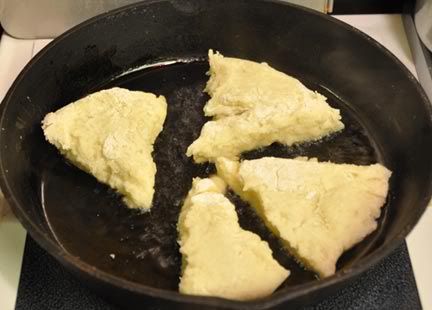 Turned. (These had to be turned again to brown a little more):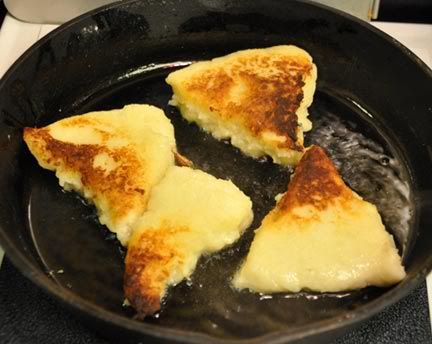 Half of the farls: cooked, served on a Fiesta shamrock decal bread tray, and ready to eat: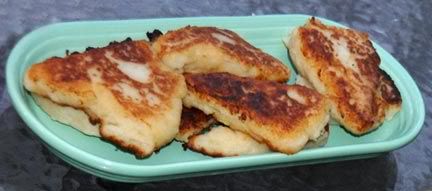 Irish Fried Potato Farls

1 1/4 lbs potatoes (4 potatoes)
2 Tbsp soft butter
1 cup flour
1/2 tsp salt
vegetable oil, for frying

Peel potatoes and dice large. Boil for approximately 20 minutes, until soft. Drain, then add the butter and mash thoroughly. Mix in the flour and salt.

Divide the mixture in half and put the first half on a lightly floured surface. Knead and pat into a flat circle approximately 1/2" thick. Cut into four or eight wedges. Repeat the process for the other half of the mixture.

Heat half the oil in a skillet or griddle (cast iron is great!). Add a quarter of the farls to skillet and cook approx 2 minutes or until crispy brown on each side. Repeat with remaining farls, adding more oil as needed. Drain on paper towels and season with more salt. Serve warm.

Makes 8 or 16 Farls



Notes:

I like to cut each one of flattened discs into 8 wedges as I find it easier to work with them that way.