Hooray! Yesterday my neutrophil count was up to
0.8
. Little by little it is slowly creeping up. Thank you all for your continued help in visualising more of them for me. My doc says that as long as I am above 0.5 I can have fresh flowers around. That makes me so happy.

I love flowers. And one of the things my maternal grandmother instilled in me was a love of poetry. A particular verse I learned from her was:
If thou of fortune be bereft
And in thy store there be but left two loaves,
Sell one and with the dole
Buy hyacinths to feed thy soul.
This has been something I have lived by most of my adult life. When I was in high school and college, I worked part-time for our neighbor, who was a florist. Then after Mike and I got married I went through the Dallas School of Floral Design and worked as a florist out there for a while. Flowers were easy for me to come by then. Remember the Brooke Shields commercials about her and her Calvins? Like she would buy Calvins before she paid the rent? I haven't been that bad about fresh flowers, but even when I was a poor graduate student I worked flowers into my grocery budget.
On Thursday Abbey took me to Costco. This is part of the bounty we brought home. The vases holding the flowers are Fiesta in sapphire and chartreuse.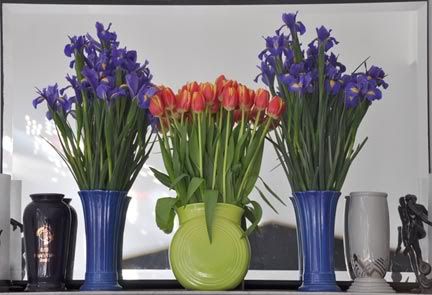 Happy Spring!