Earlier I mentioned that corned beef is not a long time Irish tradition. Irish boiling bacon is a much older tradition. Unlike American bacon, Irish boiling bacon is from the shoulder area of pork and is cured, but not smoked. It can be boiled, then sliced thin, fried and served at breakfast, or it can be baked and served like a ham. Irish boiling bacon is similar to Canadian bacon, but it has a layer of fat on top.
Now I had never eaten Irish boiling bacon before. At least not to my knowledge. And I know I never cooked one. Planning ahead, I started looking online for info about Irish boiling bacon back in December. This is not an item typically found in stores here, so in January I ordered one and put it in the freezer. For our St. Patrick's day menu I adapted a recipe for Irish boiling bacon that was originally from
Gourmet
magazine back in December of 1992. While the recipe is not traditionally Irish, it sounded tasty and is pretty easy, too. It really only takes four ingredients.
The glazed bacon had a very good flavour that we really enjoyed. I'd encourage any of you who can find one to try this for St. Patrick's Day sometime. Or even if it's not St. Patrick's Day. We have quite a bit left over. I'm planning to slice some of it thin and quick fry it to serve with a breakfast that will also include fried potato farls and eggs.
Here are the four ingredients (boiling bacon, Seville orange marmalade, whole grain Dijon mustard, and lemon)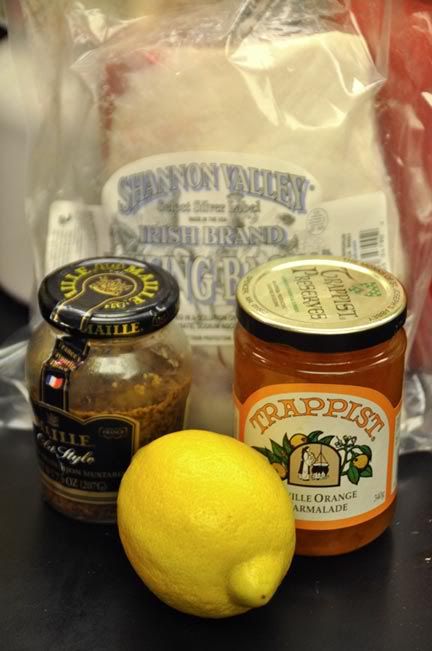 Bacon (already scored) in an ivory Fiesta square baker: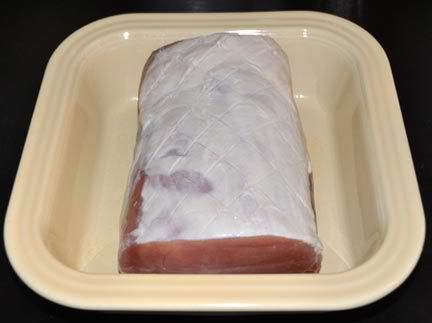 Glaze poured over the top and ready to go in the oven: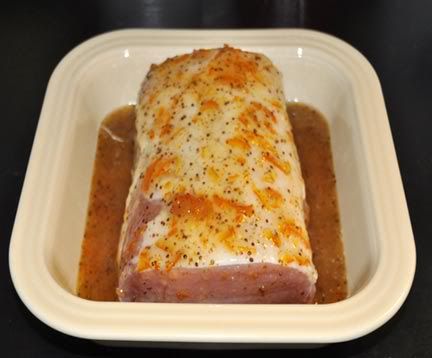 Baked and beautiful: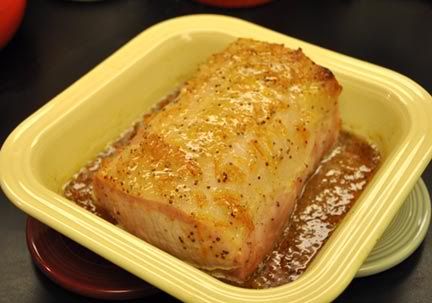 Sliced and presented for serving on a shamrock decalled Fiesta tab handled tray (notice how saltpetre in the curing mixture gives the bacon it's pinkish colour):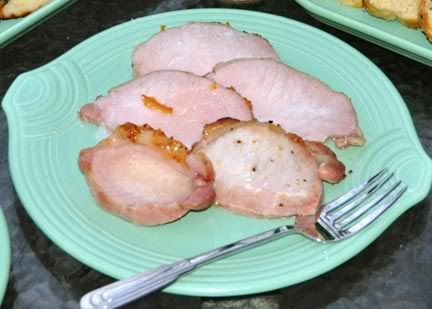 Baked Citrus Glazed Irish Boiling Bacon

* 1 1/2 cups kumquat preserves with syrup, Seville orange marmalade, or something similar
* 1 1/2 Tbsp lemon juice; or to taste
* 3 Tbsp Dijon mustard (I used a whole grain variety)
* 3-pound piece of Irish boiling bacon
* Fresh kumquats for garnish, optional
* Parsley sprigs for garnish, optional

Preheat oven to 350°F.

In a food processor or blender purée the preserved kumquats and the syrup (or marmalade) with the lemon juice and the mustard. Set aside.

Place the bacon in a shallow baking pan. Score the fat, if desired, and pour the citrus glaze over it. Bake the bacon in the middle of the oven for about an hour or until internal temperature reaches 160°F. Baste several times with the glaze during baking. Remove from oven and tent with foil. Let it stand for 10 minutes before slicing.

Transfer the bacon to a platter and garnish it with fresh kumquats and the parsley, if desired.

Notes: Although I had intended to use some of my Candied Kumquats, I discovered I must've left them all at the farm. The Seville orange marmalade worked wonderfully.