Tomorrow will be "the wearing of the green" and Irish Americans (at least those of Catholic heritage) will all be celebrating. This will be the first St. Patrick's Day in quite a few years that I will be home for this holiday. My children go to a school that has two weeks in the middle of March when most of them are gone. Spring Break, of course is in March, and the week before that is Interim. During Interim most of the children go on school associated trips.
Last year for example, DD#2 went on a fine arts trip to Chicago. I flew up to meet them, then DD and I stayed a few days extra to do some more art explorations on our own and go to the Housewares Show. That was the second time I'd been in Chicago to see the river green. From Chicago we flew to New Orleans and actually celebrated St. Patrick's Day there.
Now I have some special St. Patrick's Day Fiesta dinnerware. It is seamist green with a shamrock decal. I have had these dishes for quite a long time and I have NEVER gotten to use them. The one year I was home in the last 10 years for this holiday, I'd forgotten where I had packed them away. LOL. This year is a different story.
Back in January I was asked to make photographs of some tablesettings featuring Homer Laughlin dishes to be part of a magazine article of spring tablescapes. The St. Patrick's Day dinnerware was used in one of those. Rather than putting it back up in the attic, I kept it handy for use tomorrow. Not sure if I will set the table the same way as I did for the photographs, but for the first time EVER the dishes will get used.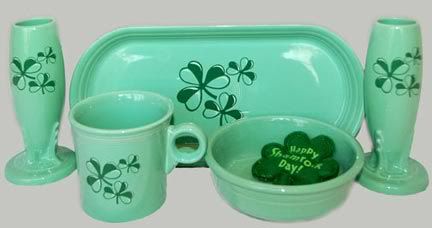 Any good dinner needs a menu. Now I know many people associate corned beef and cabbage with St. Paddy's Day. Research I have done indicates the corned beef was not really a long time Irish tradition, but rather it's an Irish American tradition that has since moved back across the pond to Ireland. It started because the immigrants were not able to find the cut of pork they had typically used and beef brisket was cheap.
We have a recipe for corned beef that's been passed down for quite a few generations on the Irish side of my family. My grandmother taught me how to make it, but I'm sure since I quit eating beef in 1984, no one has made it since my grandmother crossed over in 1988. This recipe is not for cooking a corned beef. It is for starting with a beef brisket and corning it. I will share the recipe here, in case anyone feels like trying this sometime. It was quite delicious. Plus you know what is in it.

Another interesting food note.
All my northeast (as in N.E. USA) Irish friends have a recipe for soda bread that was passed down in their families. Although I'm really lucky to have many family recipes, there is not one for soda bread. Neither my Mom, nor I, remember soda bread as being part of our family tradition. Curious how things like that happen.
So I've been thinking about our menu. Instead of corned beef, I'm planning to serve Irish boiling bacon. This is similar to Canadian bacon, but has a layer of fat around it. The pork is cured, but not smoked, and the cut comes from the shoulder. The meat is rolled before curing. Back in January I ordered a 3 lb. Irish boiling bacon and put it in the freezer. It is already cured, and I am getting it out to thaw today. The recipe I'm going to use calls for baking it like a ham and using a kumquat glaze. Now the glaze may not be particularly Irish, but this recipe appealed.
To go with the Glazed Baked Irish Bacon we're going to have Fried Potato Farls. This is a recipe I've made before and the leftovers are good for breakfast the next day. In the freezer I have some
World's Best Braised Green Cabbage
, so I will get out some of that to go with our dinner. Also want to make soda bread, and plan to use a recipe from the grandmother of one of my NE foodie friends. For dessert we're having Bailey's Irish Cream Ice Cream. It doesn't require cooking and will be easy to make in the Cuisinart ice cream maker. I'll also offer a selection of Irish cheeses that came in the cheese-of-the-month club package Friday.
The new menu recipes I will post later, along with some photos. But for now, here is my great-great-great-grandfather's recipe for corning a beef brisket.
Corned Beef Receipt

1 pound plain salt (not iodized)
1/2 pound brown sugar
1/2 ounce saltpetre
2 ounces black pepper
2 ounces red pepper

"Mix all together for 10 lbs. of beef brisket. You need water to cover beef. Water should be boiled and cooled until cold. You should weigh your brisket. Then figure out how much water it will take to cover it and divide the recipe accordingly. (1 qt. water to 1/4 recipe).

Place brisket in crock, glass, or ceramic container. Dissolve mixture in water. Pour over beef to cover. Weight down with a plate or saucer turned upside down with something heavy to hold it down. I fill a jar with water, seal it and put on top of plate. Place in refrigerator and leave two days per pound. Halfway through corning period, remove, stir solution again and repack."
If the directions are a little odd, let me explain. Many of my grandmother's old recipes only had the ingredients written down with very little in the way of what to do with them. When I would ask her about a particular recipe, she would get it out, I'd write down the ingredients, and she would explain to me how to make it. The directions I put in quotes, as these are her words telling me the way to corn the beef. You need to be sure to use plain salt, as iodized salt will cause discolouration as it does in pickles.
An aside
: My grandmother smoked her own turkeys and also taught me how to do that. She used this corning mixture, either as a rub or mixed in water for a brine, to cure the turkey before smoking it. We always bought saltpetre at the drugstore. I'm not sure if it can still be purchased there, but it is available many places online. Saltpetre is what gives the meat it pinkish red colour.
Wishing you all the luck o' the Irish!