Chicken pot pie is such a comfort food.

When we were growing up we did not buy a lot of prepared foods, but sometimes my Mom would get individual frozen chicken pot pies. We always liked the ones that had both a top and bottom crust.
Recently I was watching Food Network and saw a Throwdown with Bobby Flay. He challenged the Casserole Queens, caterers in Texas, who are famous for their Chicken Pot Pie. The pot pie the Casserole Queens made looked so creamy and tasty, I just had to try it.
Looking at the recipe and gathering ingredients. The vegetables were all from our CSA veggie box.
Boiling the potatoes and sautéing the carrots, red bell pepper and onion:
Added the shredded chicken: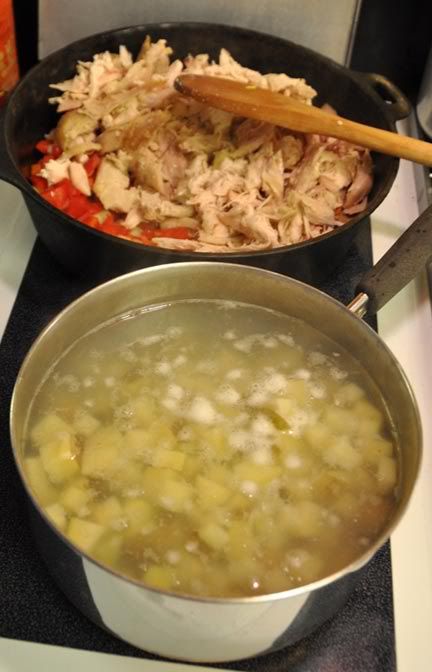 All ingredients in the skillet:
Cooked till thickened and ready to put in the crust: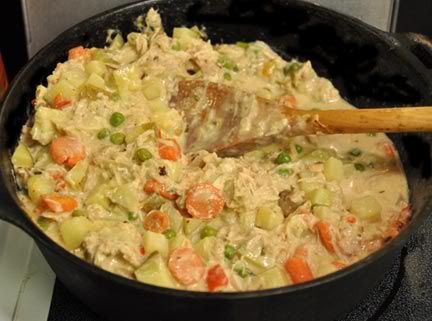 Pastry in the chicken baker: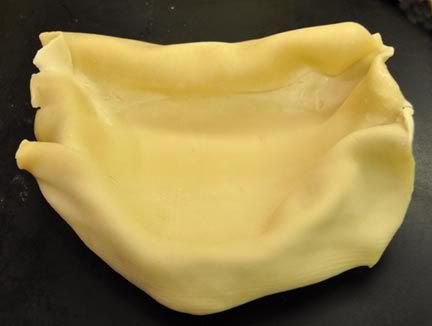 Filling added: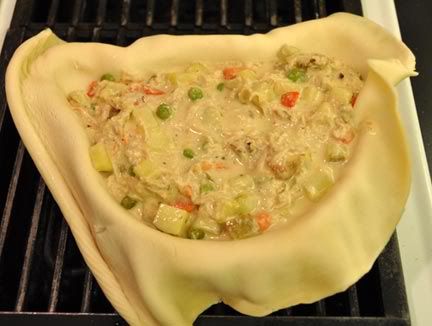 Edges of crust folded over to make a rustic pie: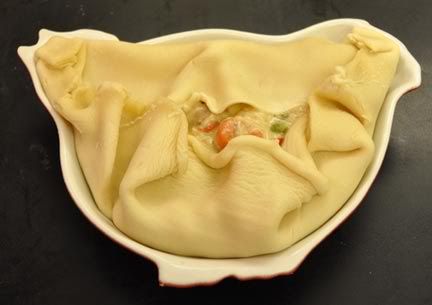 Into the oven they go: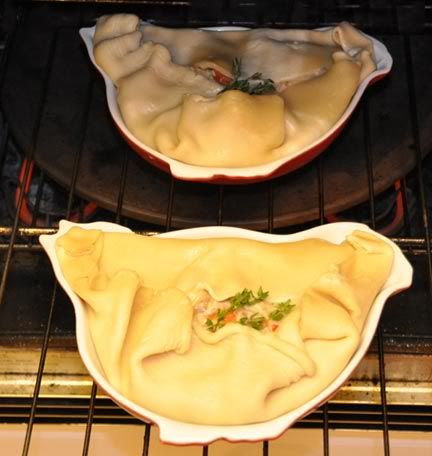 Baked and ready to eat:
Casserole Queen Pot Pie - my version

* pastry dough for double crust pie
* 2 tablespoons butter
* 1 1/2 cups sliced or diced carrots
* 1/4 cup chopped red sweet pepper
* 1/4 cup sliced green onions
* 1 rotisserie chicken, shredded
* 2 tablespoons all-purpose flour
* 3/4 teaspoon salt
* 1/2 teaspoon dried tarragon, crushed
* 1/4 teaspoon black pepper
* 2 cups milk
* 1 cup heavy cream
* 1/3 cup dry white wine (I use Kendall Jackson Vintners Reserve Chardonnay)
* 1 1/2 cups frozen green peas
* 2 potatoes, peeled, diced, and boiled

Preheat oven to 350°F. Divide pastry in half and roll out both pieces into circles.

Melt butter over medium-high heat in a large deep skillet and sauté carrots for about 5 minutes. Add the red bell pepper and green onions, cooking another 5 minutes. Stir frequently. Stir in flour, salt, tarragon, and black pepper. Add milk and cream all at once. Cook and stir until thickened and bubbly. Stir in wine, peas and potatoes; heat thoroughly.

Use larger piece of pastry to line a 1 1/2 quart casserole dish. Pour chicken mixture in the pastry. Place smaller piece of pastry over the hot chicken mixture in casserole. Make a few slits to allow steam to escape. Bake in the preheated oven for about 45 minutes or until crust is a nice golden brown.



Notes:


1. Used an herb/white wine rotisserie chicken from Fresh Market.
2. Carrots, onion, bell pepper and potatoes came from the veggie box. I did not peel the potatoes as they were the creamer type with thin tender skin.
3. Instead of the one casserole dish, I used my individual chicken bakers.
4. Used Pillsbury pie crusts as I didn't have the energy to start from scratch. The Casserole Queens did not have a bottom crust and they topped their pot pie with puff pastry.
5. In each dish I made the crust more rustic by lining the dish with the pastry and then folding the edges back over the top before baking. (Used half the chicken mixture for 2 pies so will need more pastry next time.)
6. Garnished each pie with sprigs of fresh thyme.
This really is an excellent chicken pot pie. The filling is nice and creamy with a great flavour. We liked having the chicken shredded, rather than cut in little cubes. Next time I make this I will use thyme in place of the tarragon, as I think it will go better with the herbs used on the chicken. I will also plan to use half & half instead of the cream. Each one of these chicken bakers made enough for three servings at our house.