Quiche is always a welcome dish around here. The real men, real women and real teenagers all eat it. And quiche is such a versatile dish - you can use all kinds of mixtures of veggies, cheeses and proteins with the egg custard. A few years ago I ran across the original of this crust recipe on a foodie board. It originally called for cheddar cheese and that is very good. However, I most often find myself reaching for Gouda cheese when making this crust.
Dough patted out into two vintage Ovenserve shirred egg dishes: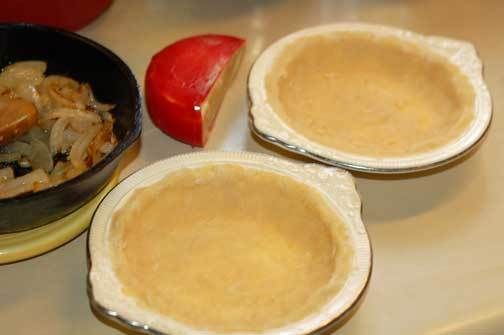 I sliced and caramelised a Vidalia onion from the veggie box. Added a little home grown garlic to that. While the onion was cooling I mixed up 3 eggs, a little salt, 2 Tbsp half and half, and enough milk to make one cup. After dividing the onion between the two dishes, I poured in the egg mixture.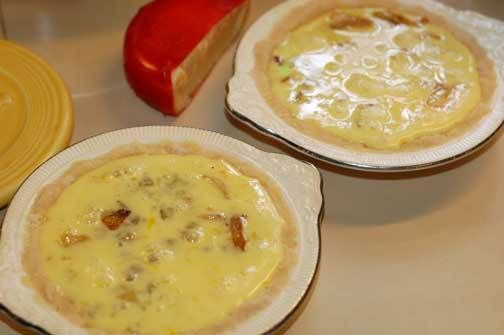 Baked at 350°F for about 35 minutes until the quiche puffed and began to brown. Served with Bloody Marys, my version of Broccoli Salad and canteloupe with blueberries for dessert.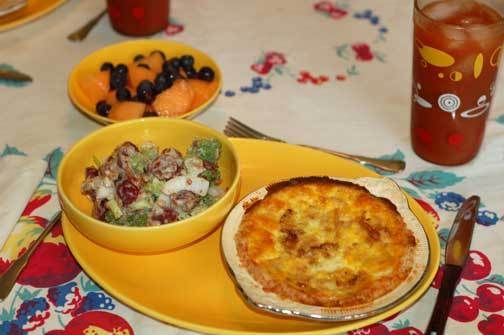 All in all a great supper!
Quiche Crust with Gouda Cheese
3/4 cup flour
1/2 teaspoon salt
1/4 teaspoon dry mustard
1 cup grated Gouda cheese
1/4 cup butter, melted

Mix flour, salt, mustard and cheese. Pour in melted butter and stir until mixed. Pat into a 9 inch pie shell.