They say every cloud has a silver lining. Yesterday my Mom, Sally, my niece Kiki (Sally's daughter), and Kiki's husband, Mark, had gone out to lunch. At some point the conversation turned to me having to find new homes for Sunshine and Picard. Well, it turns out that Kiki and Mark have been thinking of getting a parrot for quite some time. They have offered to take in both Picard and Sunshine for as long as they need to stay. They will send them back at the end of the year, or keep them if I'm not able to have them back. How amazing! I explained that Abbey is trying to work out a way to take Pico. And I have since talked with her about that again and it looks like it will work out.
The new plan. Kiki is coming over today to collect Sunshine, his cage and all his paraphernalia - food, toys, treats, playstand, etc. They have a great place for him to live in the open plan main level of their house - lots of windows and 4-6 children (depending on who's staying with them and who is with their other parent at any given time) to play with him and give him attention.
Sunny in his cage: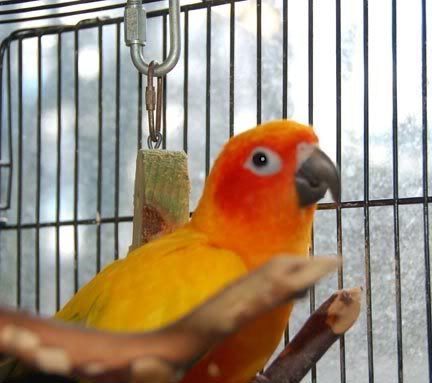 Sunny out on my rubber tree plant: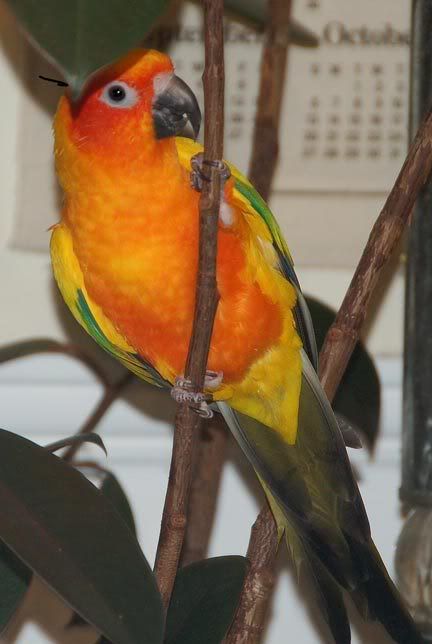 I have always thought that sun conures are some of the most beautiful of all birds. Their Latin name translates to "miniature macaw of the sun". Very apropos, I would say. They don't show in either of these pics, but besides the gorgeous oranges, yellows and greens, Sunny has wing feathers that are a beautiful sapphire blue. Sunshine doesn't speak much English, but he is very playful and a great watchbird. I'm confident he will be happy at Kiki's house, as he is going somewhere that he knows the people.