This has got to be the best pasta salad around. When I got the recipe I was told it was originally from the Lakewinds Deli. Lakewinds started out as a food co-op up in Minnesota back in 1972. This is similar to, but not the same as the recipe they have currently posted on their site.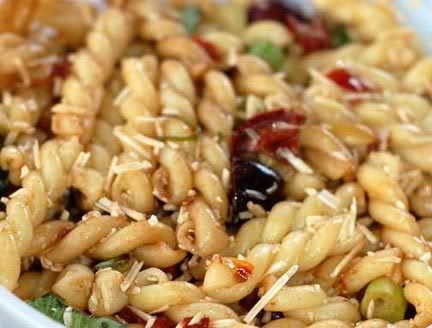 Lakewinds Deli Pasta

1 pound gemelli or other pasta of choice
1/2 cup chopped oil packed sundried tomatoes
1/3 cup roasted pumpkin seeds
3/4 bunch sliced green onions
3/4 cup pitted, halved kalamata olives
1 1/2 cups shredded Parmesan cheese
3 Tbsp shredded fresh basil

1/2 cup olive oil
1 clove garlic, minced
2 1/2 Tbsp balsamic vinegar
2 1/2 Tbsp lemon juice
2 tsp salt
2 Tbsp chopped fresh basil

Cook the pasta and cool by running it under cold water. Drain well. Combine the pasta with the sun-dried tomatoes, pumpkin seeds, green onions, kalamata olives, Parmesan and basil.

Combine the dressing ingredients (olive oil, garlic, balsamic, lemon juice, and salt) in a blender and purée until emulsified.

Combine the dressing and the pasta mixture and chill for 1 hour before serving.