PhotoHunt #148: For the bridges theme, I chose to use my favourite bridge.
The 59th Street Bridge Song
by Simon and Garfunkel

Slow down, you move too fast.
You got to make the morning last.
Just kicking down the cobble stones.
Looking for fun and feelin' groovy.

Ba da, Ba da, Ba da, Ba da...Feelin' Groovy.

Hello lamppost,
What cha knowing?
I've come to watch your flowers growing.
Ain't cha got no rhymes for me?

Doot-in' doo-doo,
Feelin' groovy.

Got no deeds to do,
No promises to keep.
I'm dappled and drowsy and ready to sleep.
Let the morning time drop all its petals on me.
Life, I love you,
All is groovy.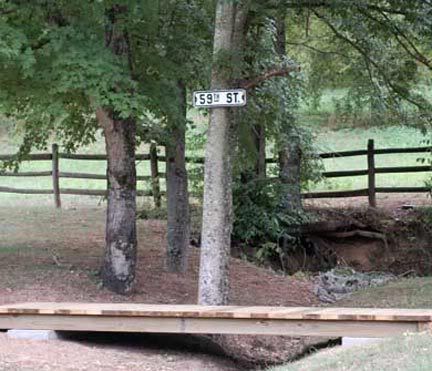 The 59th Street Bridge Song
has always been one of my favourites (even though most people refer to it as Feelin' Groovy). Ten years or so ago I was in an antique shop in San Jose, CA and ran across a huge basket full of antique street signs. I sat on the floor, looking through all of them in hopes (hope springs eternal, you know) of finding 59th Street. Well, when I actually did find it, I was so surprised. But I bought it and put it in my luggage to fly home.
We had intended to build a covered bridge across the creek at the farm and I intended the sign to go on that bridge. But for various reasons, the covered bridge never happened. I have kept the sign, always anticipating I'd have another chance to use it. Lo and behold, the opportunity arose. We needed a bridge across the Dry Prong to make it easier to go back and forth from the house to the pavillion. And a bridge has to have a name. Finally, we've got my 59th Street Bridge. And I do break into song often when I'm crossing it.