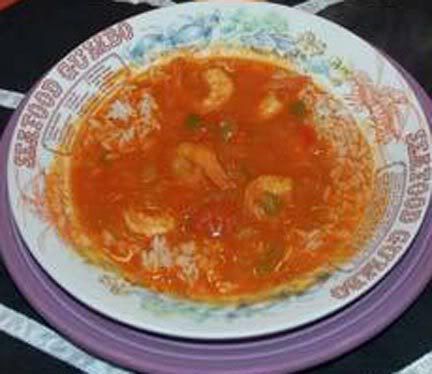 Often when we are children we don't always appreciate what we have. It's only when we get out in the world that some of these things become apparent to us. For me, seafood fit in this category. I love seafood and it was something we often had growing up in Louisiana. Shrimp, oysters, blue crabs and crawfish were always in plentiful supply. We would think nothing of having a shrimp boil for a party. Gallons of shrimp boiled with Cajun spices, corn and new potatoes with the whole thing being dumped out in huge piles in the middle of the table on top of newspaper. Because they were local, shrimp were not expensive.
There was also the whole "Catholics don't eat meat on Friday" thing. Although we were not Catholic, many of our friends and neighbors were. The school cafeteria always served fish or seafood of some sort on Friday. It was just a tradition. For some reason I always associate Creole Shrimp as something to eat on Fridays and during Lent. But when the spirit moves me, I make it other times, too.
This is my grandmother's recipe. It calls for bacon drippings, but that is typical of older recipes because people always saved their grease. I use olive oil, myself. My grandmother always made this in a cast iron Dutch oven. I used to do that, too, until I got my Staub bouillabaise pot. It is just the right size for this recipe.
In Dutch oven sauté onion, pepper, and celery in fat until tender.
Add tomatoes and other ingredients except shrimp and rice. Simmer 30-40 minutes. Add shrimp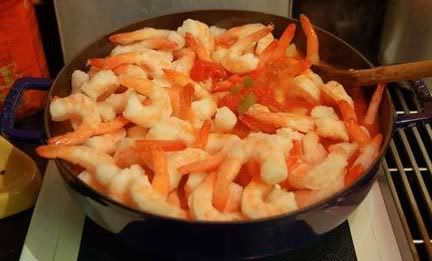 and simmer a few minutes longer.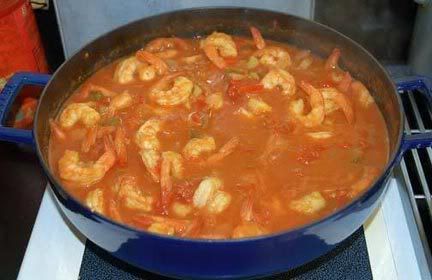 And serve over fluffy hot rice.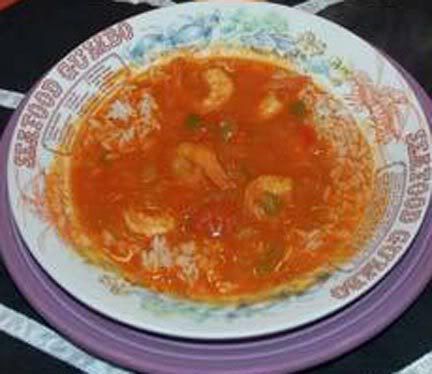 I love to use these bowls that my grandmother gave me. They were specially made for Rubensteins (a department store in Louisiana) and I treasure them. The deep plates were sold in sets of four, so Mimi bought three sets. She gave six of the deep plates to me and six of them to her DIL. DIL did not appreciate or realise how special they were and apparently sold them at a garage sale. I wish I had known. I would have bought them from her. As it is, I look periodically on eBay to see if I can locate some more. I'd like to add two to my set so that I could serve 8. And I normally use lilac Fiesta as an underplate.
Creole Shrimp

1 large onion, sliced (and diced, if desired)
1 large green bell pepper, chopped
1 cup chopped celery
1/4 cup bacon drippings or oil (I use olive oil)
16 oz can tomatoes
1 8 oz. can tomato sauce
1/2 cup water
2 large cloves garlic (or more if you like)
1 bay leaf
3 dashes Tabasco sauce, plus more to pass
1 tsp salt
2 tsp chili powder
2 pounds shrimp, (boiled, peeled)
fluffy, boiled rice
lemon quarters

In Dutch oven sauté onion, pepper, and celery in fat until tender. Add tomatoes and other ingredients except shrimp and rice. Simmer 30-40 minutes. Add shrimp and simmer a few minutes longer. Serve over fluffy hot rice. Lemon quarters should be offered on the side, along with more Tabasco sauce, for those who would like them..



Notes:


1. I use whatever colour bell pepper I have on hand. This time it was a mixture of red and green.
2. Sometimes I sprinkle chopped fresh parsley over the top before serving.
3. This time I also used the precooked, peeled, frozen shrimp I got from Publix. I added the still frozen shrimp to the sauce. It took a little longer for them to heat through, but they really worked out nicely.