Good news and not so good news. While I would have liked to have seen it keep moving up, maintaining is not uncommon to see.
First the neutrophils maintained at
0.17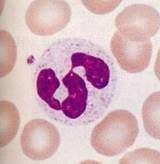 Neutrophils
Red counts and and platelets are both down. I'll be getting red cells today, but don't know about why no whites.

The not so good news. I'm still having a very hard time breathing and keeping my oxygen levels up. The Breathing Treatment Centre came over and assessed me. They determined I need to be on oxygen when ever I'm in the room
Last night they took me to have a CAT scan. You lay down flat and they put you in this machine that looks like some out of the future appliance. My infectious disease doctor says a lung doctor is going to come see me in the morning, put me quasi to sleep (such that I don't remember anyway), take a sample, wash out my lung, etc.
...Lung doctor came while I was typing. I felt comfortable with him. They will do the procedure (bronchoscopy) at 10:00 in the morning and I will have to get platelets beforehand. He says the best thing to happen would be for him to find nothing. I have improved since getting here and it could be it is just taking a while for the meds to completely knock it out. Please think positively with lots of good healing thoughts. All this is somewhat worrisome.