The original of this recipe came from Betty Rosbottom and was published in
The Washington Times
. There are other similar recipes out there, but I've just changed this one to suit us. As with any tomato dish, this is best made with fresh garden tomatoes in the summer, but it is one of those ways to improve winter tomatoes.
Tomatoes, basil, salt and pepper in a peacock Fiesta square baker.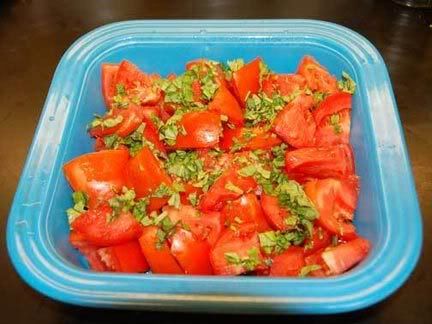 Topping added and ready to go in oven.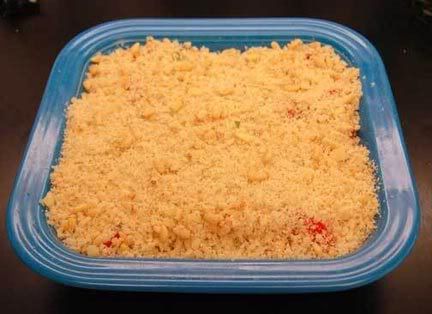 Baked. This is a really great dish.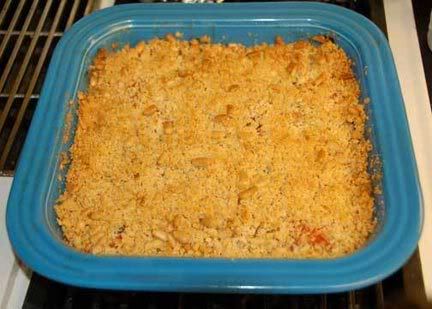 Tomato Crumble

Olive oil
2 1/2 to 3 pounds tomatoes
3 Tbsp chopped fresh basil, plus sprigs for garnish
1 tsp salt
Freshly ground black pepper
3/4 cup fresh bread crumbs, made from day-old peasant white bread
3/4 cup grated Parmigiano-Reggiano cheese
1/2 cup pine nuts


Arrange a rack at center position and preheat oven to 375°F. Oil a shallow 2-quart baking dish and set aside. I like the Fiesta square baker.

Stem tomatoes, then halve horizontally. Cut in wedges. Spread the tomato chunks in the baking dish. Add the basil, salt and several grinds of black pepper, and toss. Mix together the bread crumbs, Parmesan cheese and pine nuts in a large bowl. Spread the mixture on top of the tomatoes and drizzle on a couple of tablespoons of olive oil.

Bake the tomato crumble until the topping is crisp and slightly browned and juices are bubbling, 30 to 35 minutes. Remove from the oven. (The crumble can be prepared to this point up to 3 hours ahead. Cool and leave at room temperature. Reheat in a preheated 350°F oven until warm, about 15 minutes or longer.)

Garnish the center of the crumble with fresh basil and serve hot. Makes 4 to 6 servings.