Sometimes busy days just call for using the crockpot. This is a recipe that originally came from a friend that I modified to suit us better.
First I lightly brown the chicken legs and put them in crockpot: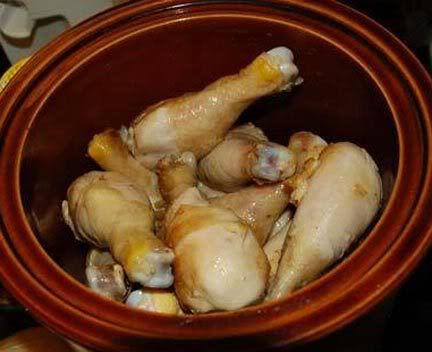 Now the rest of the ingredients are added: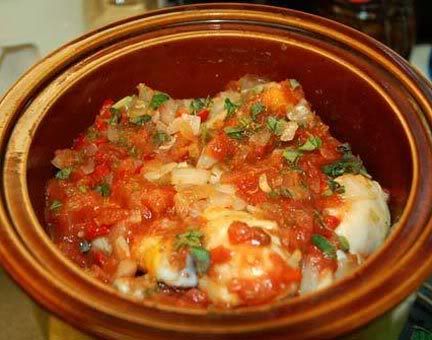 On the table to serve, with the sauce in a separate dish on the side. And of course a food with Fiesta in the name always looks better at our house actually served in Fiesta dishes. Shamrock, sunflower and tangerine fit the south of the border theme.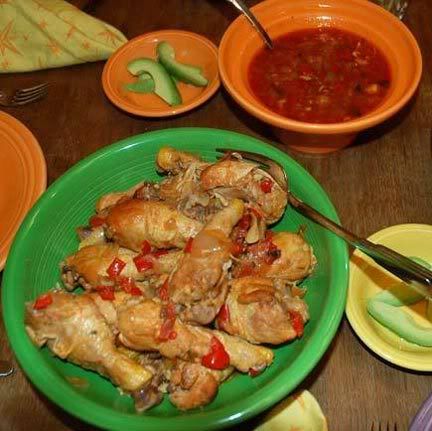 Fiesta Chicken Legs

1 Tbsp oil
3 lbs chicken legs
1 large yellow onion, chopped
1 large green bell pepper, chopped
3 cloves garlic, minced
1 jalapeño pepper, chopped
1 1/2 cups salsa - homemade or your favourite brand (I use Pace's medium) or 14 oz can of Rotel diced tomatoes with green chiles
1/4 tsp cumin
1 tsp dried oregano



Corny Saffron Rice


1 pkg. Saffron Yellow Rice, cooked according to directions, with 1 can drained Mexi-Corn stirred in and heated through.

In a large skillet, heat the oil and cook the chicken pieces until browned. Remove and drain. Place the onion, bell pepper, garlic and jalapeño in skillet and sauté slightly. Place chicken, sautéed veggies, salsa and herbs in the crockpot. Stir gently to combine. Cover and cook on LOW for 8 hours or HI for 4 hours.

Serve with hot Corny Saffron Rice.