This recipe originally came from
Baked from the Heart
. It called for peppermint extract, but I have never used that. This is a versatile recipe that lends itself to a number of uses. A couple of ways I've used it for holidays includes snowflakes in the winter and the bases of witch hat cakes for Halloween.
These are also great for our upcoming spring holidays. A foodie friend of mine likes to cut them out with a heart shaped cookie cutter and make a sandwich cookie with raspberry marshmallow filling for Valentine's Day. Or use a shamrock cookie cutter for St. Patrick's Day and fill the sandwich with green tinted marshmallow mint filling. The possibilities are endless. I find this is an easy dough with which to work.
Decorated chocolate snowflakes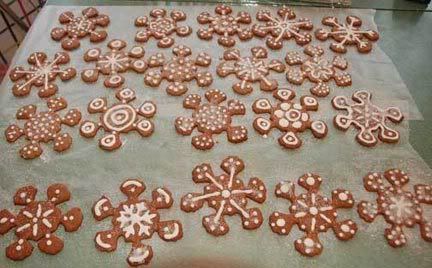 Chocolate cakes being attached to chocolate shortbread brims for witch hats.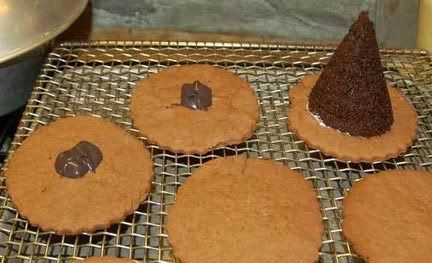 Chocolate Shortbread Cookies

3 cups flour
2 tsp baking powder
1/2 tsp salt
1/2 cup unsalted butter, at room temperature
1 cup granulated sugar
1 large egg, at room temperature
3 oz cream cheese, at room temperature
2 oz unsweetened chocolate, melted and cooled
1 tsp vanilla

Line two baking sheets with parchment or Silpats. In a mixing bowl, whisk together flour, baking powder, and salt; set aside.

Cream butter and sugar on medium speed until light and fluffy. Beat in egg, cream cheese, chocolate, and vanilla. On low speed, gradually beat in dry ingredients until well combined (dough will be fairly sticky). Divide dough into 4 pieces, flatten into discs, wrap tightly, and refrigerate until firm, at least 2 hours. Or can freeze 6-8 weeks sealed in a Ziploc bag.

Heat oven to 350°F. On a lightly floured board, roll a disk of dough, adding flour as necessary, to a 1/4-inch thickness. Cut into shapes with cookie cutters, dipping into flour between each cut. Place on parchment-lined baking sheets and freeze for 5 minutes. Bake until edges are very lightly browned, 12-15 minutes. Transfer to wire racks and let cool completely.

Makes approximately 36 3-inch cookies.