My doc's PA just came by. He and the infectious disease doctor had spent some time chatting. They are ordering some nebulising breathing treatments for me. Also Phenergen for the nausea, as the Zofran doesn't seem to be working so well right now. Whites and reds are OK for today, but I will need those transfused tomorrow. As I wasn't going anywhere anyway.... LOL.
Neutrophil actual count is
0.11
. That is almost double of what it was yesterday. Thank you all so much for helping me with the visualisations! It's working!!!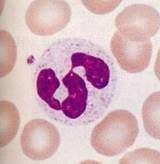 Neutrophils