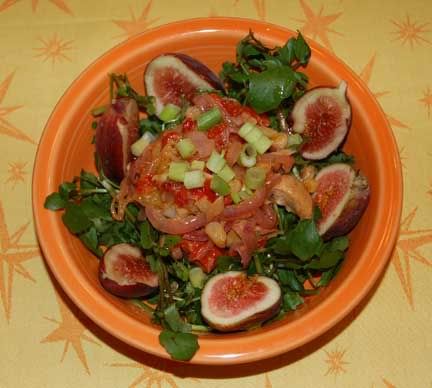 Served in a tangerine Fiesta bowl with the figs and watercress freshly gathered at the farm.
Artichoke Salad with Watercress & Figs
extra virgin olive oil
1/4 cup pine nuts
3 cloves garlic, thinly sliced
1 red onion, peeled and sliced into thin half moon slices
kosher salt
1 1/2 cups deli artichoke salad* (or marinated artichoke hearts - add a few slivered oil-packed sundried tomatoes with these)
1 roasted red pepper, sliced into thin ribbons



dressing:


juice of 2 lemons
1/2 cup extra virgin olive oil
2 tsp ume plum vinegar
1 Tbsp rice wine vinegar
2 Tbsp maple syrup
freshly ground black pepper, to taste - I am generous
kosher salt, to taste

2 bunches watercress, stem tips trimmed, left whole
8-10 fresh figs, split lengthwise
2-3 fresh green onions, thinly sliced on the diagonal

Place a small amount of oil, pine nuts, garlic and onion in a skillet and turn heat to medium. When the onions begin to sizzle, add a pinch of salt and sauté briefly. Stir in artichoke hearts and red pepper ribbons and sauté just until heated through, about 2 minutes more.

Prepare the dressing by whisking together lemon juice, oil, vinegars and maple syrup, adjusting seasonings to taste.

To plate the salad, arrange watercress on a platter (or in individual bowls) with figs around the edges. Spoon sautéed artichoke heart mixture over the top. Sprinkle with green onions and drizzle lightly with dressing, serving the remaining dressing on the side for those who want to use more. Serve immediately.

Notes:
*1. The artichoke salad I get has artichokes, sundried tomates, and garlic - in a marinade. I just chop it all before adding to the skillet.
2. I gather watercress out of the creek at the farm and eyeball it for the right amount.
3. Mike paid me the nicest compliment the first time I made this salad. He said it was things like this that made foodies different from other people. We have a vision to be able to tell that seemingly unusual things will taste great together.