Corn, basil and cheese make a wonderful flavour combination. One of the ways I like to combine them is in this soufflé recipe. It's easy to do and never fails to impress.
Ingredients all mixed up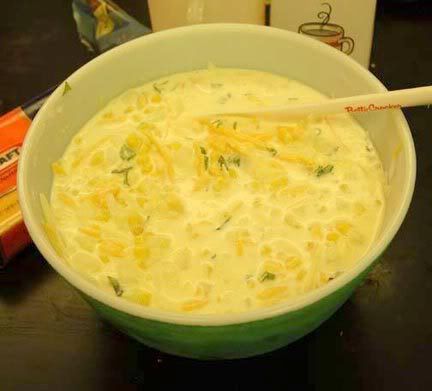 In a Fiesta square baker and ready to go in the oven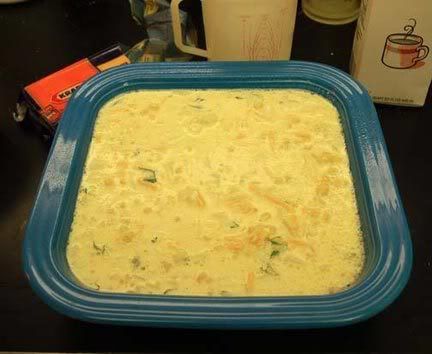 Cooked and ready to eat. One seriously good corn soufflé.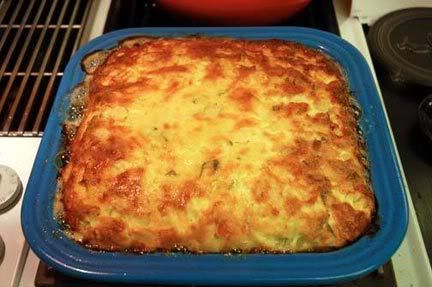 Corn and Basil Soufflé

2 cups fresh or frozen corn kernels
1 medium onion, finely chopped
3 Tbsp julienned basil leaves
4 eggs, beaten
1/2 cup grated Monterey Jack cheese
1/2 cup grated cheddar cheese
1/2 cup all-purpose flour
3 tsp sugar
1/2 tsp salt
1 1/2 cups milk (I use 1%)
1/2 cup half & half

Preheat oven to 350ºF.

In a large bowl combine corn, onion, basil, eggs, and grated cheeses. In a separate bowl mix together flour, sugar, salt. Stir the dry ingredients to egg mixture. Stir in milk and half & half. Pour into a lightly oiled baker. (I sprayed it with PAM.) Bake for 1 hour or until a tester inserted in the center comes out clean. Can put in a bain marie for baking, if desired.



Notes:

I did not use the bain marie this time and it turned out fine.