This is our all time favourite cookie recipe in the whole world! When my aunt was first married (1950ish), she moved from a little town in Louisiana to an apartment in Chicago. Her neighbor was a Polish lady who took my aunt under her wing. This recipe came from that neighbor. We are forever grateful!
Dough rolled out and beginning to be filled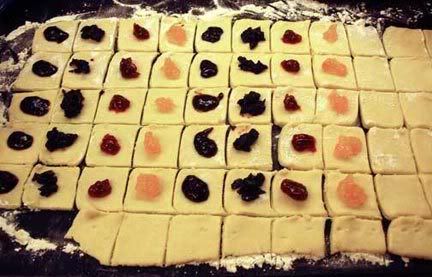 I use an assortment of fillings. This group has homemade strawberry jam, homemade blueberry jam, Solo apricot filling and Solo cherry filling.
Cookies on the Silpat and ready to go in the oven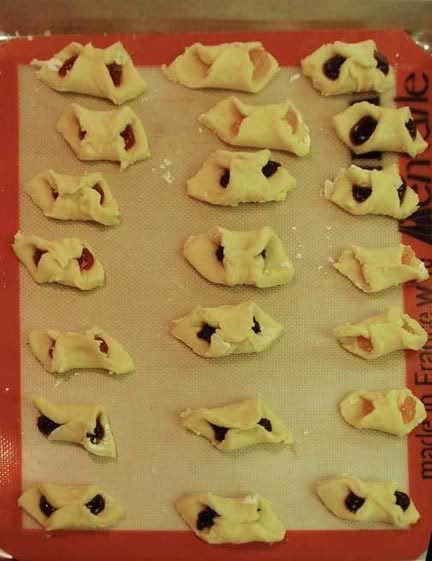 Baked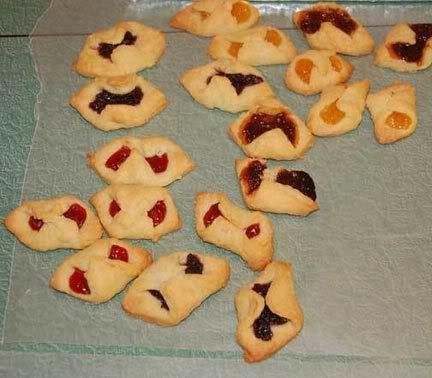 And sifted with confectioners sugar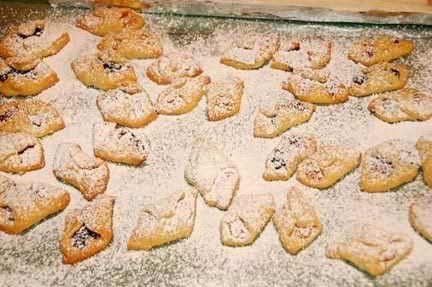 Kolacky

1 pound butter
8 ounces cream cheese
3 cups sifted flour
6 tablespoons cream
1 package dried apricots or prunes
sugar
powdered sugar

Cream butter and cream cheese. Add flour and cream. Make a stiff dough and freeze. Meanwhile cook fruit in a small amount of water until tender. Add a little sugar, to taste. Don't get the filling too sweet.

Thaw the dough and roll 1/8 to 1/4" thick. Cut in 2 inch squares and place a little filling in the center of each. Fold two opposite corners together across center, overlapping points slightly. Leave the other two corners unfolded. Bake at 375°F about 15 minutes or until lightly browned. Sprinkle with confectioners sugar.



Notes:

I admit to taking a shortcut and using Solo brand fruit fillings in these. Besides apricot and prune, we really like cherry, strawberry and blueberry. Sometimes I use my homemade jams. They are not as sweet as the store-bought variety.