I think I mentioned in some earlier posts that I have been craving etouffée. And as I haven't been able to cook much lately, I had intended to make it this weekend. It was certainly a case of "the best laid plans of mice and men..." I was quite disappointed, not only because of getting put in the hospital, but because I wasn't going to get to make etouffée.

My sister, Sally, is the best sister in the world. When she cooks, she cooks very well. She just doesn't do it very often. But Saturday, my sister decided to make etouffée for me.

And she did a fabulous job.

She even made pics for me. How cool was that?
Now I'm sure you all know that when we cook in Louisiana, we start out by saying, "First you make a roux".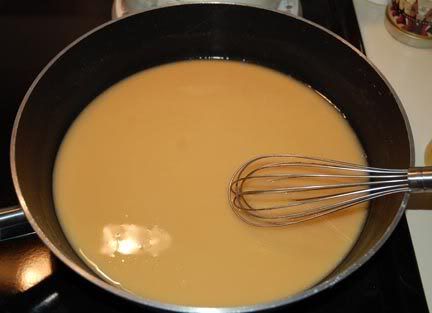 Chop up lots of onions and bell peppers.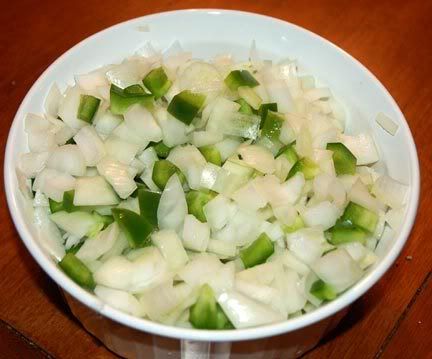 When the roux has gotten to your preferred darkness, add those onions and bell peppers to it.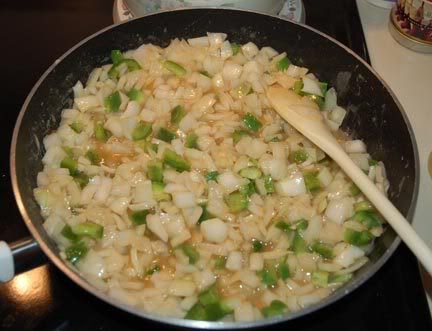 After the shrimp have cooked, stir in the green onions and parsley.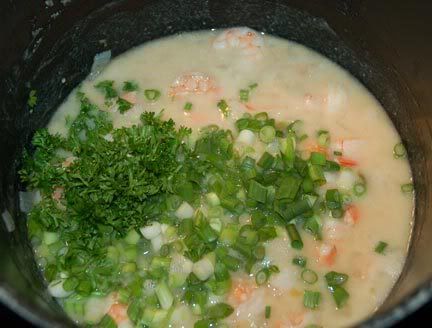 Meanwhile, I hope you've been cooking the rice.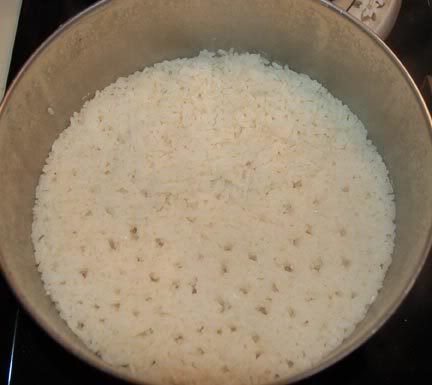 Serve the etouffée over the rice and there is nothing better. I gar-on-tee.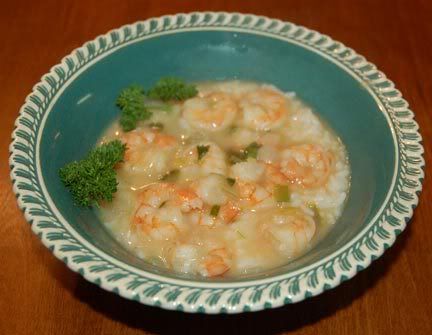 And I want to mention the bowl the etouffée is served in for eating. It's a vintage bowl, made by the Harker Pottery Company. The pattern came in several different colours, this one being Corinthian Teal Green. The name of the pattern is Royal Gadroon. This is the dinnerware my Mom chose when she and my Papa got married in 1952. They were our everyday dishes for about 20 years. Sally has what was left of those and over the years has filled it back out to have a complete service for 16. It really sets a very beautiful table.
And the etouffée Sally made me was so good. It is the first food that's really tasted good to me in several weeks. I had it for dinner Saturday night, Sunday night, and will finish it off Monday night. DELISH! And I thank Sally from the bottom of my heart.
Real Cajun Étouffée

1 1/4 cups oil
1 cup flour
4 large onions, peeled and chopped
1 large green bell pepper, chopped
2 cloves garlic, minced
salt, to taste
cayenne pepper, to taste
5 pounds peeled and cleaned crawfish tails or shrimp
1/2 cup chopped green onions
1/4 cup chopped fresh parsley
1 bay leaf
1/2 lemon, juiced
8 cups hot, cooked rice

Make a roux of oil and flour. Cook it until tan, not brown. Add onions, bell pepper, garlic, salt and cayenne. Stir over low heat until vegetables are tender. Add crawfish or shrimp, and water to cover. Add green onions and parsley. Turn up heat, cover and bring to boil, stirring often. Reduce heat and cook about 15 minutes. Add bay leaf and lemon juice. Stir and let stand 15 minutes. Remove bay leaf and serve over rice.