I love shrimp! I love Fiesta! And I call this dish Fiesta Shrimp Salad because I always serve it in vintage Fiesta dessert bowls. It's a great salad that I often serve for lunch. And I think it looks particularly good presented in the red dessert bowl with an ivory underplate.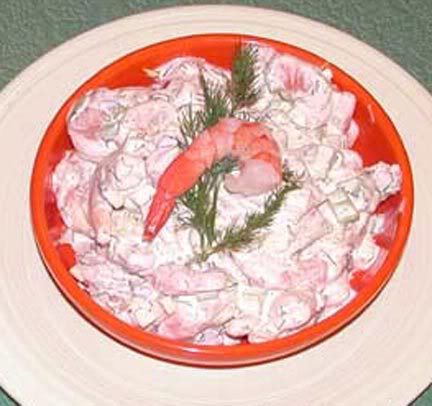 Fiesta Shrimp Salad
Serves 12

2 cups good mayonnaise
1 tsp Dijon mustard
2 Tbsp white wine
1/2 tsp Tabasco sauce, or more if desired
1 tsp freshly ground black pepper
8 Tbsp minced fresh dill
1 cup finely minced red onion
4 lbs cooked shrimp, shelled and deveined
1 Tbsp lime juice
3 cups finely chopped celery hearts (leaves included)
12 small sprigs fresh dill, garnish
12 lime wedges

At least an hour or up to one day before serving, mix mayonnaise with mustard, wine, Tabasco, black pepper, minced dill and onion. Cover and chill.

Reserve 12 shrimp. Place remainder in a large mixing bowl and sprinkle with lime juice. Add celery and dressing; fold together gently to mix. Taste and adjust seasonings. Fill Fiesta dessert bowls with shrimp salad. Garnish each serving with a sprig of dill and reserved shrimp. Serve with lime wedges.