The on-call doc just came by to see me. Apparently I have bacterial pneumonia.

. Besides the meds I'm already taking, they are adding another IV antibiotic and going to start me on breathing treatments. Still no explanation for the rash though, and it is now creeping up my neck to my face. The rest of my body was already covered with spots. I am glad to know what I've got, but am even more glad they put me in the hospital yesterday. The oral antibiotics were keeping the pneumonia somewhat suppressed, but they said when I took my last Levaquin today, it probably would have blown up tomorrow. YIKES!
No idea when I will get to leave the hospital. But the doc said I have to have the fever & chills gone, my lungs clear, the rash all gone, and the sores in my mouth well. Ideally my neutrophils should be above 0.5. So I am going to spend a lot of time visualising those neutrophils.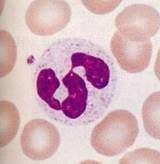 Neutrophils