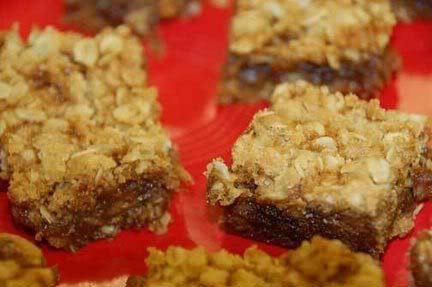 This is another favourite bar cookie at our house. I like to use my homemade
Crockpot Apple Butter
, but any fruit butters will do. Williams Sonoma's Pumpkin Butter is nice in the fall. This is a super easy recipe that always turns out a good cookie.
Apple Butter Bars

1 1/2 cups flour
1 tsp baking soda
1 tsp salt
2 1/2 cups oats
1 1/2 cups sugar
1 cup butter, melted
1 1/2 cups apple butter

Mix dry ingredients. Sir in the butter. Press half of mixture in 9 X 13 pan (I like to use the Fiesta rectangular baker), and top with apple butter. Sprinkle with remaining crumb mixture and pat gently. Bake at 350°F for 55 minutes. Cool and cut in squares.