OK. I admit it. The name of this recipe is what caused me to take a second look and see what it was all about. The Jupiter Gourmet Club was located in Florida and it turns out this was one of their recipes. It was published some years ago in
The Miami Herald
. We've enjoyed it a number of times. A bit of a different alternative to some of the other green bean bundle recipes.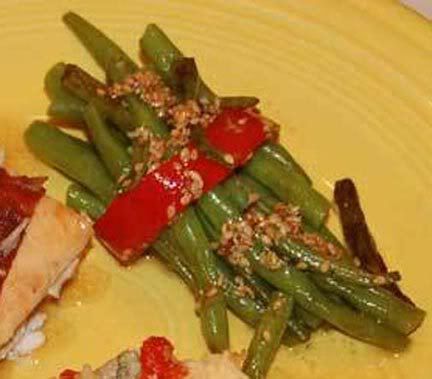 Jupiter Gourmet Club Green Bean Bundles

1½ lbs green beans
1 long thin red or yellow bell pepper
4 Tbsp unsalted butter
1 Tbsp sesame seeds
1 Tbsp cider vinegar

Steam beans till tender crisp and shock in cold water. Cut pepper into 6 rings and blot on paper towel. Bundle the green beans into the pepper rings and refrigerate until half an hour before serving time.

When ready to serve, heat the butter and sesame seeds in a large, heavy bottomed skillet. Cook over medium heat just until butter begins to turn colour, being careful not to burn. Add the bean bundles to the skillet and gently turn till heated through. Sprinkle with vinegar and serve immediately.




Notes:


1. I like to use haricots verts from my veggie box and the Ancient Sweet red peppers from Costco, or long thin peppers from my garden to make this.
2. Can substitute other vinegars. Ume plum or balsamic are also good.