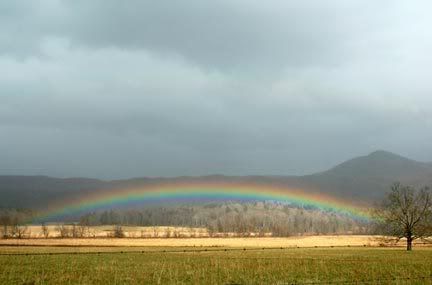 Cades Cove
Great Smokey Mountain National Park
My grandparents loved to travel. And Mimi loved to make photographs. Her media of choice was Kodachrome 64 and I have inherited all of her slides. One of the things I would like to pursue this year is getting them transferred to digital format. I think I inherited my love of photography from her. (And my Papa, though he did prints more than slides).
BC (before children) I was a Kodachrome 64 slide person, but switched to digital and am now using a Nikon D90. (Have I mentioned that Paul Simon's
Photograph
is one of my favourite songs?) Mostly my grandparents travelled out west, but one year they went to Great Smokey Mountain National Park. I remember seeing those slides and wanting to visit this beautiful place.
In 1982 Mike and I moved to Alabama. GSMNP is within 4 hours of our home. Since moving here, we have been there many times and it never fails to excite, soothe, be different and provide more than ample opportunity for fabulous photographs. This particular one was made in November of 2006.
It had been cloudy all day and we went to Cades Cove after lunch. We were on the south section of the loop road (past the mill complex) and Mike was driving top down so that nothing would obscure the view. All of a sudden there was a break in the clouds and this fabulous rainbow appeared. It was very low to the ground and we could see it from end to end for several minutes. It just seemed to hover out in the middle of the Cove and I felt blessed to see and shoot it.
And I'm also happy to be part of the Sunday Scenery crowd. I love the whole premise of this meme, which was started by Lee over at
Tarheel Ramblings.
Check it out if you get a chance.