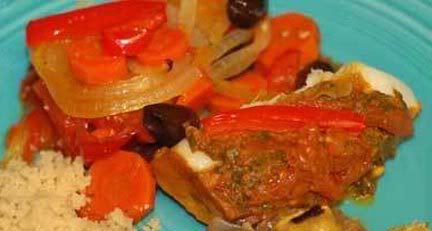 A number of years ago my Mom, Abbey and I went to Morocco. We had such wonderful foods and our hosts were always so accommodating to Abbey and I who don't eat red meat. I love cooking with a tagine and brought two pottery ones back to the US with me from the market there. Those are unglazed terracotta. I've also picked up a few more decorative glazed ones.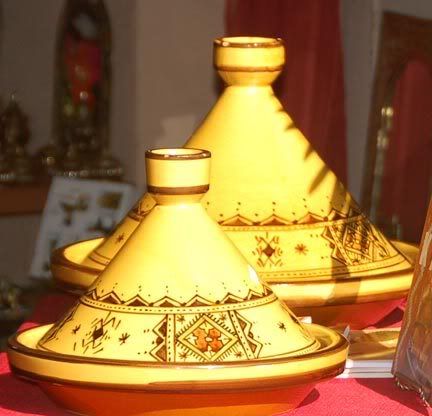 I've also managed to collect a number of tagine recipes that use either chicken or fish. Tagine is the name of both the cooking vessel and the recipe. The food is supposed to cook slowly. Condensation collects in the conical top and falls back into the base, keeping the food moist and tender. The knob on top is designed to stay cooler and be used as a handle.
Most tagines can be used both on the cooktop and in the oven. But if you have a pottery tagine, I highly recommend using a heat diffuser between it and your cooktop heat source. And although the pottery tagines are beautiful, I really just use them as serving dishes only and cook in my Le Creuset tagine. (I seem to have an unreasonable fear of the pottery ones breaking.) Some people soak their unglazed pottery tagines in water before using, like we used to do with the Romertopf clay cookers, but I have not tried that.
We love couscous, so that is always one of the sides of choice when we have a tagine meal. Various and sundry vegetable salads that include mint are also great with these. I brought some recipes for those back from Morocco, so look for them to show up here at some point.
Moroccan Fish Tagine with Pepper and Olives

1/2 cup vegetable oil
1/4 cup chopped fresh Italian parsley
3 large garlic cloves, chopped
3 tablespoons chopped fresh cilantro
1 tablespoon Hungarian sweet paprika
2 teaspoons ground turmeric
1/8 teaspoon crushed saffron threads

4 6-ounce white fish fillets (such as halibut or orange roughy)

1 pound carrots, peeled, thinly sliced
1 1/2 pounds tomatoes, thinly sliced
1 large onion, thinly sliced
1 lemon, thinly sliced
1 teaspoon salt
3/4 teaspoon ground pepper
1 medium-size red bell pepper, seeded, cut into 1/4-inch-wide strips
24 brine-cured olives (such as Kalamata)

Additional chopped fresh Italian parsley, for garnish


Mix the vegetable oil, parsley, garlic, cilantro, paprika, tumeric and safforn. Coat both sides of fish with mixture and refrigerate for 2-4 hours.

Preheat oven to 350°F.

Place carrots in a 13x9x2-inch glass baking dish or tagine base. Layer on half of tomatoes, half of onion and half of lemon. Season with half of salt and pepper.

Drain marinade from fish and reserve. Place fish in baking dish or tagine base and layer remaining tomato, onion and lemon on top.. Season with the rest of the salt and pepper. Arrange red pepper strips and olives decoratively over the top. Pour reserved marinade over. Cover with foil or tagine lid and bake 40 minutes.

Increase oven temperature to 400°F and bake until fish flakes easily and vegetables are tender, about 25-30 minutes. Garnish with additional parsley to serve.