Barefoot Bloggers' first recipe for December is
Coq au Vin
, chosen by Bethany of
this little piggy went to market...
Bethany, this was a great choice. Like you, Coq au Vin is something I have wanted to make for a long time, but just have never gotten around to before now. And I have particularly wanted to make it since getting this beautiful Coq au Vin pot from Staub!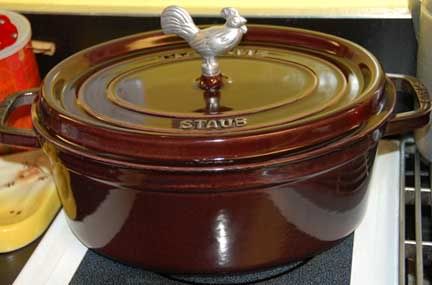 Abbey & Donnie were coming over on Sunday, so I decided to make this dish then in order to get extra feedback. When my platelets are
very
low, it's best for me not to use a knife. This was the case Sunday. In place of a whole chicken, I used bone-in thighs and legs. And the kids did the veggie prep for me. Our joint effort turned out quite well!
The recipe said it serves 3. As I was serving 5 and some of them were hungry young people, I increased the amount of chicken and browned it in two batches. This is batch #1 in the pot.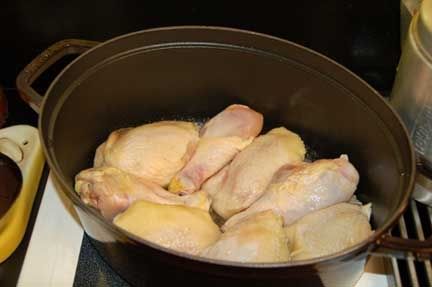 While the chicken was browning, my helpers did a great job of peeling and slicing carrots.
Because we eat from the veggie box, the mushroom we used was one very large portabella that was in last week's box.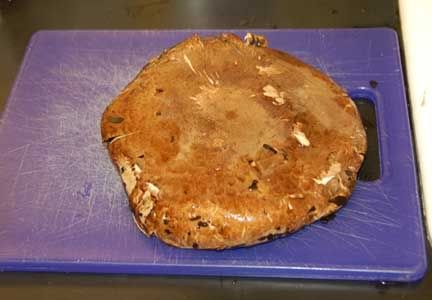 It diced up very nicely.
Once the chicken was browned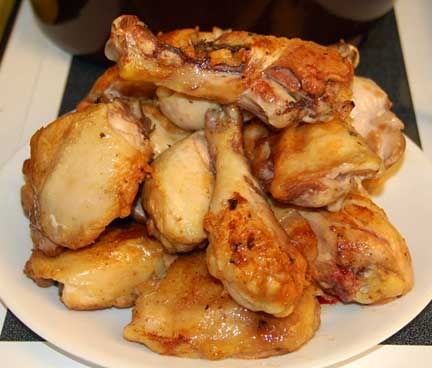 it's time to cook the carrots and onions.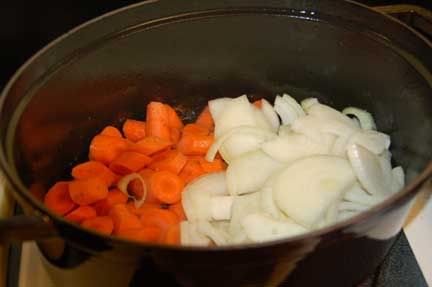 Time to add the chicken back to the pot.
Pouring in the chicken stock.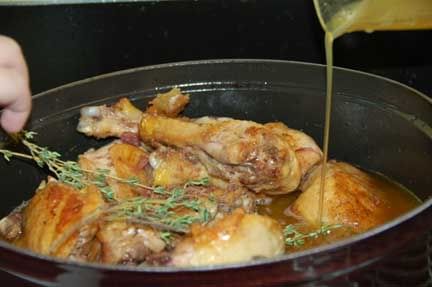 Now it's ready for the oven.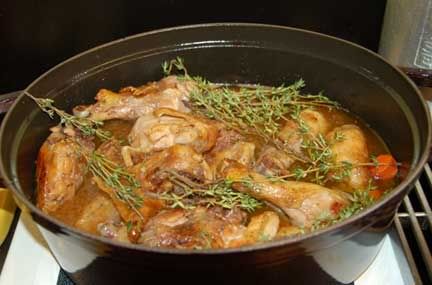 Sautéing the mushroom.
Coq au Vin is ready to serve.
This dish has a lot of sauce. I served it with noodles.
Coq au Vin
Ina Garten

* 4 oz good bacon or pancetta, diced
* 1 (3 to 4-pound) chicken, cut in 8ths
* Kosher salt and freshly ground black pepper
* 1/2 pound carrots, cut diagonally in 1-inch pieces
* 1 yellow onion, sliced
* 1 tsp chopped garlic
* 1/4 cup Cognac or good brandy
* 1/2 bottle (375 ml) good dry red wine such as Burgundy
* 1 cup good chicken stock, preferably homemade
* 10 fresh thyme sprigs
* 2 Tbsp unsalted butter, at room temperature, divided
* 1 1/2 Tbsp all-purpose flour
* 1/2 pound frozen small whole onions
* 1/2 pound cremini mushrooms, stems removed and thickly sliced


Preheat the oven to 250°F.

Heat the olive oil in a large Dutch oven. Add the bacon and cook over medium heat for 8 to 10 minutes, until lightly browned. Remove the bacon to a plate with a slotted spoon.

Meanwhile, lay the chicken out on paper towels and pat dry. Liberally sprinkle the chicken on both sides with salt and pepper. When the bacon is removed, brown the chicken pieces in batches in a single layer for about 5 minutes, turning to brown evenly. Remove the chicken to the plate with the bacon and continue to brown until all the chicken is done. Set aside.

Add the carrots, onions, 2 tsp salt, and 1 tsp pepper to the pan and cook over medium heat for 10 to 12 minutes, stirring occasionally, until the onions are lightly browned. Add the garlic and cook for 1 more minute. Add the Cognac and put the bacon, chicken, and any juices that collected on the plate into the pot. Add the wine, chicken stock, and thyme and bring to a simmer. Cover the pot with a tight fitting lid and place in the oven for 30 to 40 minutes, until the chicken is just not pink. Remove from the oven and place on top of the stove.

Mash 1 Tbsp of butter and the flour together and stir into the stew. Add the frozen onions. In a medium saute pan, add the remaining 1 Tbsp of butter and cook the mushrooms over medium-low heat for 5 to 10 minutes, until browned. Add to the stew. Bring the stew to a simmer and cook for another 10 minutes. Season to taste. Serve hot.

Notes:
1. In place of a whole chicken I used 6 legs and 8 thighs.
2. I used brandy as that is what I had on hand.
3. For the wine I used Merlot.
4. The mushroom came from the veggie box - a large portabella.
5. I served this with noodles.
Everyone here really enjoyed this chicken! My sauce was quite thin - probably should have used more butter and flour to compensate for the juices from the extra chicken. Next time I make this I think I will serve it with noodles again, but will use a deep plate, rather than a dinner plate.
Click here
to see what other Barefoot Bloggers think of this recipe.