We don't exactly have only red decorations and our main tree is not green. Oh well. First, for my friend Val, the vintage silver aluminum tree in the living room here in town. This tree was purchased new around 1960 by my MIL. When we bought the farm in 1995, we moved all our Christmas decorations out there. My MIL, being the kind grandmother that she is, thought her grandchildren needed a tree in town and sent this one to the girls. They both LOVE it. I LOVE it, too. Mike, not so much. LOL. Normally we put the monorail up around it for our train, but that hasn't happened yet. Maybe later this evening. If so I will get another photo.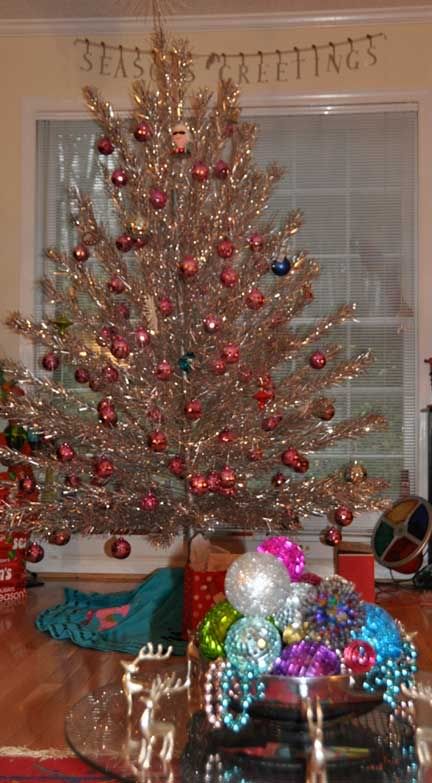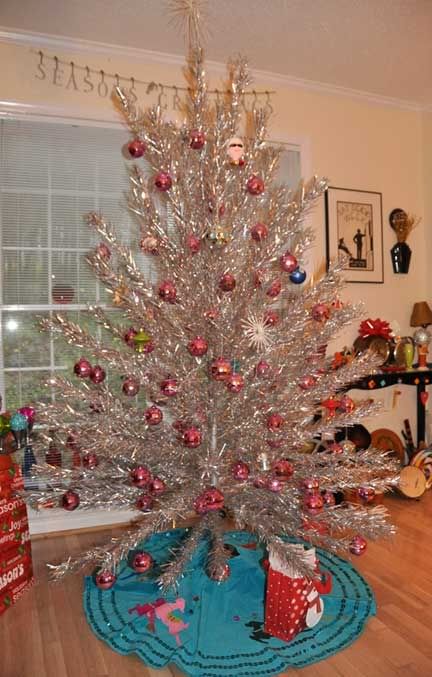 and a close-up: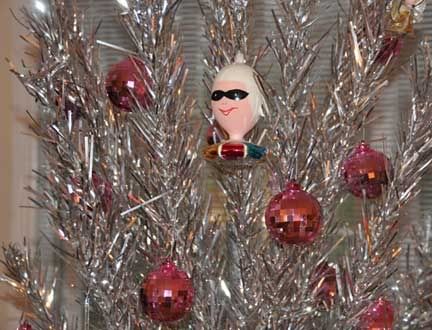 Moving back to the family room, all the Fiesta Holly & Ribbon ornaments (1997-2008) and last year's Holly and Stars are on this little red and white tree.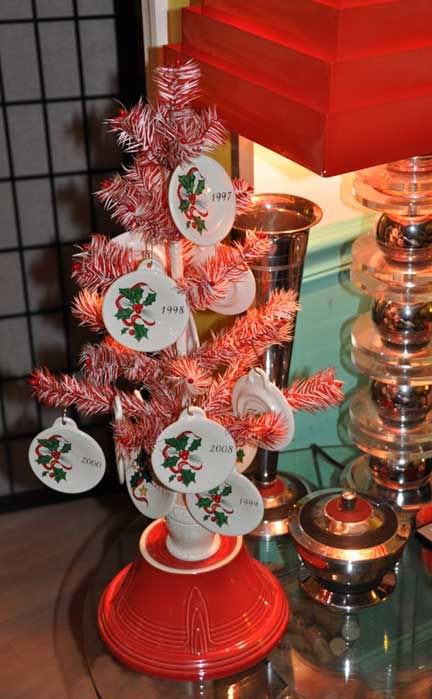 My spouse has a new love. Yes he does!

It is our Fiesta ornament tree. Now my spouse is not a dish person at all. But he decided this is the perfect tree. It's green. It packs in a 3'x3'x6" box and all the ornaments fit in two Fiesta pasta set boxes. Takes up hardly any space for storage. And new ornaments are so small they don't take up much space either! This tree is also in the family room.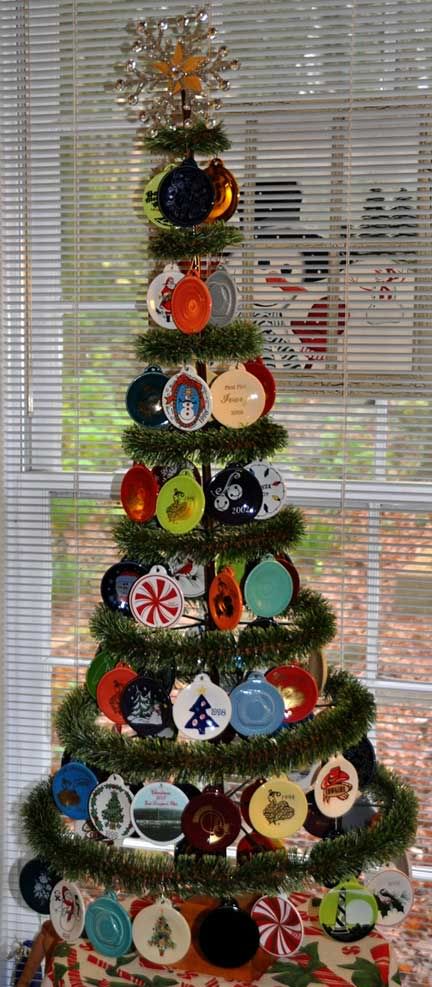 This tree has some new and new to me ornaments. And it is full again, even though all the holly ornaments moved to the other tree. At the top is my special
Ms Bea ornament
, along with the older chartreuse Ms Bea ornament and a new gold ornament. This one is definitely my fav!
Other Fiesta ornaments I got new this year include the new Christmas tree on ivory:
Santa delivering gifts: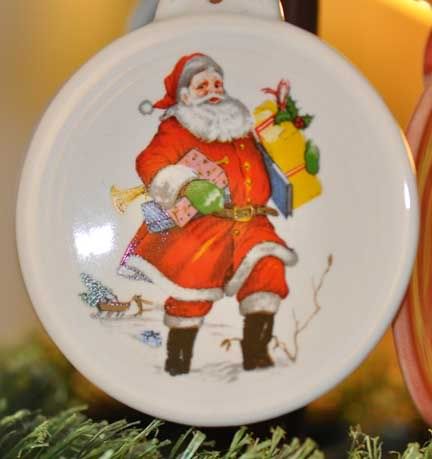 Ten years old, but new to me after a long search, the Betty Crocker Snowman from 1998. There was a short run on these and many people who ordered them from BC never got them. I was thrilled when this one turned up on eBay.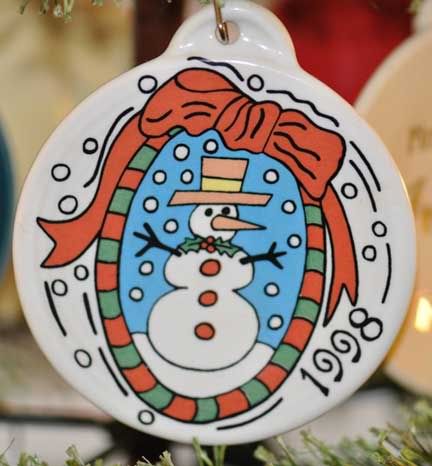 This one will only make sense and be important to Fiesta collectors. It is one of the original prototype ornaments with the hanger added by hand.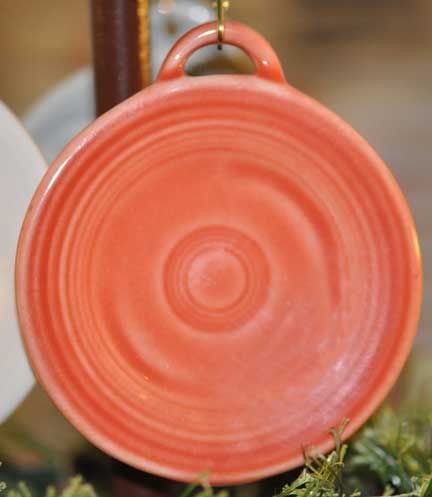 And this idea I frankly stole.

Years ago my friend Candy posted a photo on her FiestaFanatic website of an angel done by
Ms Bea
. The angel was dressed in white, holding one of the white embossed disc pitcher ornaments. No one seems to know the whole story behind those embossed ornaments. They are found in white, pearl grey, cobalt, juniper, cinnabar, periwinkle, persimmon, turquoise and plp yellow. Finally this year I have gotten all the embossed discs. Except for the white one, they are hanging on the Fiesta ornament tree. But the white one has become the property of the Sugar Plum Fairy.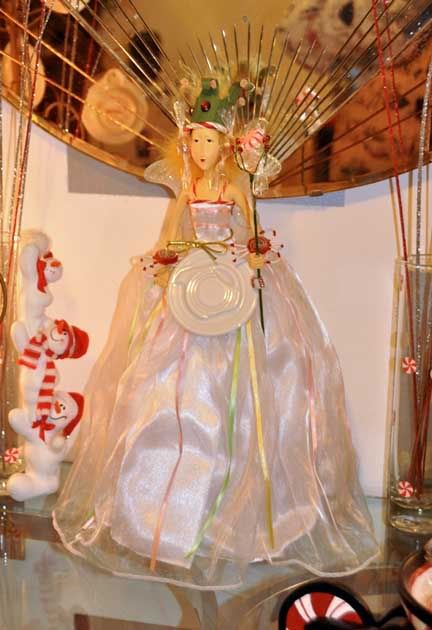 The Sugar Plum Fairy is now presenting it to the world in the middle of the Peppermint Table in the foyer.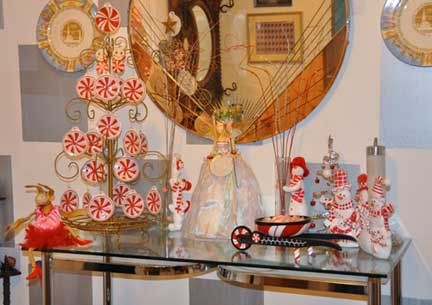 Besides these decorations, we also managed to get the breakfast room table set with the original Holly with No Ribbon Fiesta.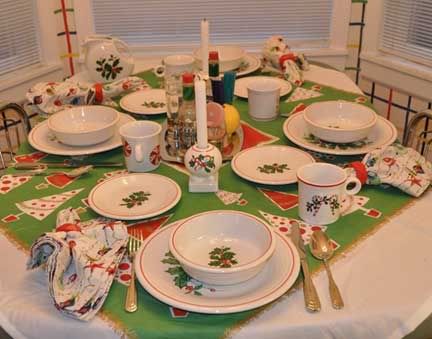 I love Christmas!