Pralines - the perfect candy from Louisiana. Pralines actually began life in France by the cook of a sugar producer in the 17th century. Originally they were whole almonds coated with a caramelised sugar. When French settlers brought this recipe to Louisiana, cooks in New Orleans substituted pecans for almonds, added cream to thicken the mixture, and created what became known throughout the South as the praline. And while we are on the subject, just as there is a correct pronunciation for pecan (
puh-kahn
, never pea-can), there is a correct pronunciation for praline:
praw-leen
never pray-leen.
My great-grandmother (1890-1965) made superb pralines. She was born, reared, lived and buried in Louisiana. Some of her recipes I know were handed down in the family. Others I do not know the origin. This is one that I only know from her. (I should ask my Mom if she knows more history of this recipe.) Online you can find all kinds of "authentic New Orleans pralines", all claiming to be the best, the original, or whatever. This recipe stands up to them all and I will always choose it first. My Mom loves these and as she is coming over this morning, I want to make a batch so she will have some to take home for Christmas goodies.
Start with the best ingredients. New pecans from Fresh Market, Land O Lakes butter, Neilsen-Massey vanilla, and Domino Brown Sugar. The recipe doesn't say whether to use dark or light brown sugar. I suspect my great-grandmother probably used whichever she had on hand. I have light brown so that is what I used today.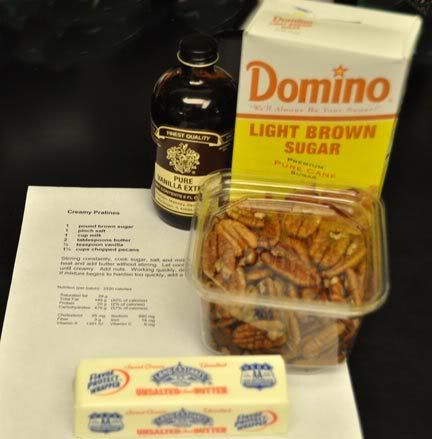 Cooling to lukewarm with butter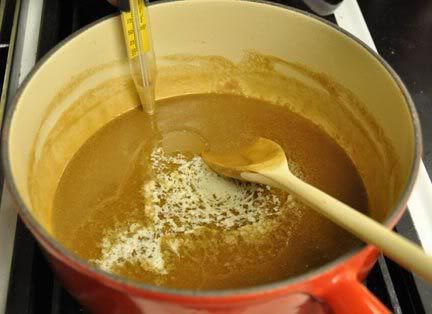 I put the pralines out on Silpats rather than waxed paper. It works even better.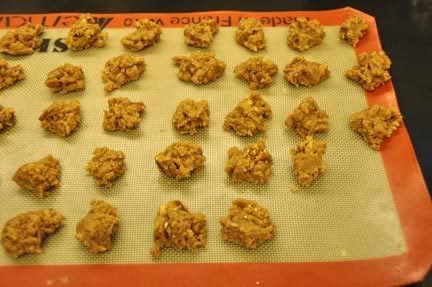 Because of it being the holiday, I dusted the tops with edible gold glitter to give them a more festive look.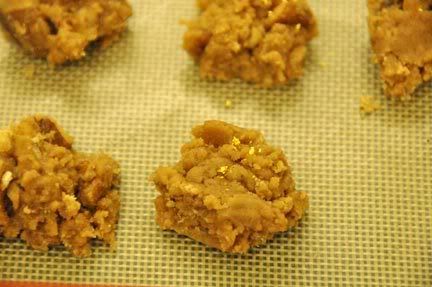 Normally pralines are more spread out and thin, but I made them smaller in diametre this time in order to display them on this vintage candy tree.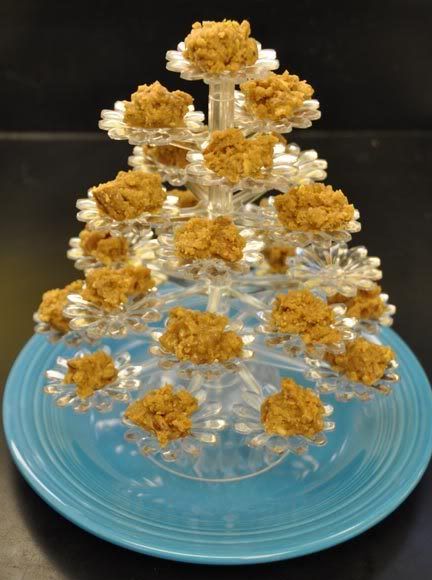 Creamy Pralines
1 pound brown sugar
1 pinch salt
1 cup milk
2 tablespoons butter
½ teaspoon vanilla
1½ cups chopped pecans

Stirring constantly, cook sugar, salt and milk to soft ball stage. Remove from heat and add butter without stirring. Let cool to lukewarm. Add vanilla and beat until creamy. Add nuts. Working quickly, drop by teaspoon onto waxed paper. If mixture begins to harden too quickly, add a few drops of evaporated milk.